By Michael Sheils McNamee From BBC
Boris Johnson was fined for attending a birthday gathering in the Cabinet Room in 2020 – CABINET OFFICE
Boris Johnson is stepping down immediately as a Tory MP after receiving an advance copy of the Partygate report.
The report by the MP-led Privileges Committee looked into whether he misled Parliament over lockdown-breaking parties at Downing Street.
The ex-PM angrily accused the inquiry of trying to "drive me out".
"This is the very definition of a kangaroo court" he wrote in a fiery resignation statement.
The report is yet to be published but Mr Johnson received a copy on Thursday and claimed it was "riddled with inaccuracies and reeks of prejudice".
He did admit misleading parliament when he gave evidence to the Privileges Committee in a combative hearing in March, but denied doing it on purpose.
He said social distancing had not been "perfect" at gatherings in Downing Street during Covid lockdowns but insisted the guidelines – as he understood them – were followed at all times.
His lengthy statement went on to criticise the direction of the current conservative government.
In it, he said: "I did not lie, and I believe that in their hearts the committee know it.
"They know perfectly well that when I spoke in the Commons I was saying what I believed sincerely to be true and what I had been briefed to say, like any other minister."
Mr Johnson said he corrected the record as soon as possible, and claimed committee members "know that".
He said the "current prime minister and then occupant of the same building, Rishi Sunak" also believed they were "working lawfully together".
He condemned the committee and claimed that its "purpose from the beginning has been to find me guilty, regardless of the facts".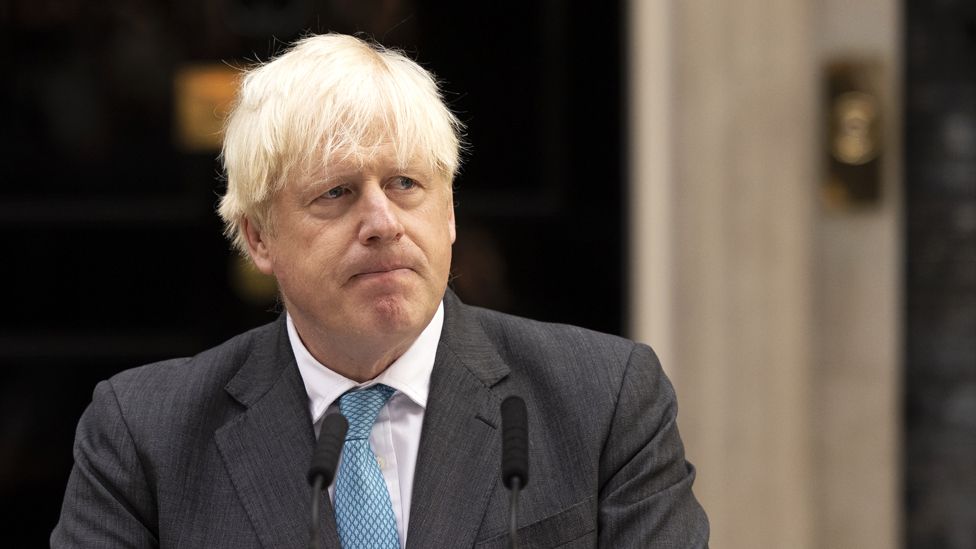 Image caption, Mr Johnson claims his removal is a "necessary first step" in attempts by some to reverse the 2016 Brexit result – GETTY IMAGES
Former senior civil servant Sue Gray, who led the investigation into the Partygate scandal, also came in for criticism from Mr Johnson, who said he no longer believed "that it is any coincidence" that she will soon become "chief of staff designate" of the Labour leader.
Mr Johnson's statement said: "It is very sad to be leaving Parliament – at least for now – but above all I am bewildered and appalled that I can be forced out, anti-democratically, by a committee chaired and managed, by [Labour MP] Harriet Harman, with such egregious bias."
He claimed his "removal" was the "necessary first step" by some who oppose him, "to take revenge for Brexit and ultimately to reverse the 2016 referendum result".
His resignation will trigger a by-election in his constituency of Uxbridge and South Ruislip.
Mr Johnson was prime minister from July 2019 until September 2022, and has been an MP since 2001, although not continuously – having served as mayor of London between 2008 and 2016.
BBC political editor Chris Mason said not only was Mr Johnson giving up as an MP, but he was "doing so in an explosive manner – taking a direct pot shot at Prime Minister Rishi Sunak.
Our political editor said that Mr Johnson was "rallying the Brexit troops in suggesting his demise is driven by a motivation to overturn the result of the EU referendum".
Labour deputy leader Angela Rayner condemned what she called "this never-ending Tory soap opera".
For the Liberal Democrats, deputy leader Daisy Cooper said: "Good riddance."
SNP deputy Westminster leader Mhairi Black said Mr Johnson "jumped before he was pushed", adding "no-one in Scotland will be sorry to see the back of him".
However, former home secretary Priti Patel praised Mr Johnson for his work as prime minister on the issues of Ukraine and Brexit, describing him as "a political titan".
Boris Johnson's local Conservative association chairman, Richard Mills, said the former PM "has delivered on his promises to local residents".
Earlier on Friday Mr Johnson's resignation honours list was published, in which a number of sitting MPs featured.
One of them, Sir Michael Fabricant, criticised the Privileges Committee for what he called its "disgraceful treatment" of the former prime minister. 
For more on this story go to: BBC