By Andre Rhoden-Paul, Azadeh Moshiri & Rozina Sini From BBC
Screenshot – Thousands evacuate as wildfires spread across Rhodes
Thousands of people have been evacuated from homes and hotels on the Greek island of Rhodes after wildfires engulfed large parts of the island.
Greece's fire service told the BBC it apologises for what it called "a mess" on the island, warning that the situation could worsen due to weather.
More than 3,500 people have been evacuated by land and sea to safety.
A further 1,200 will be evacuated from three villages – Pefki, Lindos and Kalathos.
No injuries have been reported, according to the Ministry of Climate Crisis and Civil Protection in Greece.
It said visitors are being evacuated safely from the affected areas of Rhodes – which represent less than 10% of the island's tourist accommodation – and are being redirected to other hotels on the island.
Lt Col Yannis Artopoios, spokesperson of the Hellenic Fire Corps, described the fires as the most difficult the service has faced.
The island has been battling wildfires fanned by strong winds since Tuesday, as Europe deals with a challenging heatwave.
Five helicopters and 173 firefighters were operating in the area, with three hotels in the Kiotari area reported to have been damaged by fire. The areas of Laerma, Lardos and Asklipio were also affected.
Private boats joined the Greek coastguard in helping to pick up people from beaches on the east of the island. Greek navy vessels were also reported to be heading to the area, which is popular with tourists.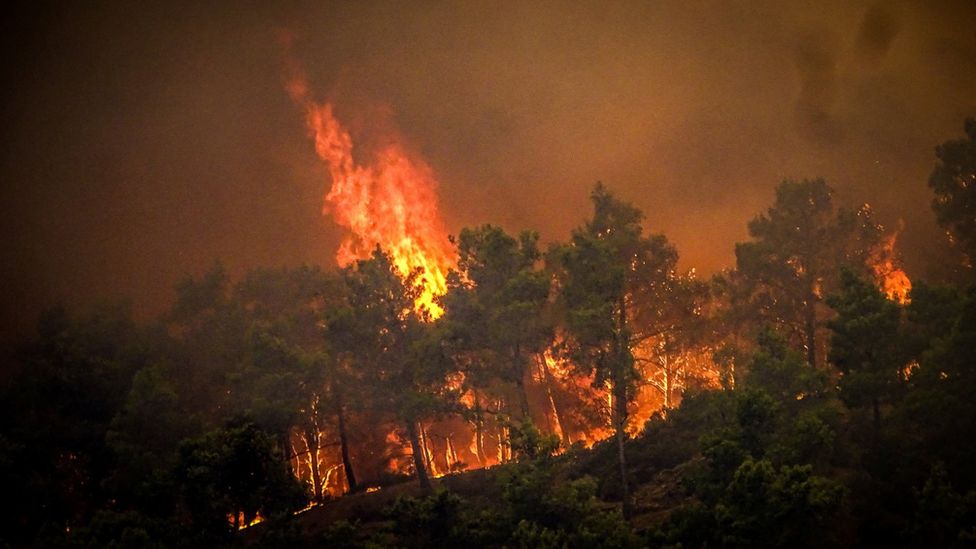 Deputy fire chief Ioannis Artophios said a ferry is available to accommodate people. Others are being housed at an indoor stadium on the island, according to the island's deputy mayor.
Mr Artophios added that firefighters often struggle on Rhodes because of how green it is, which is what makes it an attractive tourist destination.
Greek television showed long queues of tourists with suitcases being taken to safety, with smoke in the background.
Andrea Layfield from Cheshire told the BBC she had been on a boat trip "but it was getting really scary".
"We were asking to go back so they got us and then said they couldn't go any further so we would have to wait on the beach for a while," she said.
"As we waited the fire was coming down the beach but the beach was a dead end," she said, adding that hundreds of people were running.
A boat then arrived, taking only women and children, she said. "I scrambled under somebody's legs and got on."
Mark Cook was evacuated by speedboat.
"We have just literally escaped from a 5 star luxury resort by boat amid severe conditions. We had to follow our instincts rather than directions," he told the BBC. "Poor visibility, smoke inhalation, no real directions."
One moment he said he was on a sun lounger with his family, "the next ash is falling and smoke rapidly progressing because the winds suddenly got significantly stronger".
He is now flying home despite the family's luggage still being in the hotel.
Travel company TUI said a small number of its hotels had been affected and it was relocating customers to alternative accommodation as a precaution.
Jet2 also said it was aware of the situation in Rhodes and was asking customers to follow local guidance.
But Lee Ruane from Northern Ireland, who is in Rhodes on his honeymoon with wife Rosaleen, told BBC News NI they felt stranded by Jet2 and had been given "no further information".
"We were evacuated from the hotel today about two o'clock, and we've had no communication whatsoever from Jet2, from our hotel, nothing," he said.
Rhodes deputy mayor Konstantinos Taraslias said a change of winds on Saturday morning helped the fire grow bigger and reach tourist areas.
Since breaking out in a mountainous area on Tuesday, the fire has scorched swathes of forest.
Firefighters from Slovakia arrived on Rhodes on Saturday to help local teams battling the fires.
"The situation in Rhodes is serious and extremely difficult. Due to the strong wind and quickly changing direction of the fire, firefighters had to withdraw and move," Slovak Fire and Rescue Services posted on Facebook.
Greece is facing further intense heat this weekend, with meteorologists warning that temperatures could climb to as high as 45C (113F).
It could turn into Greece's hottest July weekend in 50 years, one of the country's top meteorologists has said.
Firefighters are continuing to battle dozens of wildfires across the country. An area west of Athens is among the worst-hit areas, along with Laconia in the southern Peloponnese and the island of Rhodes.
And authorities are warning of a very high risk of new blazes as the heat continues to rise.
People have been advised to stay home, and tourist sites – including Athens' ancient Acropolis – will be shut during the hottest parts of the next two days.
Greece – like a number of other European countries – saw a prolonged spell of extreme heat earlier this month.
The latest heatwave comes at one of the busiest times for the country's tourism industry.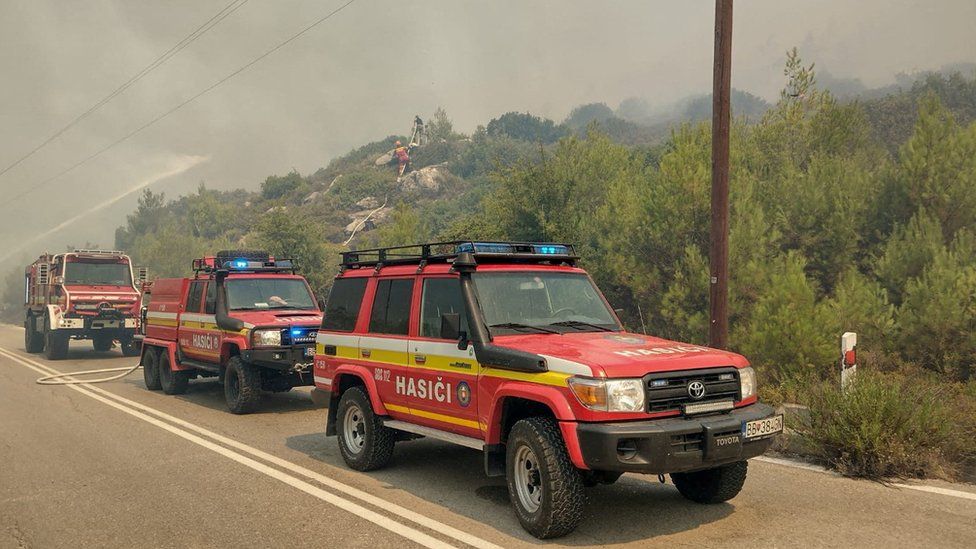 For more on this story and video go to BBC