International Olympic Committee
29 August 2023 – Ten scholarship holders, including gold medallists Hugues Fabrice Zango and Marileidy Paulino, reached the podium at the 2023 World Athletics Championships, which wrapped up in Budapest on Sunday, 28 August. Botswana's 20-year-old Letsile Tebogo thrilled with two sprint medals. Olympics.com took a closer look at these landmark achievements.
"They don't know that there is a jumper from Burkina Faso called Hugues Fabrice Zango…but one day when I become a big champion, the world will know my name."
Triple jumper Hugues Fabrice Zango had just clinched gold at the 2018 African Championships in Asaba, Nigeria, his first major career title. He'd been making new strides for Burkina Faso athletics on the continent and felt ready to upstage the world's best.
But coming from a country that didn't even have a proper jumping pit, it was considered a blatantly impossible mission.
The world 2019 bronze medallist was among over 800 athletes supported by scholarships and grants provided by Olympic Solidarity ahead of the Tokyo 2020 Games, where he won his country's first ever Olympic medal, a bronze.
At the 2023 World Athletics Championships in Budapest, two nations won their first ever world titles – Zango clinched gold in the men's triple jump while sprinter Marileidy Paulino became the first Dominican female world champion.
The two athletes are among the Olympic Solidarity Scholarship holders for Paris 2024. The Olympic scholarships contribute essential funding to cover an athlete's training and competition expenses and are available to all National Olympic Committees (NOCs), but in particular those with the greatest need.
"(Winning the medals) wouldn't have been possible without the Olympic Solidarity Scholarship. It was the X factor in my career," Zango told Olympics.com in Budapest, a day after his historic triumph.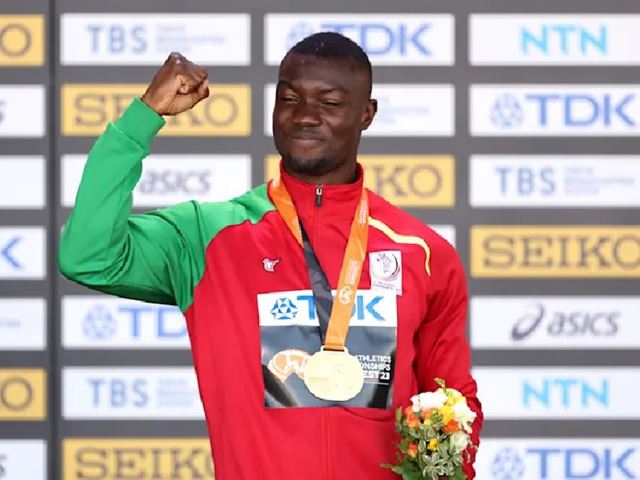 Hugues Fabrice Zango, Burkina Faso, triple jump world champion
After winning two bronze medals, at the worlds in Doha and the 2020 Olympic Games, Zango rued missing out on a gold at the World Athletics Championships in Eugene last year, but remained confident in his abilities.
The triple jumper said he could have performed better had he been training and competing at the highest level, which was difficult as a part-time athlete.
Since earning the scholarship, the 30-year-old, who is on track to earn a Ph.D. in electrical engineering, was able to pursue his career and part-time training thanks to the support of Olympic Solidarity.
"The NOC of Burkina Faso thought I was an athlete with potential, so they proposed the Solidarity Olympic Scholarship. It came just at the right time, the moment when a lot of changes happened in my career," Zango said.
"I was training with a coach in my club at that time. I reached 17.00m, but it wasn't enough to be a medal contender. Then with the help of the Scholarship, I had more resources to contract a more qualified coach like Teddy (Tamgho). I was able to put in place a system which helped me train with him and do more competitions."
Marileidy Paulino, Dominican Republic, 400m world champion
After two silvers at Tokyo 2020 and the one she earned in Eugene, Paulino's golden moment came in the women's 400m in Budapest – the culmination of years of sacrifice.
"I have been working hard for a long time, working hard to achieve this goal. The gold medal was my dream and I had the talent to turn this dream into reality," said Paulino, who arrived in Hungary as the second-fastest in the world this year.
Sada Williams, Barbados, 400m bronze
The first Dominican athlete to win more than one medal at the same Olympic Games stood atop of the women's 400m podium with another Olympic Scholarship beneficiary, Sada Williams of Barbados.
The 2022 Commonwealth Games champion proved her bronze from the worlds last year was no fluke as she finished third again, behind silver medallist Natalia Kaczmarek of Poland.
Kyron McMaster, British Virgin Islands, 400m hurdles silver
Kyron McMaster, gold medallist in 400m hurdles at the 2022 Commonwealth Games, brought some cheers to the British Virgin Islands as the nation's first athlete to win a medal at a World Athletics Championshinships.
After setting the national record of 47.08 at Tokyo 2020, the islander was delighted with his accomplishment in the Hungarian capital.
"I fulfilled a part of my dream," McMaster said. "This means the world to my country."
Letsile Tebogo, Botswana, 100m silver and 200m bronze
Still only 20, Letsile Tebogo became the first African man to win a medal in the sprints at the World Athletics Championships. The prodigy snatched a surprise silver in the 100m before clinching Botswana's second medal in Budapest, a bronze, in the 200m behind Noah Lyles.
"This bronze medal is a bonus for me," Tebogo said after his outstanding performance. "The main goal was to see how my body can react after so many rounds of fast running. It really shows everything is going in the right direction."
Kristjan Ceh, Slovenia, discus silver
The East European pair of silver medallist Kristjan Ceh from Slovenia and Lithuania's third-placed Mykolas Alekna also showed how important the support of an Olympic Scholarship can be.
Ceh's silver was his second consecutive medal at the worlds after taking the title in Eugene.
Mykolas Alekna, Lithuania, discus bronze
Alekna, son of two-time Olympic and two-time world champion discus thrower Virgilijus Alekna, became the youngest athlete ever to throw the men's discus over 70 metres when he did so at Budapest 2023, aged 20.
"I am still young, but I already have two world championship medals," the 2022 world silver medallist said. "To be third, competing with Ceh and Daniel Stahl (the gold medallist), is a big honour and huge experience to take with me to the Olympic Games."
Ernest John Obiena, Philippines, pole vault silver
EJ Obiena gave superstar Mondo Duplantis a run for his money, equalling his own Asian record of six metres. He could not clear 6.05 but came home with a historic silver medal after last year's bronze in Eugene.
The Filipino star has managed to make the podium in 19 of his 20 indoor and outdoor competitions so far this year and hopes to close out his stellar season with another medal at the Asian Games.
Lindon Victor, Grenada, decathlon bronze
How about winning bronze at the World Championships setting a new national record? Lindon Victor did just that collecting 8756 points in the decathlon. and he doesn't want to stop there. Medalling again at the Paris Games is his next big objective. Victor remembers his tough beginning in the sport when it was hard for him to find a college in the U.S.. Now he is hoping to become a three-time Olympian in 2024.
Arshad Nadeem, Pakistan, javelin silver
Arshad Nadeem had to deal with a few challenges on his way to Budapest. Coming back from elbow surgery and a knee injury, the World Championships were his first competition this year – and what a competiton it was. Nadeem produced 87.82 meters on his third attempt to finish with silver behind India's Olympic and now world champion **Neeraj Chopra. **