From BBC
Prince Andrew is appalled by sex abuse claims about his ex-friend Jeffrey Epstein, Buckingham Palace has said.
It comes after the Mail on Sunday published footage that claimed to show the Duke of York inside the financier's Manhattan mansion in 2010 – two years after Epstein's first conviction.
Epstein, 66, took his own life in a jail cell while awaiting trial on sex trafficking charges in New York.
He previously socialised with Prince Andrew and President Donald Trump.
A Buckingham Palace statement said: "The Duke of York has been appalled by the recent reports of Jeffrey Epstein's alleged crimes.
"His Royal Highness deplores the exploitation of any human being and the suggestion he would condone, participate in or encourage any such behaviour is abhorrent."

A strong statement – but questions remain

The short statement from the palace has all the right words: appalled, abhorrent, deplores. There is little doubt that the prince wants the world to know how much he is horrified by what his former friend Epstein is accused of.
It was public knowledge that Prince Andrew had kept in contact with the billionaire sex offender after his 2008 conviction. The photo of the two men walking in Central Park in 2010 led to serious criticism of the prince's judgement.
But to see him inside Epstein's house, as young women come and go, looking for all the world as if he was a happy house-guest, is a disturbing sight. And strong though the palace statement may be it, it fails to answer the central question.
Just what was Prince Andrew doing visiting the house of a convicted paedophile?

Who was Jeffrey Epstein?
New York-born Epstein worked as a teacher before moving into finance.
Prior to the criminal cases against him, he was best known for his wealth and high-profile connections.
He was often seen socialising with the rich and powerful, including former US President Bill Clinton. In a 2002 profile in New York Magazine, Mr Trump referred to Epstein as a "terrific guy".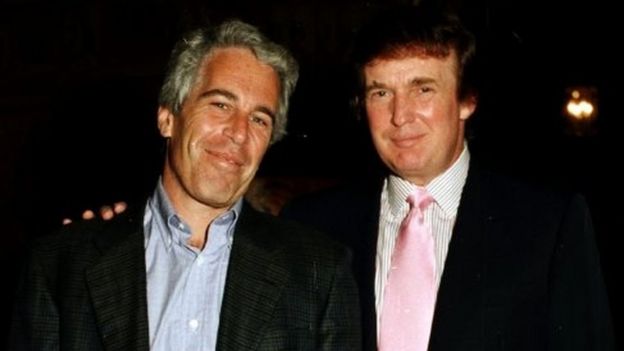 But he later said the pair fell out "12 or 15 years ago" and reiterated last month that he was "not a fan of Jeffrey Epstein".
Reports of Epstein's wealth vary, with his Virgin Islands-based firm generating no public records.
What was Epstein accused of?
He was accused of paying girls under the age of 18 to perform sex acts at his Manhattan and Florida mansions between 2002 and 2005.
Police arrested him last month after he landed in New Jersey on his private jet.
Epstein pleaded not guilty to sex trafficking and conspiracy charges and was being held without bail. He faced up to 45 years in prison if convicted.
The financier avoided similar charges in a controversial secret plea deal in 2008, and instead pleaded guilty to a lesser charge of soliciting a minor for prostitution.
He received an 18-month prison sentence, during which he was able to go on "work release" to his office for 12 hours a day, six days a week. He was released on probation after 13 months.
What are the links between Prince Andrew and Epstein?
The duke was photographed with Epstein in New York's Central Park in 2010 after the tycoon had served his 18-month prison sentence for soliciting a minor for prostitution.
His former friendship with Epstein attracted criticism at the time and he quit his role as a UK trade envoy in 2011 after the fallout from the photos.
The pair had also met at Epstein's Florida home over the years. Prince Andrew later acknowledged his friendship with Epstein had been a mistake.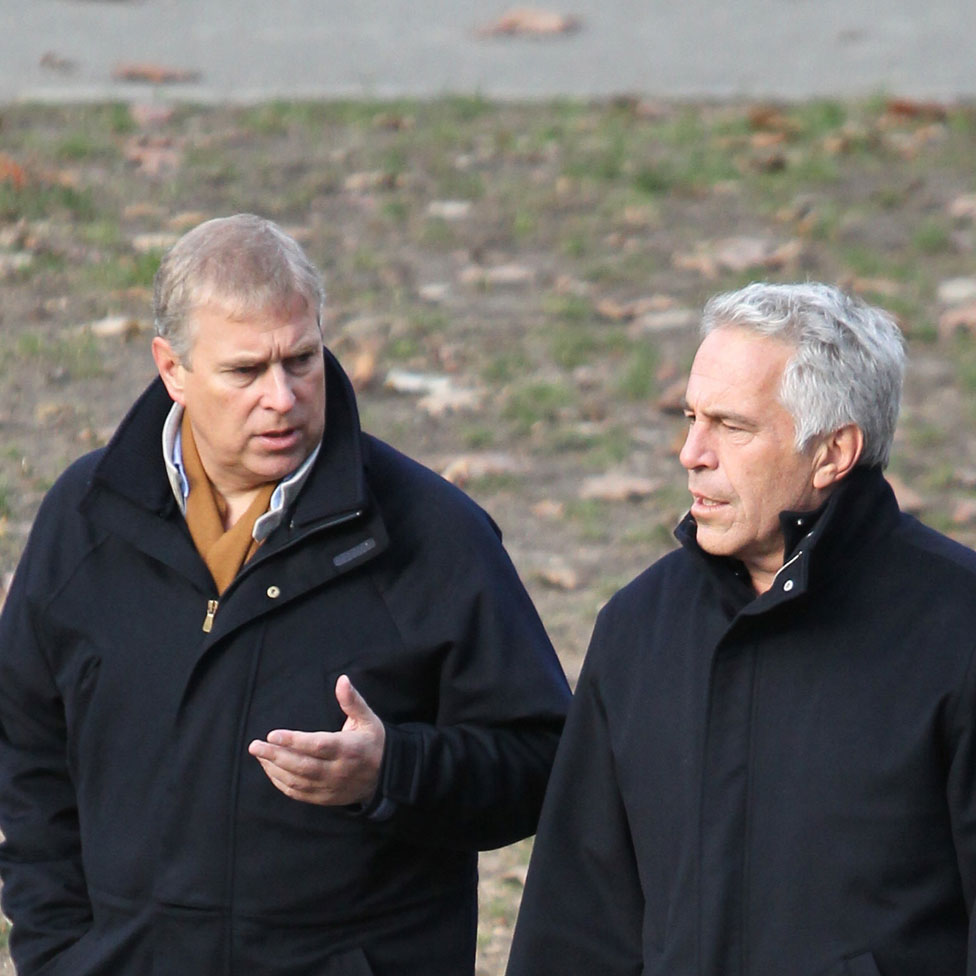 News SyndicationTimeline
2006Epstein is charged with unlawful sex acts with a minor
2008Epstein gets an 18-month sentence following a plea deal
2010Prince Andrew is pictured with Epstein in New York
2015The duke is named in a US court case relating to Epstein
BBC
Buckingham Palace has previously denied claims the duke groped a woman in Epstein's US home.
The accusation was made in documents from a 2015 defamation case.
Contained in the defamation case papers is an allegation by a woman called Johanna Sjoberg that Prince Andrew touched her breast while they sat on a couch in Epstein's Manhattan apartment in 2001.
According to court filings, another of Epstein's accusers, Virginia Roberts, claimed she was forced to have sex with the prince on three occasions – in London, New York and on a private Caribbean island owned by Epstein – between 1999 and 2002, when she was under-age according to US law.
But Buckingham Palace has previously branded the allegations "false and without any foundation", stating: "Any suggestion of impropriety with under-age minors" by the duke was "categorically untrue".
For more on this story and video go to: https://www.bbc.com/news/uk-49390871