Release Date: 14 November 2020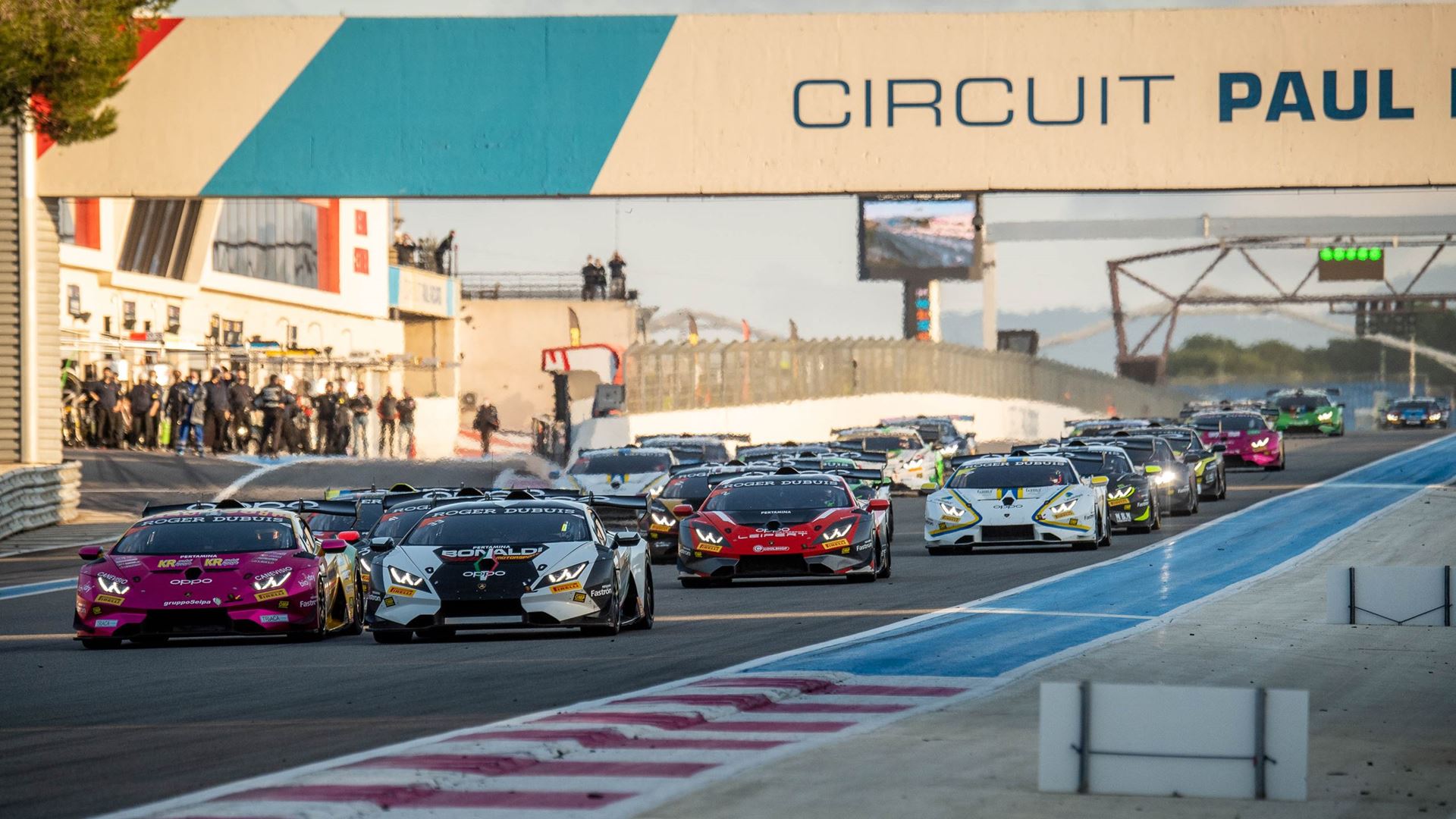 Sant'Agata Bolognese/Le Castellet, 14 November 2020 – Bonaldi Motorsport's Dean Stoneman claimed his third overall win of the 2020 Lamborghini Super Trofeo Europe season after a commanding performance in the opening race of the weekend at Paul Ricard. Stoneman briefly lost out to title rival Kevin Gilardoni (Oregon Team) after the pit-stops but wrestled the lead back with 20 minutes remaining to secure the victory.
The field of 23 Lamborghini Huracán ST Evos had to battle a falling afternoon sun throughout the 50-minute encounter, with Stoneman fending off Gilardoni's team-mate Dorian Boccolacci during a lively opening lap. Boccolacci settled for second, while Miloš Pavlović (Target Racing) maintained third place despite running outside of the track limits marker at Signes.
Stoneman quickly opened up a three-second margin over Boccolacci, who in turn had the legs on Pavlović. The Serbian veteran appeared to struggle in his stint as the GSM Racing Huracán of Jonathan Cecotto began to launch an attack for third place. That scrap continued all the way until the pit-stop window, with Pavlović impressively holding off the faster Cecotto behind. Karol Basz, in the Pro-Am title-winning #16 VS Racing car was also in the mix and the trio waited until the final minute of the 10-minute pit window before handing over to their co-drivers.
Stoneman and Boccolacci's cars had already been in and out of the pits, with the former having to serve an extra three seconds at his box as a solo driver. Despite this, the #11 was handed a 1.698s post-race penalty as his Oregon Team released Gilardoni before the minimum pit-stop time elapsed.
While Gilardoni briefly held the lead over Stoneman, the Bonaldi Motorsport driver was quickly onto the tail of the #11 and swept past back into the lead at the Beausset corner. From then on, Stoneman – who himself received a post-race time penalty of 0.420s – comfortably claimed the victory.
Second on the road was Gilardoni but that became third as Alberto di Folco – alongside team-mate Kevin Rossel – dragged his Target Racing car up to within half a second of the Oregon Team machine, thus inheriting the runner-up spot. Off the podium was Max Weering (Johan Kraan Motosport) who recorded yet another impressive fourth place, ahead of Cecotto's team-mate Patrick Liddy. Championship newcomers Maxime Oosten and Milan Teekens scored a sensational sixth overall in the second Johan Kraan Motorsport entry.
Stoneman's win and double pole position means that the British driver closed to within half a point of the Swiss driver in the standing heading into the final race of the season. Whichever crew finishes ahead of the other in Sunday's second 50-minute encounter, will be crowned champion.
Dean Stoneman (#33 Bonaldi Motorsport): "I'm lost for words. That was a really tough race, the tyres in the last few laps were finished, so I just backed the car right off and brought home really. Good points for the championships, obviously with two poles in qualifying and victory today. The #11 car was quite slow at the end of the pitlane, it was backing off a bit which cost me a lot of time. But we still won, and I can't wait to fight tomorrow."
Basz and Lewandowski completed another routine Pro-Am victory for VS Racing, having spent much of the opening stint (with Basz at the wheel) squabbling among the top Pro runners. Lewandowski took over at the stops and brought the #16 car home seventh overall. Micanek Motorsport's Josef Zaruba finished second in class, 10th overall, just ahead of the Leipert Motorsport pairing of Mikko Eskelinen and Elias Niskanen.
The battle for the Am title took another twist as Leipert Motorsport's Fidel Leib and Yury Wagner claimed their fourth class win in a row to move to within 1.5 points of Target Racing's Massimo Mantovani. Only Wagner or Mantovani can win the title as both Leib and Mantovani's team-mate Dilantha Malagamuwa have not contest all the rounds.
Autovitesse's Cedric Leimer led the early stages in the class but would receive a five-second post-race penalty for a start infringement. It mattered little in the end as the Swiss driver retired shortly after the pit-stops. This handed the lead to Wagner/Leib, whose task was made easier after Malagamuwa suffered a left-rear puncture. Malagamuwa and Mantovani were classified in eighth but need to finish ahead of the Wagner/Leib combination in Sunday's second race to win the title.
In Lamborghini Cup, Hervé Leimer took the win ahead of Micanek Motorsport's Kurt Wagner and Libor Dvoracek, while class champion Hans Fabri finished third after spinning early on.
The final race of the Lamborghini Super Trofeo Europe season will take place on Sunday at 09:05 CET.
Lamborghini Super Trofeo – 2020 Calendar
Round 1: Misano Adriatico, 7-9th August
Round 2: Nürburgring, 4-5th September
Round 3: Barcelona, 9-11th October
Round 4: Spa-Francorchamps, 20-24th October
Round 5: Circuit Paul Ricard, 13-15th November
Roger Dubuis
The rush of adrenalin, a pounding heart, the sure and certain knowledge that something is about to happen: Enter the future of hyper horology. Impertinent, excessive, incisive, uncompromising, and slightly mad, this is Roger Dubuis. The brainchild of two daringly disruptive visionaries, Roger Dubuis has been all about mindset since 1995. Solidly sustained by an integrated Manufacture, an innovative spirit, a flagrant disregard for convention and irrepressible daring are the cornerstones of its irrepressibly bold attitude. The lifeblood of its non-conformist and unmistakably contemporary timepieces, headlined by the iconic Excalibur collection. That's what Roger Dubuis is all about! Laugh, scream, roar, and above all, create. for an exclusive tribe that believes in the value of living larger than life at every turn. No rules, our game. Inspired by other cutting-edge industries and out-of-the-box designs, boundary-pushing technical sophistication combines with an inbred love of extravagance to prove, time and time again, that Roger Dubuis is unquestionably the most exciting way to experience Hyper Horology. Make every second of your life epic.
Pirelli
Established in 1872, Pirelli is among the world's leading tyre producers. It is the only pure consumer tyre company that includes car, motorbike, and bicycle tyres as well as associated services. Pirelli has a distinct positioning in high value tyres, characterised by an advanced technology with more than 2,700 homologations obtained, thanks to partnerships with the most prestigious car manufacturers in the world. In order to achieve the highest levels of performance, safety and containment of environmental impact, Pirelli has always been strongly committed to research and development, in which it invested 6.1% of revenue from high-value products in 2019. Involved in motorsport since 1907, Pirelli has been the exclusive official tyre partner of the Formula 1T World Championship since 2011 and has just renewed the agreement until 2023.
OPPO
OPPO is a fast growing technology company founded in 2004. With its products and services, now OPPO has entered into more than 30 markets across the world. OPPO is committed to technological innovation and makes constant breakthroughs in areas such as industrial design, future communication, artificial intelligence and 3D visual technology. By merging art and technology, OPPO aims to bring a heart-touching product experience to its users.