By Kim Willsher in Dunkirk From The Guardian UK
One month after the French channel port of Dunkirk introduced free public transport for all, a small revolution is taking place.
Two women, perfect strangers until now, are chatting across the aisle about nothing in particular. One admits she sometimes takes the bus "just for the fun of it". A young man wearing headphones is charging his mobile in a socket just above the "request stop" button.
On another bus, Claude Pointart, 65, who is retired, says free buses mean her pension goes further. "I'm saving money and they come every 10 minutes so I don't have to wait long. But there's a lot more people taking the bus so you have to avoid the rush hour if you want to sit. Still, I think it's a good thing."
On a city bus making its way around the historic port city, passengers smile at the driver and say "Bonjour" as they board. Some of the city's fleet of new buses, painted in dazzling colours – pink, orange, green, yellow and blue, with upholstery to match – have wifi. The urban authorities have plans for debates, music and possibly the occasional celebrity on board. A "Sport-Bus" with an interactive game, quiz screen and a selfie camera is already in operation.
Georges Contamin, 51, says he has reconsidered how he travels about the city since the buses became fare-free. "Before, I almost never took the bus, but the fact they are now free as well as the increase in the cost of car fuel has made me reflect on how I get about," Contamin says.
At the bus stop opposite the port, even the persistent drizzle and howling wind rocking the boats cannot dampen Marie's enthusiasm. "I never used the bus before," she says. "It was too much bother getting tickets or a pass. Now I leave the car at home and take the bus to and from work. It's so easy."
One month ago, Dunkirk – with a metropolitan population of 200,000 – became the largest city in Europe to offer free public transport. There are no trams, trolleybuses or local commuter trains, but the hop-on-hop-off buses are accessible and free – requiring no tickets, passes or cards – for all passengers, even visitors .
The scheme took its inspiration from Tallinn in Estonia, which in 2013 became the first European capital to offer a fare-free service on buses, trams and trolleybuses, but only to residents who are registered with the municipality. They pay €2 for a "green card", after which all journeys are free. The city has reported an increase of 25,000 in the number of registered residents – the number previously stood at 416,000 – for which the local authorities receives €1,000 of each resident's income tax every year.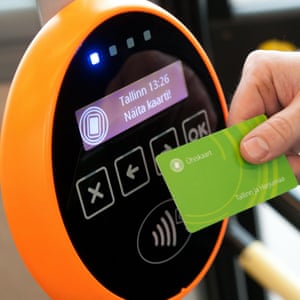 Free urban transport is spreading. In his research Wojciech Keblowski, an expert on urban research at Brussels Free University, says that in 2017 there were 99 fare-free public transport networks around the world: 57 in Europe, 27 in North America, 11 in South America, 3 in China and one in Australia. Many are smaller than Dunkirk and offer free transit limited to certain times, routes and people.
In February this year, Germany announced it was planning to trial free public transport in five cities – including the former capital Bonn and industrial cities Essen and Mannheim. In June this was downgraded to a slashing of public transport fares to persuade people to ditch cars.
The largest in the world is in Changning , in China's Hunan province, where free transit has been in operation since 2008. Passenger numbers reportedly jumped by 60% on the day it was introduced.
A study into free public transport by online journal Metropolitics found an increase in mobility among older and younger people, and an increased sense of freedom.
Niort in west France introduced free buses for its 125,000 residents a year ago. Like Dunkirk, its income from fares was around 10%. The city authorities say passenger numbers have been boosted by 130% on some routes.
One month on, the Dunkirk mayor, Patrice Vergriete, who promised free public transport in his 2014 election campaign, says the project has been an overwhelming success, with a 50% increase in passenger numbers on some routes, and up to 85% on others.
Sitting in his large office under a poster of Nelson Mandela, Vergriete claims it is a win-win measure for his home city, where previously 65% of trips were made by car, 5% by bus and 1% by bicycle. The other 29% walked.
"The subject of free public transport is full of dogma and prejudice and not much research. This dogma suggests that if something is free it has no value. We hear this all the time in France," he says.
Money, he says, is the obvious inconvenience. Before the buses were free, fares raised around 10% of the network's €47m (£41.6m) annual running costs. A further 60% was funded by the versement transport, a French public transport levy on companies and public bodies with more than 11 employees, and 30% came from the local authority. Vergriete says a rise in the company transport tax has made up the fare shortfall – meaning no rise in taxes for local households.
Bus routes have been extended, with special lanes and city centre priority introduced. The fleet has been expanded from 100 to 140 buses, including new greener vehicles which run on natural gas.
"The increase in passengers since it went free has surprised us; now we have to keep them. We're trying to make people look at buses differently. We have put the bus back into people's head as a means of transport, and it has changed attitudes.
"Before, when they paid, it was a service and they were customers. They may have been only contributing 10% of the cost of running the service but they thought it was theirs. Now it's a public service they look at it differently. They say 'bonjour' to the driver, they talk to each other. We are changing perceptions and transforming the city with more vivre ensemble. We are reinventing the public space.
"Before the bus was for those who had no choice: the young, the old, the poor who don't have cars. Now it's for everyone."
Free public transport, however, also has its critics. The French transport union UTP believes fare-free transport is often "associated in France with a lack of value and, by extension, a lack of respect".
Claude Faucher of the UTP said: "That it should be free for those passengers with financial difficulties … could be perhaps justified. However, completely fare-free for all users would, we believe, deprive [public] transport of resources that are useful and necessary for development."
In Paris the income from tickets on public transport is reported to make up half the running costs. When mayor Anne Hidalgo suggested she would look at scrapping fares, Frédéric Héran, a transport economist, said the measure "made no sense".
"Who will the new public transport users be?" he asked. "All studies have shown they will be cyclists, then pedestrians and very few motorists. This clearly shows it's an anti-cycling, anti-pedestrian measure and not very discouraging to cars."
Vergriete believes this is all part of an erroneous received dogma. He admits free public transport may not work everywhere, but says that, as well as being good for the environment, it is a social measure, a gesture of "solidarity" and promotes a more egalitarian redistribution of wealth than tax cuts.
"We have been pragmatic: we looked at the advantages of free transport and weighed them against the disadvantages and decided €7m is not a lot to pay for all the benefits. If I can pass one message to other mayors it's to fight the dogma. Put the advantages and disadvantages on the table and consider it realistically. It may be that the financial cost is too great, but don't underestimate the social advantages. You can't put a price on mobility and social justice."
Additional reporting by Emmanuelle Depecker
Follow Guardian Cities on Twitter, Facebook and Instagram to join the discussion, and explore our archive here
Since you're here…
… we have a small favour to ask. More people are reading the Guardian than ever but advertising revenues across the media are falling fast. And unlike many news organisations, we haven't put up a paywall – we want to keep our journalism as open as we can. So you can see why we need to ask for your help.
The Guardian is editorially independent, meaning we set our own agenda. Our journalism is free from commercial bias and not influenced by billionaire owners, politicians or shareholders. No one edits our editor. No one steers our opinion. This is important because it enables us to give a voice to the voiceless, challenge the powerful and hold them to account. It's what makes us different to so many others in the media, at a time when factual, honest reporting is critical.
If everyone who reads our reporting, who likes it, helps to support it, our future would be much more secure. For as little as £1, you can support the Guardian – and it only takes a minute. Thank you.
IMAGES:
Passengers wait on a Paris metro platform. Photograph: Alamy Stock Photo
Free public transport for Dunkirk was a key promise of Patrice Vergriete's 2014 electoral campaign. Photograph: youaintseenme/Getty Images/iStockphoto
Claude Pointart, a passenger on a Dunkirk bus. Photograph: Emmanuelle Depecker
The free bus service in Dunkirk was initially offered on weekends and national holidays but was extended a month ago to operate every day. Photograph: Francois Lo Presti/AFP/Getty Images
For more on this story and to donate go to: https://www.theguardian.com/cities/2018/oct/15/i-leave-the-car-at-home-how-free-buses-are-revolutionising-one-french-city