From BBC
Hurricane Dorian appears to have caused "unprecedented" devastation in the Bahamas, the country's leader says.
The storm, the second-strongest Atlantic hurricane on record, remains "extremely dangerous", said Prime Minister Hubert Minnis.
Some 13,000 houses are feared damaged or destroyed, according to the International Red Cross.
Pictures showed surging floodwaters, upturned cars and snapped trees.
Eyewitness videos and reports paint a picture of massive and widespread flooding, with panicked families fleeing to their roofs to escape rising floodwaters. One death has been reported.
Dorian is the most powerful storm to hit the Bahamas since records began and will later move "dangerously close" to the US east coast, according to forecasters.
It hit the Bahamas as a category five hurricane but has now weakened to a category four with maximum sustained winds near 150mph (240 km/h), says the US National Hurricane Center (NHC) in its latest update.
Dorian will however remain "a powerful hurricane during the next couple of days".
The NHC said that only a slight deviation in the path of the storm could bring Dorian directly over Florida's east coast, which is already expected to face life-threatening storm surges and dangerous winds over the next couple of days.
The US states of Florida, Georgia, North and South Carolina have all declared states of emergency.
What's the latest from the Bahamas?
The storm is moving very slowly over Grand Bahama, having earlier made landfall on the Abaco Islands, which are just to the east.
It has brought ferocious winds and massive amounts of water to both areas, which are in the north of the Bahamas archipelago. Grand Bahama, with a population of about 50,000, is only 100km (60 miles) east of West Palm Beach in Florida.
Forecasters had warned the storm could create "life-threatening" storm surges as high as 23ft (7m).
Clint Watson, a journalist based in the capital Nassau, said people in Grand Bahama were being hit with "buckets of rain" and posting videos online showing water rising to the windows of their attics.
"You can't fathom that but that's what people are showing us with their videos, saying 'Please, come and rescue me. I'm in the roof of my home and this is where the water is'. And you can see the water outside pressing in. It's stories like that and images like that that you can't get out of your mind," he told the BBC.
Local media report that the international airport is under water.
Dorian is travelling west at just over 1mph (2km/h), the NHC said. It added that the hurricane would "continue to pound Grand Bahama Island" through much of Monday.
The winds at the core of the storm are spinning so fast that the centre is collapsing on itself, stalling over the area and weakening the storm's eye. This is making it expand and cause damage over a larger area, says BBC Weather.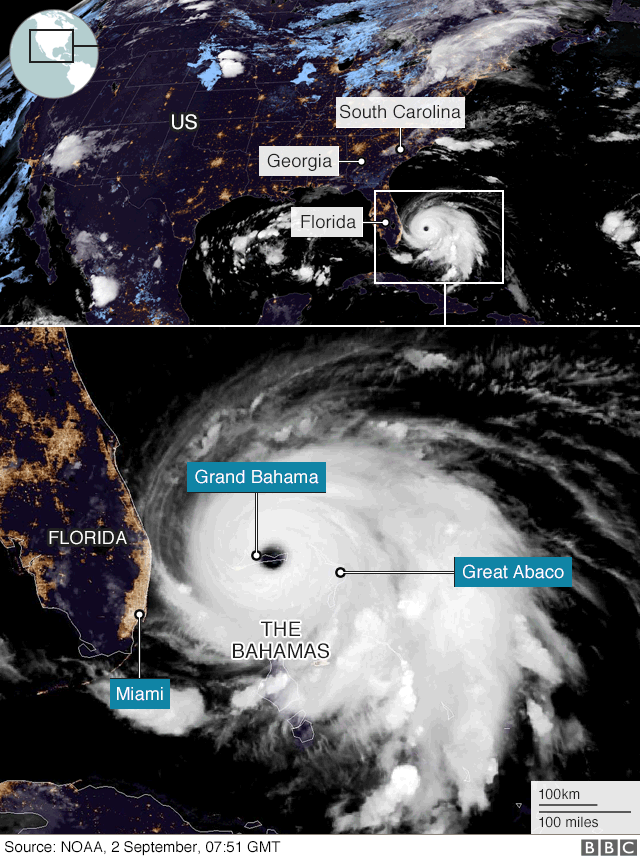 On Monday morning, Prime Minister Hubert Minnis said reports from the Abaco Islands suggested the devastation was "unprecedented".
The Abacos are home to about 17,000 people. It is unclear how many ignored evacuation orders and pleas from officials to leave low-lying areas.
The International Red Cross also said as many as 13,000 houses could have been destroyed. "There might no longer be any clean water readily available on Abaco because of storm surges flooding wells," spokesman Matthew Cochrane told the BBC.
He said that aid workers were expecting "significant humanitarian needs" in the Bahamas once the storm passes.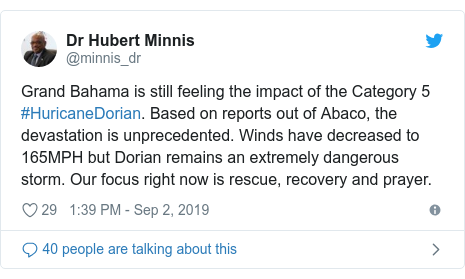 The UK Department for International Development said it was sending three humanitarian experts to the Bahamas.
One video as the storm hit the Abacos carried a desperate plea for help: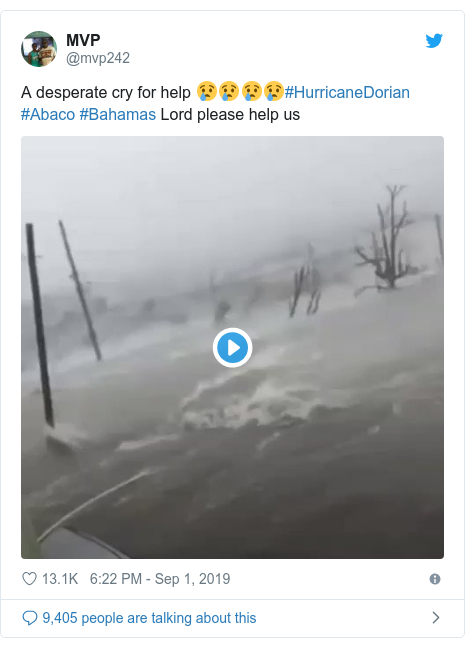 How has the Bahamas prepared?
The country is one of those most regularly hit by hurricanes, and homes are required to be reinforced to withstand the winds of a category four storm.
Prime Minister Minnis did announce an evacuation order for parts of Grand Bahama and the Abaco Islands. All tourists were asked to leave.
Mr Minnis said on Sunday of residents who chose to stay: "I can only say to them, that I hope this is not the last time they will hear my voice and may God be with them."
There has been no official confirmation of casualties but TV station Eyewitness News carried an interview with a woman who said her eight-year-old grandson had drowned on the Abaco Islands.
Is Dorian going to hit the US?
The storm is currently moving west but it is forecast to make a gradual turn north or north-west, taking it along the eastern US seaboard.
But its path is difficult to predict and it's unclear if it will make landfall.
"Surge-related flooding depends on the how close the centre of Dorian comes to the Florida east coast," the NHC said.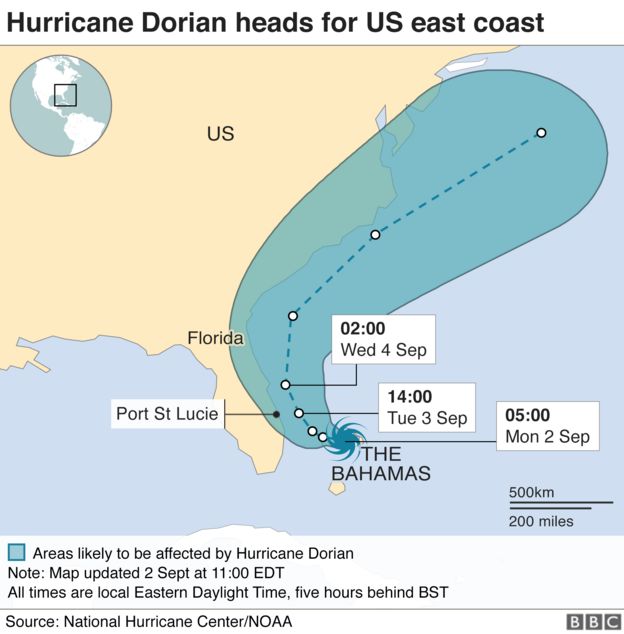 President Donald Trump told reporters on Sunday that the storm "looks monstrous" and the US east coast would "be ultimately impacted and some of it very, very severely".
Florida Governor Ron DeSantis warned people not to be complacent following the change in the storm's predicted path. "This storm at this magnitude could really cause massive destruction," he said.
Popular attractions, including Disney World in Orlando, have said they are "closely monitoring" the storm. Miami has ordered the removal of electric rental scooters from the streets to avoid them becoming projectiles.
South Carolina on Sunday issued a mandatory evacuation of the entire coast, effective of noon on Monday and affecting 830,000 people. Georgia then followed suit.

Is climate change making hurricanes worse?
Scientists cannot say whether climate change is increasing the number of hurricanes.
But the ones that do happen are more likely to be more powerful and more destructive because of our warming climate, says BBC Weather's Tomasz Schafernaker.
Here's why:
An increase in sea surface temperatures strengthens the wind speeds within storms and also raises the amount of precipitation a hurricane will dump
Sea levels are expected to increase by one to four feet over the next century, bringing the potential of far worse damage from sea surges and coastal flooding during storms
For more on this story and video go to: https://www.bbc.com/news/world-latin-america-49554537