By Minnie Chan From South China Morning Post
Cai Peihui, representing self-ruled island at legislative session, also says mainland will not hesitate to 'liberate' Taiwan if it declares independence
Another delegate, Huang Zhixian, tells panel independence-leaning parties 'are not qualified' to talk to Beijing about 'one country, two systems'
Beijing will not put off reunification with Taiwan forever but it hopes to bring the self-ruled island back into the China fold through peaceful means, according to a National People's Congress delegate.
In an interview, Cai Peihui described Chinese President Xi Jinping as "an aspiring and visionary leader" and said "he will not allow [the reunification agenda] to be postponed indefinitely".
Cai is one of 13 members of the Taiwan delegation – all of whom have a connection to the island but do not live there – attending the annual legislative session in Beijing.A retired soldier who fought for China in the 1979 Sino-Vietnamese war, Cai was chosen to represent Taiwan because of his family roots in Tainan, though he is a businessman based in Hong Kong.
Beijing sees Taiwan as a breakaway province subject to eventual reunification with the mainland, by force if necessary. It has for years called for this to happen under the "one country, two systems" model used in Hong Kong – something Taipei has rejected as unacceptable.In a major speech on Taiwan in January, Xi repeated Beijing's stance that "political division across the strait … cannot be passed on from generation to generation".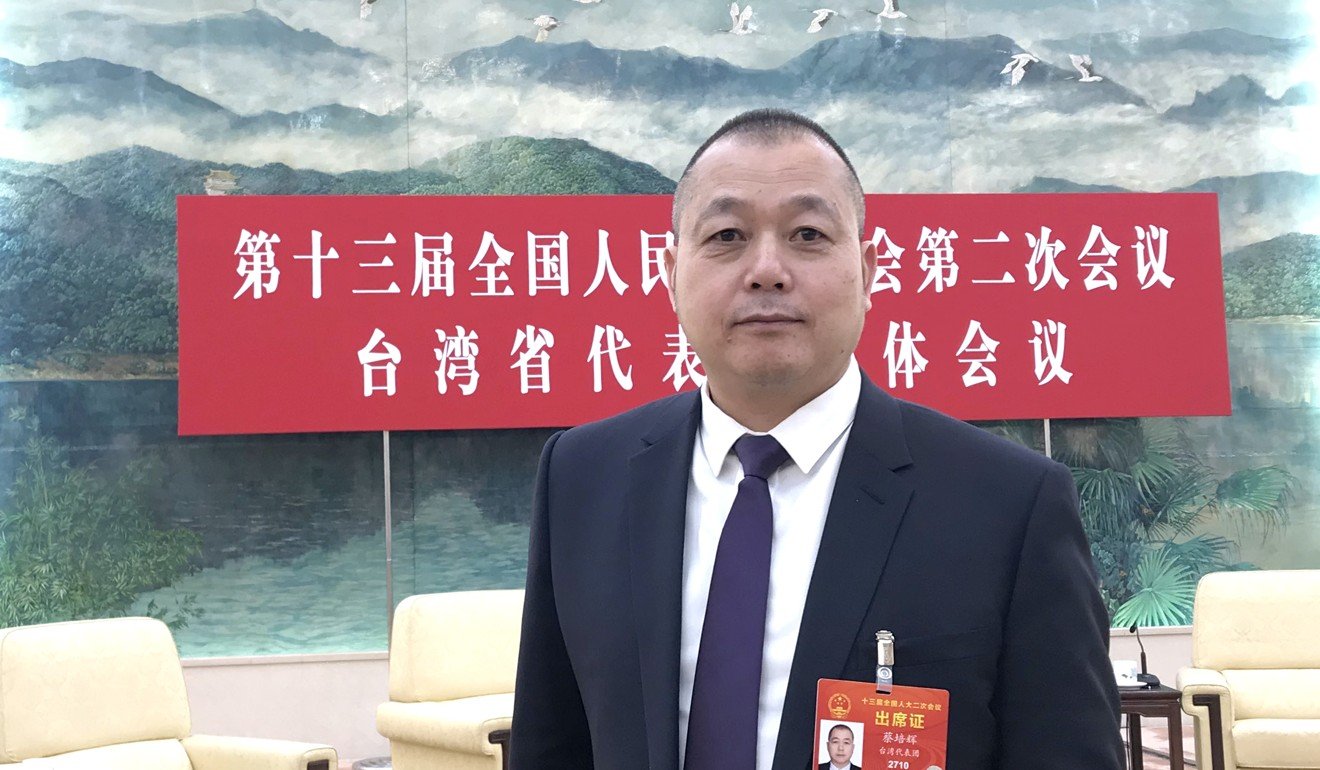 Cai Peihui, who has family roots in Tainan, is a businessman based in Hong Kong. Photo: Minnie Chan
Cai did not elaborate on the timing of Beijing's reunification goal, but said the mainland would not hesitate to "liberate" Taiwan if the island declared independence.
But he suggested that Beijing was likely to allow the island greater autonomy if it agreed to the one country, two systems model except in the three critical areas of Taiwan's official name – the Republic of China, which it cannot use internationally – foreign relations and national defence.
"As soon as reunification is put on the table, the two sides will have to reach a compromise on how our national sovereignty and defence can be realised in Taiwan," Cai said.
In January, Xi also asked Taiwan to select representatives from various sectors for "peaceful reunification" talks on using the one country, two systems approach.
But on Saturday, Huang Zhixian, another NPC deputy, told a panel discussion that all independence-leaning parties in Taiwan "are not qualified" to talk to Beijing.
"The Taiwan issue is an internal affair – only family members are qualified to join the discussion on a one country, two systems approach," said Huang, who is president of the All-China Federation of Taiwan Compatriots, a group focused on Taiwanese living on the mainland.
"Those who want 'two Chinas' – one China and one Taiwan – and other types of independence plots are not qualified to join the negotiations."
Another Taiwan delegate, Zhang Xiong, a professor at Tongji University in Shanghai, suggested Beijing and Taipei could draw inspiration from the past to resolve their issues, giving the example of Communist Party and Kuomintang forces working together during the Sino-Japanese war.
"Under the premise of one country, two systems, Taiwan can have its own military but it should be allied with the mainland's, and under the command of Beijing," Zhang said.
He also suggested that the People's Liberation Army should have a name change after reunification "because it would already have achieved its last mission of 'liberating Taiwan'".
But he said Taiwan should not have its own diplomatic missions abroad as foreign affairs would fall under Beijing's purview.
"As for what Taiwan should be called after reunification, that issue is debatable … I think both sides would need to use their wisdom to find a solution," Zhang said.
Cross-strait ties have deteriorated since Tsai Ing-wen – of the independence-leaning Democratic Progressive Party – was elected president in 2016 and refused to accept Beijing's view that Taiwan, with a population of 23.5 million, is part of China. Beijing responded by cutting official contact with the Tsai government and ramping up pressure on the island, including with military drills and by poaching five of Taipei's diplomatic allies.
Although Taiwanese leaders have repeatedly rejected the one country, two systems model, a source close to the island's pro-unification faction said a number of smaller political parties had contacted Beijing seeking its position on the issue.
"Some smaller political parties within the pro-unification camp agree with Beijing's view that reunification with the mainland is inevitable and they want to seize the opportunity in making their views known to mainland Chinese leaders," said the source, who requested anonymity.
"Their view is that Taiwan's economy is suffering and they will win greater public support at the polls if they can get more information about what sweeteners Beijing would offer Taipei to make reunification more palatable," he added.
For more on this story and video go to: https://www.scmp.com/news/china/politics/article/2189360/beijing-wont-allow-taiwan-reunification-be-postponed?utm_source=mailchimp&utm_medium=email&utm_content=190311&utm_campaign=GME-O-enlz-twosessions&MCUID=8d9bd0120f&MCCampaignID=4eef9d348f&MCAccountID=7b1e9e7f8075914aba9cff17f