US Sailing Rolex Yachtsman and Yachtswoman awards and the Caribbean 600
By David Schmidt From Sail World
Outside of achieving America's Cup, Olympics, The Ocean Race (nee, the Volvo Ocean Race) or World Championship glory, winning a coveted US Sailing Rolex Yachtsman or Yachtswoman of the Year award is one of the highest honors that an American sailor can earn, and last week news broke that three deserving sailors won this prize (and its accompanying Rolex timepieces) for their standout performances in 2018.
On the men's side, Jud Smith from Gloucester, Massachusetts, was named the 2018 Rolex Yachtsman of the Year, while identical twin sisters Carmen and Emma Cowles, hailing from Larchmont, New York, were collectively named the 2018 Rolex Yachtswomen of the Year. Smith and the sisters Cowles will be recognized at a luncheon in their honor, which will be held at the St. Francis Yacht Club, in San Francisco, California, on Thursday, February 28.
For anyone who follows high-level One Design racing, Jud Smith's name is a familiar one, especially in recent years in the J/70 class, where he was crowned 2018 World Champion (he also called tactics for Peter Duncan, who won the J/70 Worlds in 2017 and who won the Rolex Yachtsman of the Year last year for this effort). Interestingly, Smith, now 62, is now the oldest recipient to have won this this prestigious award.
"I do consider my age as my biggest challenge," said Smith in an official US Sailing press release. "However, I just have to work on my fitness and health much more than in years' past. Instead of worrying if I'm good enough to be competitive, I worry if I am fit enough to be competitive. I now spend much more time in the gym since that's my limiting factor. Mentally, the game is less daunting than when I was younger."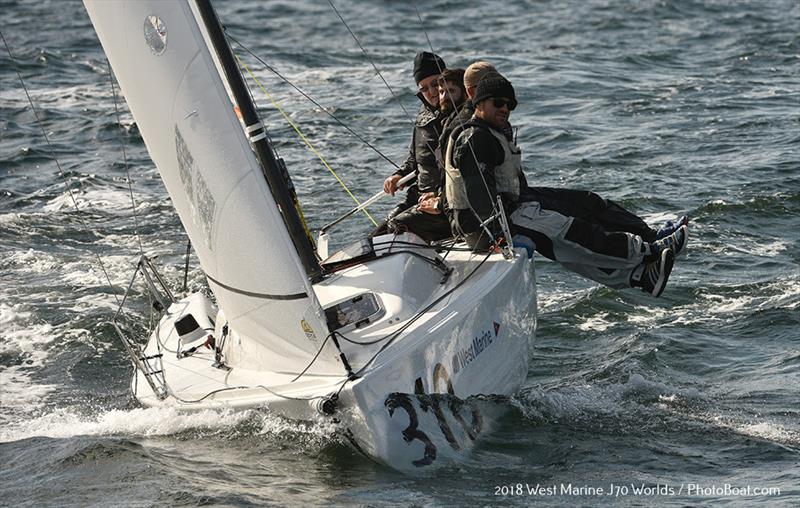 Africa Crew: Jud Smith, Lucas Calabrese, Will Felder, Marc Gauthier – 2018 West Marine J/70 World Championships – photo © 2018 West Marine J/70 Worlds / PhotoBoat.com
Perhaps the mental aspects of the game also get easier when the entire fleet is staring at your transom. "To be competitive at the top level requires sailing with the best young sailors in the world," continued Smith. "There a lot of 25 to 50-year-old talented sailors that make it possible for my generation to continue to compete. It's a pleasure to be able to race with such a talented and committed group of young sailors. If it wasn't for them, we'd be playing shuffleboard."
Meanwhile, anyone who follows U.S. Olympic sailing knows that the last decade has not been kind for the U.S.-flagged teams. Fortunately, we have some promising green shoots emerging on the scene compliments of Project Pipeline, including twin sisters Carmen and Emma Cowles (18), who earned a gold medal in the Girls' International 420 event at the 2018 Youth Sailing World Championships, which were hosted by the Corpus Christi Yacht Club.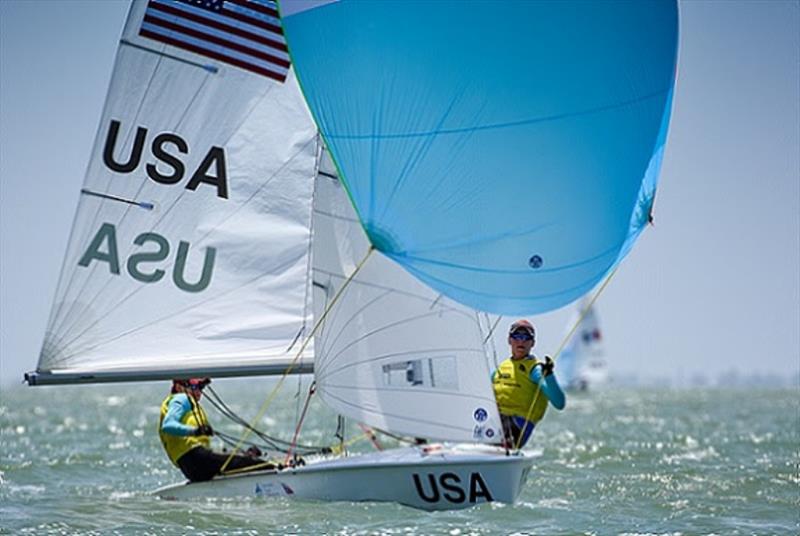 Carmen (left) and Emma Cowles (right) – 2018 Youth Sailing World Championships – photo © James Tomlinson
"There were several key aspects that enabled our success including sticking to our routine, having a solid support system, and training partners," said Carmen Cowles in an official US Sailing press release. "We built a plan for our training designed to peak at the time of the event, so we incorporated weekend training, training camps, and practice regattas."
Like many high-caliber athletes, the Cowles sisters have created a pre-racing process that allows them to mentally prepare for the day's challenges, such as claiming gold in a top international fleet. "In an event where stress is inevitable, sticking to our routine is essential," said Emma Cowles.
"We wake up early, check the forecasts, allow ourselves enough time to thoroughly check over our boat, listen to music in the boat park before launching, and even stick to our on-the-water fuel of peanut butter and jelly sandwiches and Glacier Freeze Gatorade," continues Emma. "With this, we can concentrate solely on the sailing and competition without being distracted by the differences in the venue. Our approach is that it just becomes another day on the water, or just another regatta."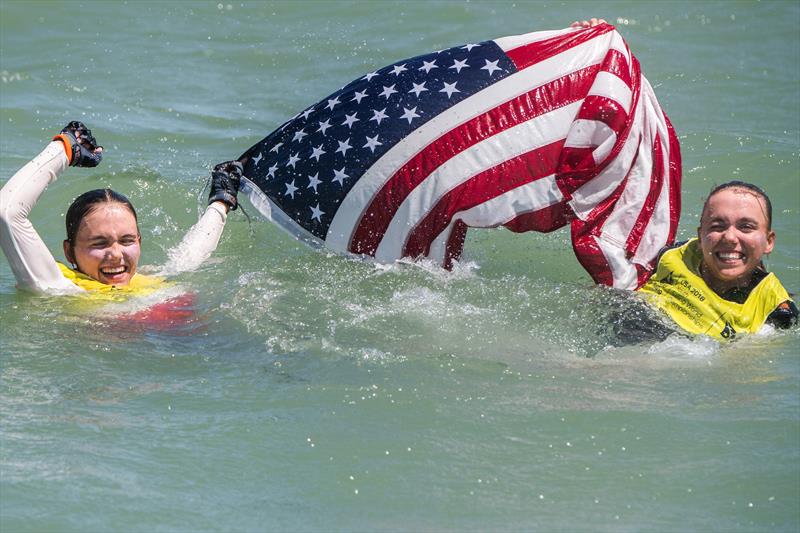 Carmen and Emma Cowles of the U.S.A successfully defended the gold medal they won last year in the Girls' 420 Class – Youth Sailing World Championships – photo © Jen Edney / World Sailing
Sail-World extends our respect and congratulations to these fast and deserving sailors, and we certainly look forward to seeing them ascend the top steps of future regatta podiums.
Speaking of podiums, last week marked the 11th edition of the Royal Ocean Racing Club's Caribbean 600 (February 18-22, 2019), which saw brilliant performances from sailors aboard vessels with one, two and three hulls.
On the monohull side, David and Peter Askew's Volvo Open 70 Wizard, which was skippered by Charlie Enright and crewed by several former Volvo Ocean Race alumni, won IRC overall, while John Gallagher and crew aboard the Gunboat 62 Chim Chim took the top multihull prize. En route to these awards, however, were several dazzling performances, including that of Greg Slyngstad's Fujin crew in the multihull fleet, and Giovanni Soldini's Maserati and Jason Carroll's Argo amongst the 70-foot trimarans.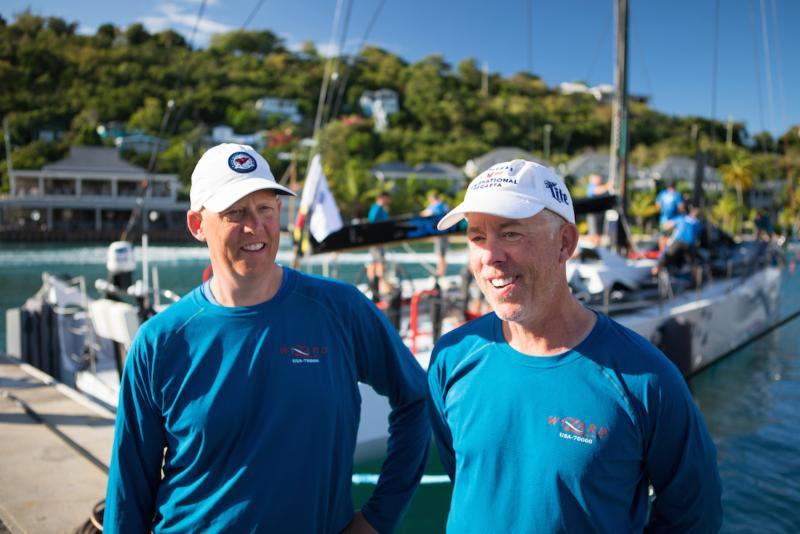 'To win the race is beyond our wildest dreams'- Wizard Volvo 70 owned by Brothers David and Peter Askew – RORC Caribbean 600 – photo © Arthur Daniel / RORC
"This is the first time we have done this race and to win it overall is beyond our wildest possible dreams," said David Askew in an official Caribbean 600 release. "It's a race we have followed and we have always wanted to be in Antigua, but we wanted to have the right boat to do the really prestigious ocean races; the races we dreamed about when we were younger. We really didn't have any expectations, but we prepared ourselves to perform as best as we could. I am in shock, I really can't believe it."
And while Chim Chim might have collected racecourse hardware at the awards ceremony, it was the two 70-foot trimarans that commanded the dock talk ahead of the race, especially after Carroll and company capsized Argo during the Antigua 360 warm-up race just days before the start of the Caribbean 600, prompting the 70-footers to electively accept a slightly postponed start to allow Argo to participate.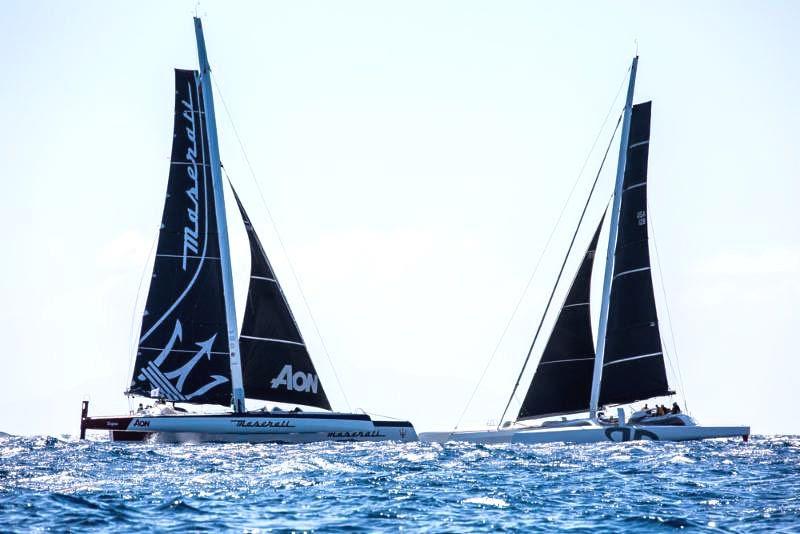 Giovanni Soldini's Multi70 Maserati and Jason Carroll's MOD 70 at the start of the RORC Caribbean 600, Day 2 – photo © Rachel Fallon-Langdon
"It was amazing that this race even happened," said Soldini in an official Caribbean 600 press release. Impressively, Soldini and company not only collected line honors, but they also established a new multihull record for this now-classic bluewater contest. "It was the first time in history that a multihull so big came back from a capsize like that – incredible. I was very happy to agree to delay that start, to race against one of the best teams in the world."
"We had a wonderful race, very windy, very fast, with very good maneuvers from both teams," continued Soldini. "We had some technical problems at Guadeloupe, we could not use our solent for five hours and we had a small problem with one rudder, but it was a great fight."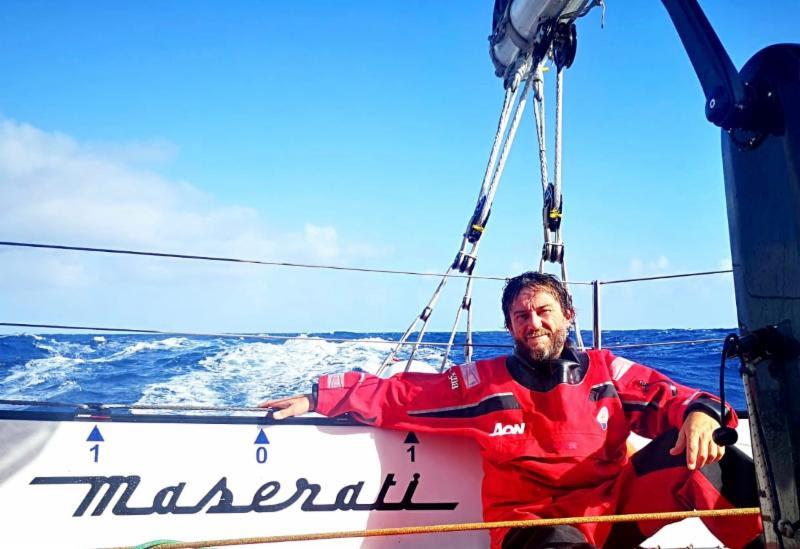 Happy and determined on Giovanni Soldini's Multi 70 Maserati, with 1,000 miles to run – Day 6 – RORC Transatlantic Race – photo © Soldini / Maserati
"After Guadeloupe we could see Argo all the time and they were getting bigger and bigger with our problems, but we had a good lead and we kept calm and solved the problem," he continued. "From Redonda to the finish we used classic match racing, trying to keep ourselves between Argo and the finish."
May the four winds blow you safely home.
David Schmidt
Editor Sail-World USA
For more on this story go to: https://www.sail-world.com/news/214868/US-Sailing-awards-and-the-Caribbean-600