New Zealand police say army troops will recover bodies from White Island – where a volcanic eruption killed at least eight people – on Friday morning.
The recovery mission would go ahead despite the risk of another eruption, police said.
"Today is less safe than yesterday, and the day before that," volcanologist Dr Graham Leonard said.
At least eight people are thought to be on the island following the eruption on Monday. All are presumed dead.
Police said they were planning a "high-speed recovery" of the bodies.
Eight others have already been confirmed dead, and 20 are in intensive care after suffering burns when the volcano erupted as tourists were visiting.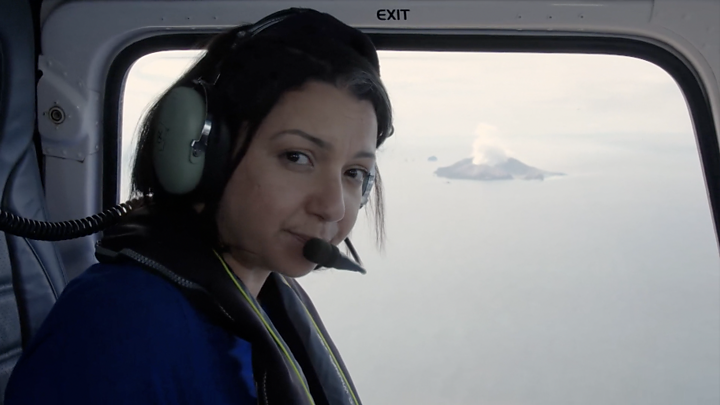 GeoNet, New Zealand's geological hazard information site, said on Thursdaythere was a 50-60% chance of another eruption within the next 24 hours.
But families of the victims are growing increasingly desperate for the bodies to be recovered.
"We are now living with a growing sense of desperation to bring home those that we know are there," Whakatane Mayor Judy Turner told reporters. "The frustration of those families most affected is completely understandable."
What's the recovery plan?
Deputy Police Commissioner Mike Clement told reporters on Thursday that officials had agreed a recovery plan even though the risk that the volcano will erupt had not diminished. "This is not a zero risk operation," he said.
Eight specialists from the New Zealand Defence Force will go to the island on Friday morning and "make every effort to recover all bodies".
The recovery team will be flown from a naval frigate to the island and will be kitted out with protective clothing and breathing apparatus.
If the volcano erupts while they are on the island they could face the danger of magma, superheated steam, ash and rocks thrown at high speed, volcanologists say.
During the operation, a geologist will be analysing real-time data to assess whether the mission needs to be aborted.
"We will make calls as the morning goes by," Mr Clement said. "A lot of things have to go right for this to work."
The fast recovery will also mean there will be less time to collect the evidence needed to ensure that the bodies are properly identified.
Surveillance flights have allowed police to locate only six bodies so far.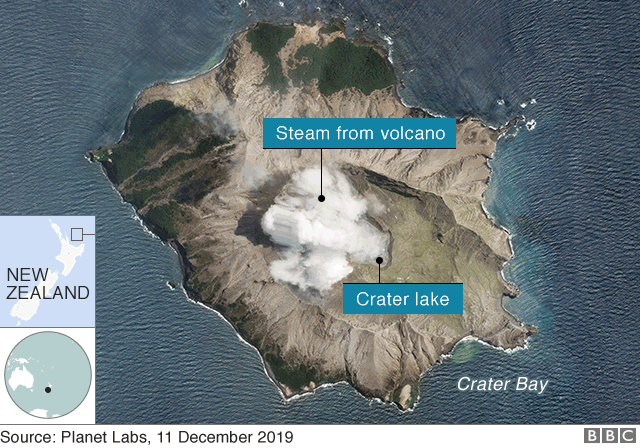 Maori place ceremonial ban on volcano
Local Maori groups have placed a rahui over the waters around the volcano and the coastal stretch on the Bay of Plenty.
It is a traditional prohibition restricting access to an area. White Island, called Whakaari by the Maori, holds spiritual significance for the local Ngati Awa tribe.
The rahui was placed on Tuesday morning and will be lifted only once the missing bodies are recovered.
An expert from the Ngati Awa will accompany authorities in the recovery mission.
"Ngati Awa are front and centre of this operation so for the uplifting of the deceased, once that decision is made, Ngati Awa will be going across to Whakaari/White Island," deputy commissioner Wally Haumaha told RNZ.
Rahui are often placed on areas after deaths or accidents occur or to protect natural resources in a specific area. They are not legally binding but are commonly respected by New Zealanders.
What state are the injured in?
The volcano erupted on Monday when at least 47 visitors from around the world were on the crater.
Many of the survivors are still in intensive care. Some have been unable to identify themselves because their burns are so severe, police say.
An estimated 120 sq m of replacement skin will be needed for all the patients, according to Dr Peter Watson from New Zealand's National Burns Unit.
Surgeons in burns units around the country are working around the clock, authorities said.
Some of the Australian victims have been flown back to their home country, and more are expected to follow in the coming days.
White Island is a popular tourist destination off the northern coast of North Island and there were day tours and scenic flights available.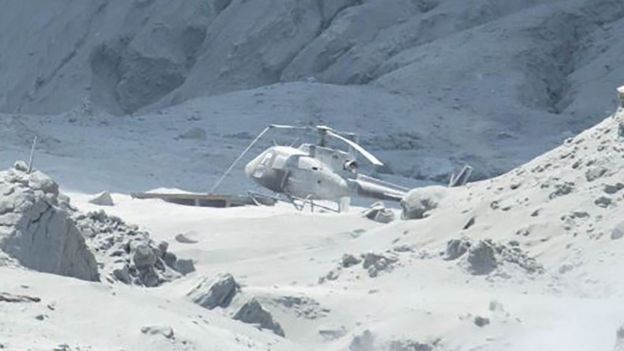 For more on this story and video go to; https://www.bbc.com/news/world-asia-50753453