Digging alongside the bulldozers of the £1.5bn road diversion, archaeologists have discovered tonnes of ancient bones. Is there a find so important that it could stop the whole project?
A small crowd of workers gathers outside a temporary office plonked in a muddy field in Cambridgeshire. Bill Boismier flips down the back door of his pickup truck and reaches inside. Earlier this morning, the American-born archaeologist, who has steeped himself in British soil for more than 40 years, was up to his knees in a nearby pit to retrieve the find he is now unwrapping. "What is it?" asks a site cleaner who, like everyone else here, is dressed head-to-toe in hi-vis safety gear. "Is it … a dinosaur?"
"Not quite," Boismier, who is 65, tells the group. His grey ponytail is tied back with a rubber band and his face reveals a life spent outdoors. "But it is an ancient species. It could be more than 130,000 years old." The leg bone, still caked in mud and roughly the height and weight of a five-year-old child, belonged to a woolly mammoth. The elephant-sized beast once roamed the land that is now just south of the Fenstanton Travelodge, at junction 27 of the A14.
The mammoth bone is the freshest find at Britain's biggest current road-building site. Archaeologists predicted that the £1.5bn project to divert the A14 around Huntingdon, just north of Cambridge, would be fruitful; dig up 12.5 miles of Fenland for a new motorway and you can expect to find some things. But the hordes of archaeologists who have worked ahead of – and alongside – the bulldozers have been astonished to document the treasure beneath their feet.
Boismier jumps in another truck with Dai Davies, a burly Welsh earth mover, for the short drive to borrow pit 3. Rather than truck thousands of tonnes of gravel and earth across the country for the project, which also includes the widening of a further 10 miles of the existing A14 and A1, several temporary quarries, or "borrow pits", have been dug in neighbouring fields. It was in the third of these that, in October, one of Davies's digger operators struck palaeontological gold.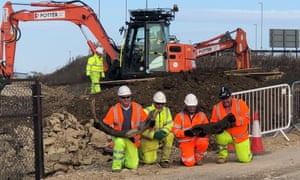 At the far end of the pit, Boismier and Davies step out of their truck to join Steve Sherlock, a Yorkshire-born ground sleuth who oversees the archaeological work. Such is its scale – and the strict planning requirements attached to it – that Sherlock, 64, has had to coordinate some 250 archaeologists. Before work began in 2016, research including hi-tech geophysical surveys identified sites for detailed excavation. Sherlock's teams have uncovered whole medieval and Anglo-Saxon villages, as well as an ornate 8th-century comb made of deer antler, dozens of Roman brooches and a bone flute.
But meticulously excavating sites as large as borrow pit 3 using pick-hammers and trowels would make large projects impossible to achieve. The quarry, which Davies manages, is a small cog in a giant roadbuilding machine, yet it is an awesome sight. Giant industrial pumps at the perimeter work day and night to keep the water table at bay as more than a dozen machines excavate and move earth in a kind of digger ballet. It is a scene of temporary mass destruction (the pits will be returned to fields afterwards) but the men and women behind the controls at this site have a dual role.
"He's looking at the moment for a different colour when he's digging," Davies says as he points at the nearest digger. Before its driver sinks his bucket into the ground to pull up more than three tonnes of earth, he draws its toothed edge carefully over the surface. A darkening in the earth might indicate the presence of something significant, and the need for a more detailed look. While digging like this last month, Davies's team created national headlines. They found a pair of mammoth tusks and, rarer still, the intact skull of a woolly rhino. "You tell people down the pub you've found a mammoth tusk and they say 'no you haven't' and you have to show them a picture," Davies says in a Welsh lilt. "It's not something you encounter every day, is it?"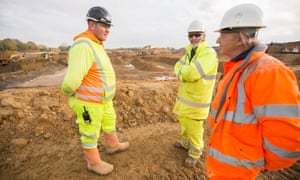 For Sherlock and Boismier, the intended benefits of the road project, which Highways England hopes will improve traffic flow between East Anglia and the Midlands, are secondary to the opportunity it presents. There would be no other reason, in the fairly featureless Fens, to dig giant holes to a depth of four metres. Yet there is no other way to peel back so many layers of history.
Boismier tries to conjure the landscape here when the mammoths and rhinos roamed, centuries before humans changed it all. He describes a fast-flowing, icy river – which left the gravel now incorporated in the new roads – sweeping away all but the heaviest remains of animals. There were no trees and much of England was bound by glaciers and ice sheets. "You see some of the greyish blue clay there," Boismier says, pointing at giant clumps of earth pulled from the deepest pits, below the gravel. "The dinosaurs were alive when that was deposited."
But undertaking this kind of archaeology is often fraught: a race against the machines. Sherlock, who has worked on road projects since 2003, is the middle man. He works for Highways England and has managed 33 excavation sites while also working with dozens of contractors who are, among other things, building more than 30 new bridges, each of which requires deep foundations. "If an archaeologist says to a contractor, 'Oh, that won't take long,' the contractor thinks they'll go off and have a cup of tea and it'll be done," he explains. "But 'not long' for an archaeologist might be two weeks."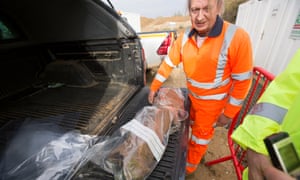 Boismier, who exudes a seen-it-all wryness, is positive about the cooperation on his latest project. Yet he blanches when asked what might happen if one of Davies's diggers hit a dinosaur. "I'll go home and not come back," he says, laughing. He wouldn't, of course, but it's clear that the odd mammoth tusk or rhino skull, while rare and remarkable, is about as excitable as the team here wants to get. "This is a watching brief," Boismier adds. "You're going around with the works to try and get things recorded, not trying to disrupt, and then moving on."
What would it take, in terms of archaeological significance, to really throw a project as big as this off course? "Oh you'd have to find the Neanderthal man with a mammoth footprint right on him," Boismier says. "But that's not going to happen." The woolly rhino skull will do nicely. It and the woolly mammoth went extinct more than 10,000 years ago and the rhino skulls have a honeycomb structure that means they rarely survive intact. "To get a complete one is just amazing," Boismier says. "At first we didn't know what it was."
Hanging over Sherlock, Boismier and Davies (who deserve their own sitcom, by the way) is a major deadline. A previous version of this project first hit drawing boards in 2005, only to be axed by the government in 2010 because of its enormous cost. The current scheme won approval in May 2016 and is due to be completed in December 2020. Mola Headland Infrastructure (MHI), a joint venture including Museum of London Archaeology, got the contract to do the archaeology.
Even recruiting the archaeologists has been a challenge; they are in short supply, Sherlock says. Last summer, MHI had to scoop-up archaeology graduates by the dozen and put them on an eight-week training course. The call went out globally, and almost three-quarters of the team has been foreign. At one point, Sherlock got in a team of 20 from Rome. "And they were digging Roman sites of course, some of the time," he says.
Yet managing the living has been a logistical cinch compared with the mammoth task of dealing with the dead. The team has pulled up more than seven tonnes of bone, including some human remains, and about the same weight in pottery alone. What do you do with all that stuff? When Davies's digger operator found the tusks and skull, he brushed them off and set them aside, pausing only for minutes before climbing back into his machine. The next time Boismier was at the borrow pit, he retrieved them, bagged them in plastic and took them to a large MHI field centre in nearby St Neots. All the finds, including those from the archaeological digs where the team has more time to work, have been processed there and loaded into large plastic boxes before being trucked down the A1 to Mola's HQ.
The large grey building is wedged between a self-storage centre and a Royal Mail sorting office in east London. A few days after Davies proudly surveyed his borrow pit, Liz Goodman, a conservator at MHI, is standing over a large table in a harshly lit workshop. She wears blue latex gloves. The mammoth tusks sit next to the skull, bits of mud and gravel still sticking to them, and water pooling on the plastic sheeting. It's like a scene from CSI Ice Age, except that Goodman's headache is not to establish a cause of death but to work out how to stop the finds disintegrating. Mammoth ivory is layered up as cones within cones. The tusks have been saturated in wet earth for thousands of years. Drying them out would cause the layers to separate. "They would just sort of slowly explode," Goodman says.
A find like this in Britain is so rare that Goodman is having to research her options. The crates the team has to store items in water aren't big enough. Plastic bags doused with water work for now, but water alone would also eventually threaten the ivory, its high surface tension effectively pulling it apart over time. "We're going to substitute water for alcohol because its surface tension is much less, but the quantities of alcohol you need get quite interesting," Goodman says.
Mola is also having to draw up security measures for the tusks. Bans on trading elephant ivory have, over the years, created a market for the mammoth alternative, typically using tusks pulled in greater numbers from Siberia. "I'm suddenly realising all these new things I need to worry about," says Goodman, who is used to dealing with smaller fragments. She has not yet opened the box that contains Boismier's mammoth leg.
Upstairs, specialists are processing some of the artefacts retrieved from the A14 project. Lyn Blackmore is excited about the unusually ornate comb. It's stored in foam in a small box, and came from a lost Anglo-Saxon village Sherlock's team excavated near Brampton, a village on the route of the Huntingdon bypass. "I've never seen one so fancy," she says of the 8th- or 9th-century object. Most of its fine teeth are still attached to a beautifully carved handle.
A few desks across the large open-plan office, Rachel Cubitt is looking at an x-ray of a number of Roman brooches from another excavation site. It reveals the fine spring one of them contained for fastening a cloak. In another brooch, coloured enamel decoration is still visible. "We're used to projects in London, but large parts of this area of England have never been touched, archaeologically," she says. "This is a fantastic opportunity to understand large swathes of the countryside."
Back on the project, the bulk of the detailed excavation has now been completed. But at the borrow pit, Davies is optimistic that he may yet discover more big bones. For him, working with Boismier and Sherlock has been eye-opening. He has a new-found respect for archaeologists, having observed them up to their neck in mud on winter days that would make a woolly rhino shiver. "I've also seen things on this project I don't think I'll ever see again," Davies says, revelling in a new interest in history. "I was inCambridge the other day and I've nearly gone into the archaeology museum," he says, laughing. "They've nearly broken me."
• This article was altered on 26 November 2018 to correct two references to "architect" that should have read "archaeologist".
IMAGES:
The intact skull of a woolly rhinoceros was a rare find for the archaeologists. Photograph: aleks1949/Getty Images/iStockphoto
'Large parts of this area have never been touched archaeologically' … Rachel Cubitt. Photograph: Graeme Robertson for the Guardian
Bulldozers at work on the A14 works at Brampton. Photograph: Graeme Robertson for the Guardian
Big find … the leg bone of a woolly mammoth was the latest discovery in the A14 works. Photograph: Science Picture Co/Getty Images/Collection Mix: Subjects RM
In case you missed it…
… we recently posted some good news. Three years ago we set out to make The Guardian sustainable by deepening our relationship with our readers. The same technologies that connected us with a global audience had also shifted advertising revenues away from news publishers. We decided to seek an approach that would allow us to keep our journalism open and accessible to everyone, regardless of where they live or what they can afford.
More than one million readers have now supported our independent, investigative journalism through contributions, membership or subscriptions, which has played such an important part in helping The Guardian overcome a perilous financial situation globally. We want to thank you for all of your support. But we have to maintain and build on that support for every year to come.
Sustained support from our readers enables us to continue pursuing difficult stories in challenging times of political upheaval, when factual reporting has never been more critical. The Guardian is editorially independent – our journalism is free from commercial bias and not influenced by billionaire owners, politicians or shareholders. No one edits our editor. No one steers our opinion. This is important because it enables us to give a voice to those less heard, challenge the powerful and hold them to account. Readers' support means we can continue bringing The Guardian's independent journalism to the world.
If everyone who reads our reporting, who likes it, helps to support it, our future would be much more secure. For as little as $1, you can support the Guardian – and it only takes a minute. Thank you.
For more on this story and to donate to The Guardian go to: https://www.theguardian.com/science/2018/nov/26/prehistoric-remains-mammoth-tusks-woolly-rhino