From BBC
Three employees have been sacked and a restaurant has been closed after two black women were wrongly accused of a 'dine and dash' in Missouri.
Alexis Brison and her friend were about to eat a meal at a branch of Applebee's Bar and Grill in Independence, when two police officers approached their table and asked them to pay and leave.
Staff had told the officers they believed the women had eaten in the restaurant the day before but left without paying for their meals.
Ms Brison was so shocked that she filmed the incident on her phone. Since posting her footage on Facebook, it has been shared more than 3.6 million times.
In the video Ms Brison can be heard insisting that it was their first time at the restaurant while the police officer can be heard asking her to stop yelling, saying she was getting "worked up for nothing". He also asked her what she would do in his shoes.
She is then heard sobbing: "We deal with this all the time. Black people in America gotta deal with this all the time."
The incident happened on February 9 and it is understood that the previous day the restaurant manager had been told that "a skinny girl and a girl who wore make-up" had left without paying.
As the recording continues, a restaurant server approaches the table, saying she was "almost positive" Ms Brison and her friend were the women who were in the day before.
Ms Brison wrote on her post: "Black people cannot continue to be treated this way, especially during Black History Month. This is a clear example of RACIAL PROFILING that should not be stood for.
"Just because we are black does not mean we are all criminals and I will not be treated as such."
Applebee's restaurant chain tweeted a statement, saying "We regret this occurred and sincerely apologise to our guests and community."
According to the restaurant's statement, an internal investigation has taken place and the manager, server and another employee have been sacked.
"We do not tolerate racism, bigotry or harassment of any nature" it said, adding that the restaurant was closed in order for the team to 'learn and grow' from the incident.
Meanwhile, social media reaction has grown. Commenting on her Facebook post which has been shared more than 76,000 times, many have been advising Ms Brison to seek legal help, including Lewis Johnson who wrote: "Have your day in court. I can understand your reaction,…."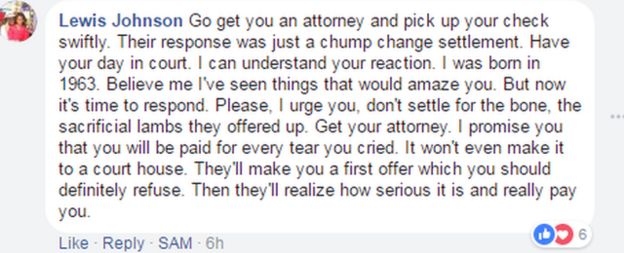 And Pam Snead Harris added that she was glad this made local and national news but "Sad this is still our world…. felt the tears."
IMAGE: RIVER NORTH PHOTOGRAPHY
For more on this story go to: http://www.bbc.com/news/world-us-canada-43058470