By Tim Pile From South China Morning Post
The good
Cruising is the fastest-growing sector of the tourist industry and the Caribbean is the world's most popular cruise destination. Two dozen lines ply West Indian waters during the peak months, from December to April. Vessels range from vast floating resorts equipped with the state-of-the-art facilities to boutique boats that carry a handful of well-heeled hedonists. The Caribbean Sea covers 2.75 million sq km and ships drop anchor in at least 60 ports, usually on week-long itineraries that are divided and marketed by region.
Departing from Miami and Fort Lauderdale, in the United States, Eastern Caribbean cruises shuttle between the Bahamas, Puerto Rico and the Virgin Islands. The ports of call are conveniently clustered, enabling guests to arrive at a new destination each morning. Western Caribbean favourites include Jamaica and the Cayman Islands, as well as Mexico and Belize. Passengers signing up for the more distant Southern Caribbean loop usually fly into Barbados and might set sail for Antigua, St Lucia and the French islands of Martinique and Guadeloupe, before finishing up in Trinidad and Tobago, a hop and a skip from South America.
Caribbean cruises virtually sell themselves. During the depths of winter, who wouldn't be tempted by the winning combination of warm weather, silky white sands and translucent turquoise seas; not to mention picturesque ports hemmed in by verdant hills and excursions to historical sites? Regular itinerary tweaks and ever more modern ships result in high repeat-booking rates, which suggest that cruise companies have got the recipe just right.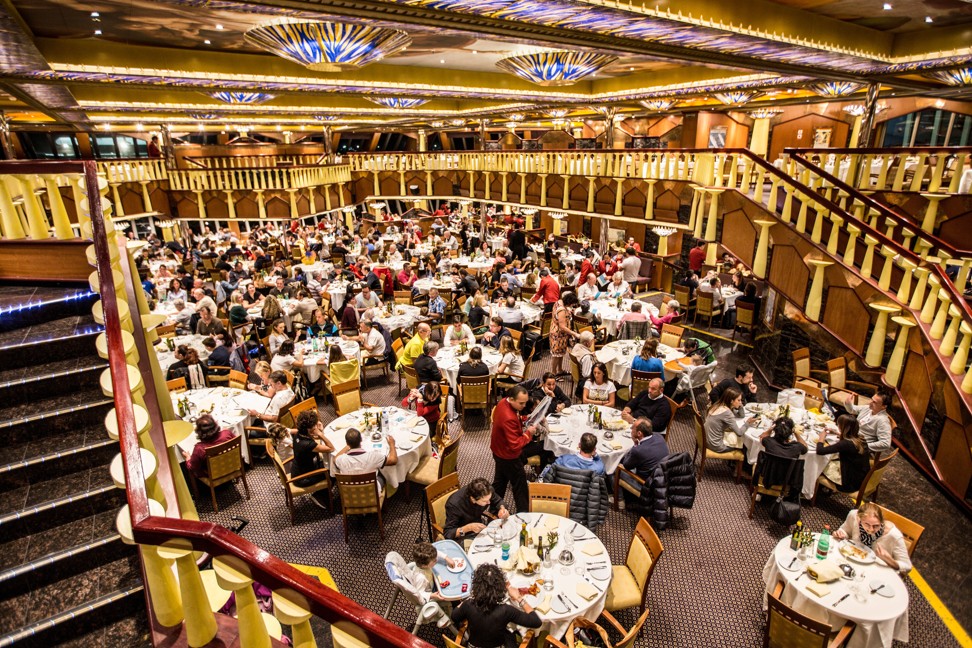 Passengers dine on-board the Costa Fortuna. Photo: AlamyShare:
On the subject of recipes, dining is a major part of the seafaring experience, whether it's gourmet restaurant menus created by Michelin-starred chefs or burgers at the poolside snack bar. On-board meals come thick and fast – as soon as breakfast finishes, staff begin setting the tables for lunch. But if you can't wait that long, any number of cafes and bars will serve up pizza, bagels or pastries (accompanied by a mid-morning daiquiri) to keep you from starving.
Burning off the calories becomes a passenger preoccupation by about day three but if a traditional jog around the deck doesn't float your boat, there are plenty of alternatives. Spend an hour or two in the gym, which is guaranteed to boast top-of-the-range equipment, sign up for salsa classes, a game of tennis or that old cruising favourite, shuffleboard. Better still, book an activity-based shore excursion such as kayaking, wind­surfing or sightseeing by bicycle. Some cruise lines even lease or own private beaches where guests can zip-line, windsurf or snorkel.SUBSCRIBE TO POST MAGAZINEGet updates direct to your inboxSUBMITBy registering for these newsletters you agree to our T&C and Privacy Policy
If all this sounds prohibitively expensive, bear in mind that companies are increasingly targeting families and a younger, less affluent demographic (a Cruise Line International Association study found that from 2016 to 2018, the highest growth in bookings was from people aged 30 to 39). In fact a Caribbean cruise could work out less expensive than exploring the archipelago indepen­dently. Inter-island flights are pricey considering how small the distances are, hotels and food (mostly imported) don't come cheap and you'll need a taxi to get around most of the islands as public transport is slow and overcrowded, where it exists at all. And besides, who wants to keep packing and unpacking?
The Bad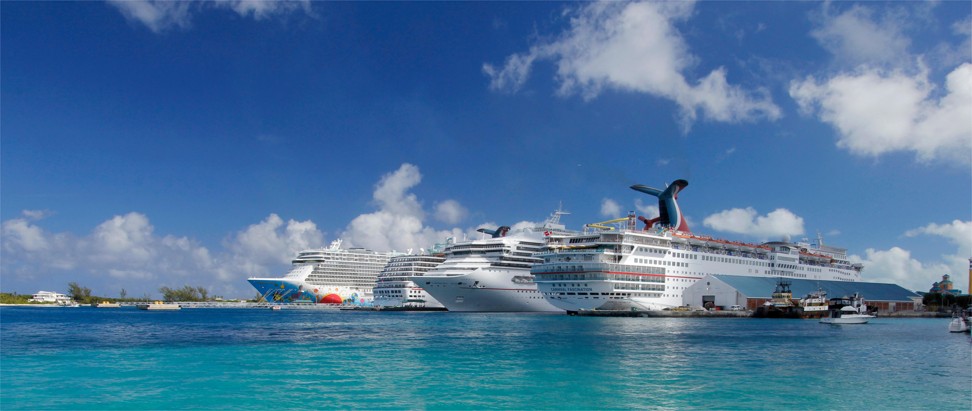 Cruise ships lined up in Nassau, the Bahamas. Photo: AlamyShare:
The cruise industry claims that passengers inject much-needed revenue into Caribbean island coffers. They point out that while in port, their guests spend a small fortune on everything from diamonds to duty-free electronics, souvenirs and sightseeing excursions. Average passenger expenditure figures look impressive on paper but the numbers are often crunched by the shipping companies themselves and lack scientific methodology. Critics argue that very little money is actually spent during shore excursions as passengers dine, shop and pre-book tours aboard ship. Rather than keeping small Caribbean islands afloat, the reality, they say, is that large numbers of low-value passengers bring few if any economic benefits to the destination communities, but still clog the streets.
Ethical-travel lobby group Tourism Concern appears to back this view. "Cruise lines are doing their best to maximise the money spent on board while minimising [passengers] time in port."
Last October, the Bahamas government decided to stop paying cruise lines to dock in the capital. Minister of Tourism Dionisio D'Aguilar was reported as saying, "So why are we giving incentives for people to come to Nassau and sit on the boat, eat their food and not spend money in our country?"
Sometimes, however, incidents on shore inadvertently play into cruise operators' hands. Assaults on tourists, such as last month's violent attack on two French passengers in Antigua, discourage fearful guests from leaving their ship, which translates into more on-board spending.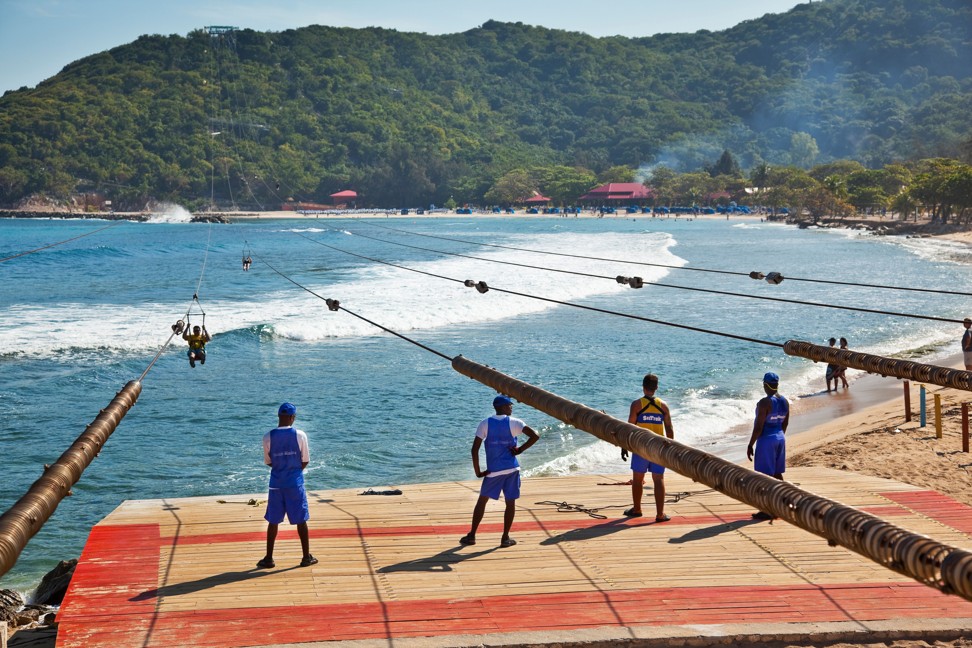 Tourists zip-line in Labadee, Haiti, under the watchful eyes of armed guards, who keep the locals at bay. Photo: AlamyShare:
Cruise ship spas, shops and casinos represent a significant source of company revenue, as do charges for sports and exercise classes. Drinks aren't always included in the cost of the voyage, nor are internet fees or surcharges for some high-end restaurants.
On many islands it's the sheer number of passengers coming ashore that causes problems. Several enormous cruise ships docking at the same time can overwhelm small Caribbean settlements (the 18-deck Symphony of the Seas, for example, has a capacity of 6,680 guests and 2,200 crew members). Swarms of tourists invade beaches and beauty spots, much to the annoyance of islanders, and push up prices for overnighters staying in hotels.
Private beaches leased by the cruise lines have also come in for criticism. At Labadee, in Haiti, machine-gun-toting guards patrol barbed-wire fences installed to keep the impoverished local population away from those zip-lining, windsurfing, snorkelling guests. Tourism Concern states that apart from those employed at the authentic artisan market, "the Haitian people are left out of the economic benefits of such a lucrative resort". As for the sunbathing fun seekers – most think they're on a private island and don't even realise they're in Haiti.
The Ugly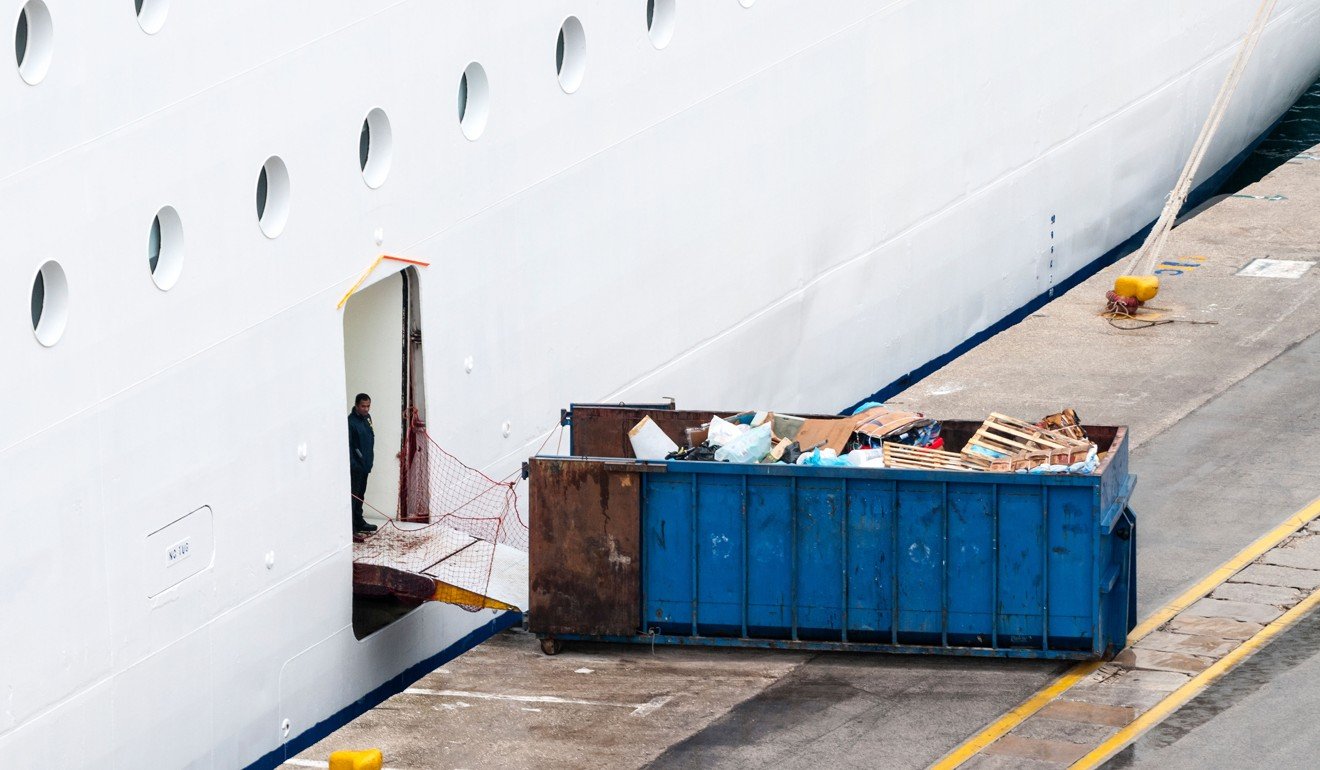 Cruise-ship waste is dumped dockside. Photo: AlamyShare:
Cruise lines register their vessels in "flag of convenience" countries that include Liberia and Panama, where workers' rights are invariably on the less stringent side, little in the way of corporate tax is levied and environmental regulations can be circumvented.
The US magazine Pacific Standard claims that each cruise passenger's carbon footprint is "roughly three times what it would be on land". The floating cities generate huge quantities of solid waste, rubbish, toxic chemicals and oily bilge water. In theory, this "grey water" is treated before being released into the ocean but, in 2016, Princess Cruises was fined a record US$40 million for dumping 4,227 gallons of oil-contaminated waste off the coast of Britain.
For more on this story go to; https://www.scmp.com/magazines/post-magazine/travel/article/3001527/good-bad-and-ugly-sides-caribbean-cruises-whistle