Former Bosnian Serb commander Ratko Mladic has been jailed for life for genocide and other atrocities in the 1990s Bosnian war.
Known as the "Butcher of Bosnia", Mladic led forces during the massacre of Bosnian Muslims (Bosniaks) in Srebrenica and the siege of Sarajevo.
The UN tribunal in The Hague convicted him on 10 of the 11 charges.
Mladic, 74, was not in court when the sentence was read out. He had been removed for shouting at the judges.
"It's a lie. Everything you said in this courtroom is a lie," he said.
The outburst came after the judges rejected a request by his team to halt the proceedings because of Mladic's high blood pressure.
Mladic has denied all the charges and his lawyer said he would appeal.
What were the crimes?
Mladic was the military commander of Bosnian Serb forces against Bosnian Croat and Bosniak armies. He had been on trial at the International Criminal Tribunal for the former Yugoslavia (ICTY) since 2012.
It found that Mladic "significantly contributed" to the genocide in Srebrenica in 1995, where more than 7,000 Bosniak men and boys were murdered, the worst atrocity in Europe since World War Two.
He was cleared of a second count of genocide in other municipalities. The other charges included war crimes and crimes against humanity.
Presiding judge Alphons Orie read out many crimes committed by troops under Mladic's command, including:
Mass rapes of Bosniak women and girls
Keeping Bosniak prisoners in appalling conditions – starving, thirsty and sick – and beating them
Terrorising civilians in Sarajevo by shelling and sniping at them
Deporting Bosniaks forcibly en masse
Destroying Bosniaks' homes and mosques
How was Gen Mladic brought to trial?
At the end of the war in 1995 Mladic went into hiding and lived in obscurity in Serbia, protected by family and elements of the security forces.
He was finally tracked down and arrested at a cousin's house in rural northern Serbia in 2011 after 16 years on the run.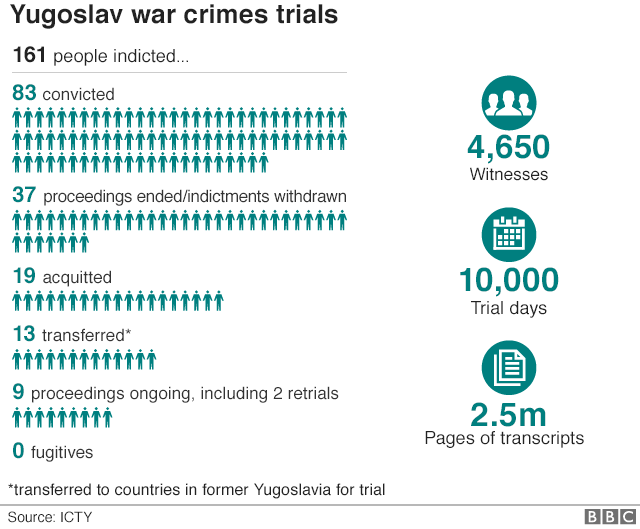 Mladic's days in the Scheveningen prison in The Hague have been taken up with playing chess, reading history books, watching TV and exercise.
His usual chess rival is former Bosnian Serb President Radovan Karadzic, who was also convicted of genocide and war crimes in the Bosnian war in 2016.
What has the reaction been?
Victims and their relatives watched the verdict in a memorial centre near Srebrenica, and erupted in cheers as it was read out.
The group Mothers of Srebrenica said it was partially satisfied, and some relatives said Mladic deserved a harsher sentence.
IMAGES:
"The soil here is soaked with blood" – survivor Mevludin Oric
Ratko Mladic's trial in numbers
REUTERS Image caption Victims and their relatives watched the verdict in a memorial centre near Srebrenica
AFP Image caption A relative mourns one of the Srebrenica massacre victims
AFP Image caption April 1992: Bosniaks take cover from shelling in Sarajevo
For more on this story and video go to: http://www.bbc.com/news/world-europe-42080090