By Zoe Low and Christy Leung From SMCP
Operation targets group said to have supported fugitives' flight bid with cash and logistics
Police source says eight men and three women held on suspicion of assisting offenders in breach of the Criminal Procedure Ordinance
National security police have arrested a lawyer, a Ukrainian man and nine others on suspicion of bankrolling an attempt by 12 Hong Kong fugitives to flee the city.
A police source confirmed the arrests early on Thursday of eight men and three women aged 18 to 72 for "assisting offenders". The act under the Criminal Procedure Ordinance carries a maximum penalty of 10 years in jail.
The insider said the 11 individuals were accused of sponsoring the fugitives' attempt to abscond, with the amount of funds offered by each of them ranging from a few thousand Hong Kong dollars to tens of thousands.
"They also provided help such as introducing middle men to the fugitives, arranging shoreline pickups and providing hiding locations," the source said.The 12 fugitives were arrested at sea last August by the Chinese coastguard while en route to Taiwan, with 10 among them jailed for between seven months and three years on December 30 in Shenzhen for illegally crossing the border. They were fleeing charges linked to the 2019 anti-government protests in Hong Kong.
Two underage suspects, who had jumped bail in Hong Kong, were returned to local police and are facing trial.
Lawyer Daniel Wong Kwok-tung, 72, who is also a Kowloon City district councillor, wrote on his Facebook page that officers from the police's National Security Department arrived at his home at 6.10am on Thursday.EVERY SATURDAYSCMP Global Impact NewsletterBy submitting, you consent to receiving marketing emails from SCMP. If you don't want these, tick hereBy registering, you agree to our T&C and Privacy Policy
Officers took Wong to his council office in Kowloon City for a search of the premises before he was transported to Sha Tin Police Station for further questioning.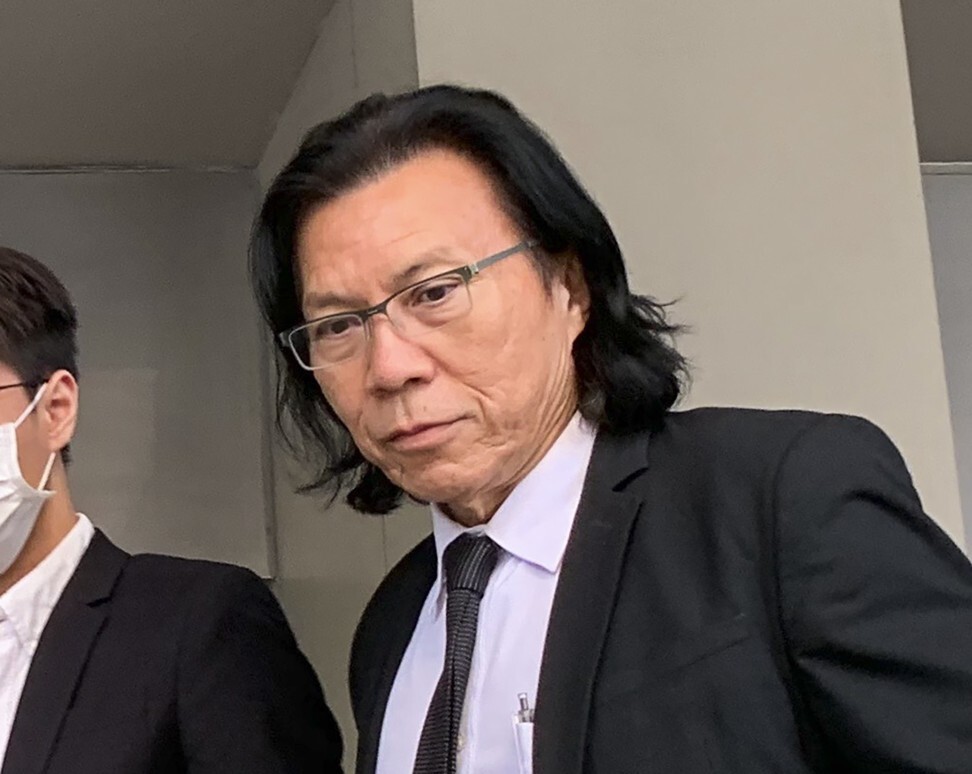 Hong Kong lawyer Daniel Wong is also a district councillor serving Kowloon City. Photo: Jasmine Siu
Handcuffed as he was escorted from his office, Wong said: "Democracy, rule of law, human rights, persistence. Hongkongers do not give up."He was known for providing legal assistance to protesters arrested during the social unrest and was also behind a campaign to set up a cafe in Taiwan employing exiled Hong Kong demonstrators.
The 29-year-old Ukrainian man works at a local restaurant. The others include two students aged 18 and 19, and a 29-year-old independent musician called Rono Fok.
Investigations so far indicated the 11 were not in breach of any offences under the national security law, the insider added.
The source said the national security unit led the operation because they were overseeing the fugitives' cases, adding none of those arrested had been detained by the department before.https://www.youtube.com/embed/s7H_o4dBleA?rel=0&mute=1&playsinline=1&frameborder=0&autoplay=0&origin=https%3A%2F%2Fwww.scmp.com&embed_config=%7B%22relatedChannels%22%3A%5B%22UC4SUWizzKc1tptprBkWjX2Q%22%5D%2C%22adsConfig%22%3A%7B%22adTagParameters%22%3A%7B%22iu%22%3A%22%2F8134%2Fscmp%2Fweb%2Fhongkong_lawcrime%2Farticle%2Finstream1%22%7D%7D%2C%22nonPersonalizedAd%22%3Atrue%7D&enablejsapi=1&widgetid=1
National security police arrest 11 suspected of helping 12 Hong Kong fugitives
Willis Ho Kit-wang, one of 13 activists convicted over thestorming of the city's Legislative Council in 2014, also said on Facebook that her mother was arrested on Thursday morning, and believed she had been detained at Tsuen Wan Police Station in relation to the fugitives' case.
Last October, officers from the organised crime and triad bureau arrested nine people, including former assistants to three ex-lawmakers, on suspicion of helping the 12 activists. The nine were all released on bail pending further investigation.
Separately, Secretary for Security John Lee Ka-chiu said local officials would "proactively cooperate" with the central government, after sources told the Post that Beijing was mulling how to retaliate against London's new pathway for Hongkongers to acquire British citizenship.Lee was also asked about reports that his government was looking at prosecuting two Danish politicians said to have aided the absconsion of former opposition lawmaker Ted Hui Chi-fung.
Hui fled to Denmark in November last year after he was granted bail over protest-related charges in Hong Kong without having his passport confiscated.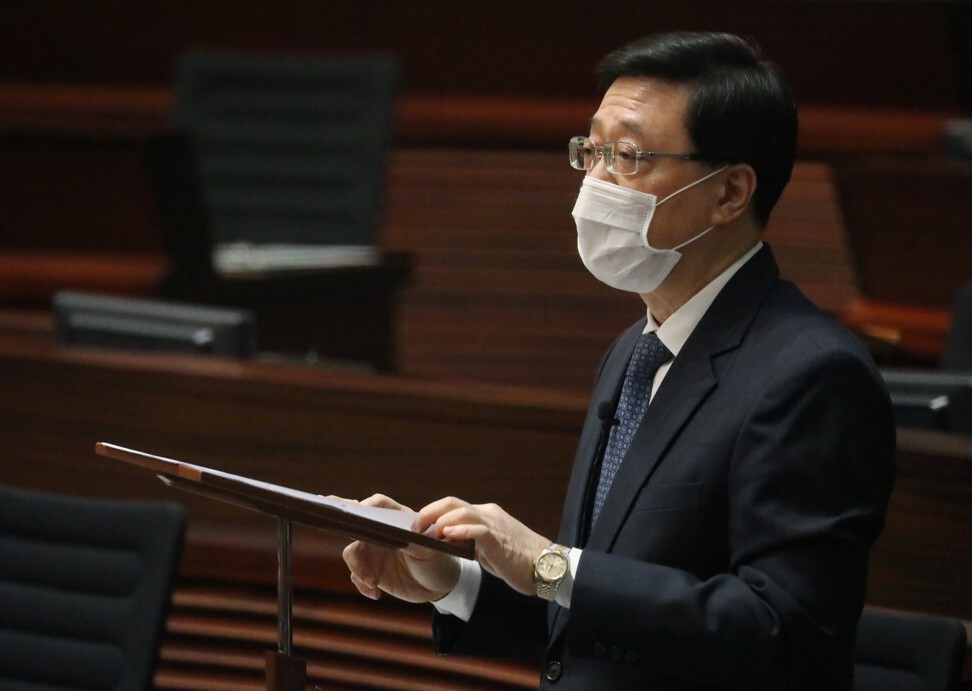 Hong Kong's security minister John Lee. Photo: May Tse
There is no extradition agreement between Hong Kong and the Scandinavian country.
Lee said the Hong Kong government was responsible for handling people who broke the law.
"If [you are] not in Hong Kong, we need to find a way, through international cooperation, so that you show up in our jurisdiction," he told Phoenix TV.
"But as long as someone breaks the law, the law enforcement agency must collect adequate evidence so that he will face legal consequences."
Additional reporting by Tony Cheunghttps://fc0e7d6ae17515300f68326e5968ce06.safeframe.googlesyndication.com/safeframe/1-0-37/html/container.htmlThis article appeared in the South China Morning Post print edition as: Eleven arrested on suspicion of bankrolling bid by fugitives to flee city
For more on this story go to: SCMP