From BBC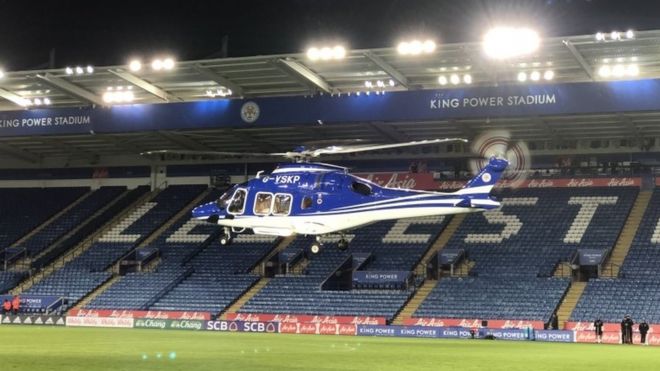 A helicopter which was carrying the owner of Leicester City FC crashed in flames near the club's ground, killing five people.
The club has confirmed its owner, Vichai Srivaddhanaprabha, was among those killed, along with two members of his staff, another passenger, and the pilot.
Here is what we know so far about the crash.
What happened?
The helicopter took off from the King Power Stadium at about 20:30 BST on Saturday, as it often does after Leicester City games.
BT Sport cameras captured the take-off on live TV, as presenter Jake Humphrey watched and commented on it with pundits Owen Hargreaves, Chris Sutton and John Hartson.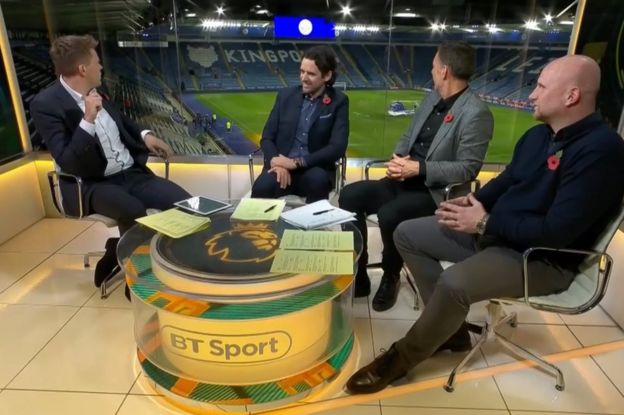 A bang was heard shortly after and the helicopter was seen spiralling out of control, then crashing in flames in a car park.
Freelance photographer Ryan Brown had been at the match covering the game.
"I heard the helicopter take off," he told BBC Radio 5 Live. "I turned around and it made a whirring noise and grinding noise and then went silent, it was spinning out of control.
"The blades had stopped spinning and then there was a big bang and a big fireball. Lots of people started running towards the scene; as I came around the corner there was a huge fireball.
"It crashed right near the stadium. It just cleared the stadium roof and landed in an industrial park next to it."
It is not yet known what caused the helicopter to crash.
Who was on board the helicopter?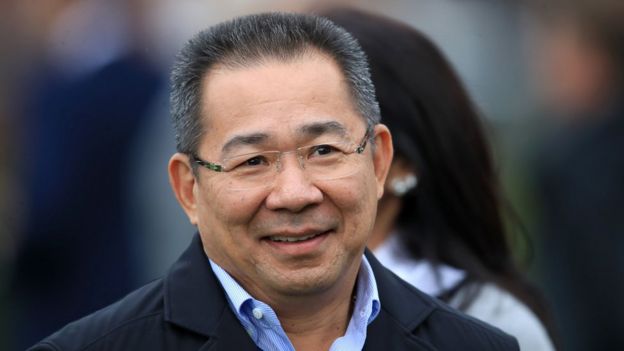 Mr Srivaddhanaprabha was one of five people on the helicopter, the club confirmed.
Leicestershire Police said two members of his staff, Nursara Suknamai and Kaveporn Punpare, died in the crash, as well as pilot Eric Swaffer and passenger Izabela Roza Lechowicz.
No-one on the ground is believed to have been injured.
How did the crash happen?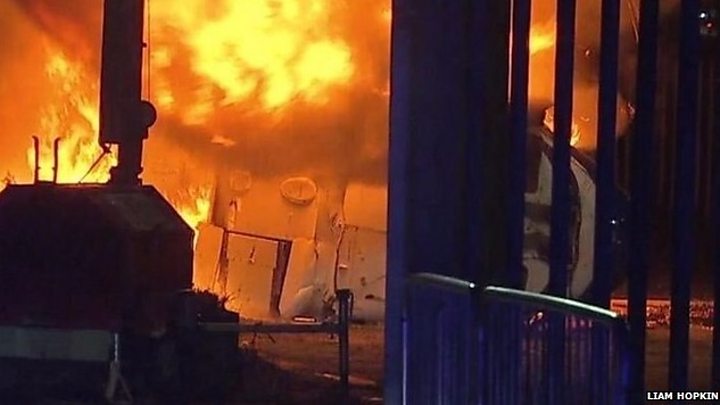 An investigation into the crash is being led by the Air Accidents Investigation Branch (AAIB), which investigates civil aircraft accidents across the UK.
They have sent a team to the site to investigate but asked anyone with information to contact the police.
The owners have two helicopters – an older one registered as G-LCFC and a newer one registered as G-VSKP.
The helicopter that landed at the stadium was the G-VSKP.
Jim Rowlands, a former RAF Puma crew member, said the spinning nature of the aircraft indicated there was a problem with the tail rotor – the part of a helicopter that normally stops it from spinning around in the opposite direction to the main rotor blades.
"If you lose your tail rotor it's almost impossible to recover from," said Mr Rowlands.
"You can't get out of it. It would be more luck than judgment if you were to survive."
His "gut feeling" was there was some kind of mechanical problem but said there were "so many things that it could have been".
"It could have been a human factor, it could have been pilot error or poor maintenance that led to something," he said.
An AAIB spokesperson said: "A team from the AAIB has been deployed to the site and is investigating.
"Anyone with information that might be helpful to the investigation is asked to contact the police."
How have people reacted?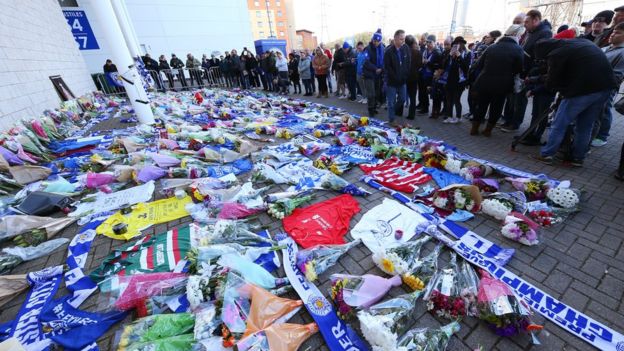 Former Leicester City and England striker Gary Lineker signed off on Match of the Day by saying it had been a "dreadful day".
He later tweeted: "That was the most difficult @BBCMOTD I've ever hosted. Thoughts are with everyone at Leicester City. A terrible tragedy. Heartbreaking."
Sven-Goran Eriksson was the first manager to be hired by the Thai billionaire after he took charge of the club in 2010.
"What he has done for Leicester is incredible," he told told BBC Radio 5 Live.
"When I came to the club he said he wanted to make it a big Premier League club, there were no secrets about that.
"He was always there with his family and son 'Top' [Aiyawatt Srivaddhanaprabha] and his wife."
Leicester mayor Peter Soulsby tweeted that the owners had "done so much" for the club and the city.
How do fans feel?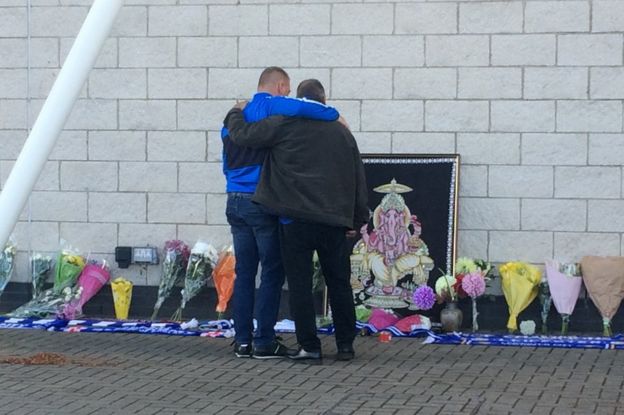 Season ticket holder Richard Jackson, of Market Bosworth, said he was "devastated" by what had happened.
"These owners have been absolutely fantastic; probably the best owners in the whole English system," he said.
One fan said of the family: "They are the heart and soul of Leicester City Football Club.
"If it wasn't for them none of this would have been possible in recent years and dreams wouldn't have come true.
"It's very disturbing, not just for fans of the club but for everyone in the football world."
Mr Srivaddhanaprabha has regularly given supporters free beer and pies at matches to mark special occasions, made donations to the city hospital, and treated the 2016 title-winning squad to a fleet of blue BMWs.
Another fan said: "It's ended up as probably the darkest day in Leicester City Football Club's history."
For more on this story go to: https://www.bbc.com/news/uk-england-leicestershire-46008703