By Mark Magnier From SCMP
Despite US president's vow to raise tariffs even further, his hardline stance appears to be softening amid domestic turmoil
Pain from the trade war is increasingly hitting Trump's base, notably the farmers and factory workers he promised to help
US President Donald Trump is facing numerous challenges, including public impeachment hearings, which began on Wednesday. Photo: Reuters
The impeachment process working its way through the US Congress threatens to further destabilise an erratic president, push China's expectations lower and undercut chances for a meaningful US-China trade deal before the 2020 election.
That's the view among American political and economic experts as the Washington-Beijing trade war launched by US President Donald Trump drags on with consumers feeling the pain and the global economy and financial markets held hostage.
"Impeachment has already had a pretty profound impact on the president's ability to escalate tariffs," said Henrietta Treyz, director of economic policy at Veda Partners, an investment advisory group. "It's a question of not when but how this will impact negotiations. China recognises that Trump doesn't have an unmitigated ability to enact tariffs like he did in the past."
Public impeachment hearings, sparked by Trump's bid to pressure Ukraine into finding dirt on a political rival, began in the House of Representatives on Wednesday and are expected to last several weeks. The next step could be a vote to impeach – the equivalent of an indictment – followed by a trial and final vote in the Senate.
"It's a witch hunt, it's a hoax," Trump said on the first day of the hearings. "I'm too busy to watch it."
While he isn't likely to be removed from office since the Senate is controlled by Republicans, impeachment could undercut Trump's re-election prospects and further polarise the country.SUBSCRIBE TO US CHINA TRADE WARGet updates direct to your inboxSUBMITBy registering, you agree to our T&C and Privacy Policy
For Trump, the impeachment threat is weakening his resolve to raise tariffs after a softening of his hardline stance in recent weeks, analysts said. He has already delayed tariffs scheduled for August 13, October 1 and October 15 in advance of the next deadline: December 15.
While these have been interspersed with periodic threats of further increases – in an economic speech on Tuesday, Trump said "we're going to substantially raise those tariffs" if Beijing doesn't accede to America's trade terms – the threats are ringing more hollow, experts said.
"The White House's appetite for tariffs has meaningfully decreased," a development not missed on Beijing, Veda said in a research note, adding that it does not see a major rollback even as China faces its own pressures.
Driving the change in tenor is US politics, analysts said.
Americans paid a record US$7.1 billion in tariffs in September, up 59 per cent in a year, according to data from the Commerce and Agriculture departments, with the impact increasingly felt by consumers. Some 67 per cent of Americans report they are feeling the impact of Trump's tariffs, a 6 percentage-point increase since June, according to a report by the data group CivicScience.
More importantly from Trump's perspective, the pain is increasingly hitting his base, the farmers and factory workers he promised to help.
Farm bankruptcies are up 24 per cent this year, according to the American Farm Bureau Federation. Agricultural debt is at levels not seen since the 1980s. Farmer suicide reports are increasing. And in October, the US lost 36,000 manufacturing jobs, including downturns in Wisconsin, Pennsylvania, Michigan and Florida, four swing states key to Trump's 2016 election.
How do you make a deal with someone who's erratic? He could make a deal with you and toss it within three months Derek Scissors, scholar at the American Enterprise Institute
In the final straw for some, Trump on August 23 announced by tweet an increase to 30 per cent, from 25 per cent, in tariffs on Chinese imports, amounting to billions of dollars.
"When he escalated tariffs to 30 per cent within three hours, they realised there's no limit," said Treyz. "Then when the Ukraine news broke, everything went into a total different gear."
"It's something that made farmers and manufacturers get more aggressive, both in terms of behind-the-scenes pressure and more vocal protests by senators," she added, citing stepped-up lobbying and efforts by Republican Senators Chuck Grassley of Iowa and Rob Portman of Ohio to pass legislation aimed at reining in Trump's use of tariffs.
Both core groups realised they had leverage since Republicans in key Midwestern swing states will be crucial to Trump's re-election prospects, analysts said. This dovetails with growing frustration that tariffs on nearly half a trillion dollars had been in place for a year with few results, or much to suggest a grand deal any time soon.
Impeachment also adds to a thistle of distractions the president is juggling – including campaigning, residual fallout from the Syria conflict and fears of a US economic slowdown – making it less likely he has the bandwidth to craft a comprehensive trade deal, analysts say.
At the same time, few see Washington dramatically cutting tariffs given the loss of leverage, undercutting a scenario in which Trump strikes a grand trade deal to distract voters from his other problems.
"You can't distract from impeachment," said Derek Scissors, resident scholar with the American Enterprise Institute. "It's not like the impeachment process is going to stop if you sign some trade deal on December 4."
"There could be a time, if the impeachment process gets serious enough, that the president will be casting about desperately for almost anything," Scissors added. "But we're not there."
The impeachment spectre has also prompted the US business community – a strong driver of Trump's trade agenda – to put its weight behind passage of the United States-Mexico-Canada Agreement (USMCA), Trump's reworked Nafta trade deal, before focusing on a US-China pact, some said.
"In the three-dimensional chess game, USMCA is on paper, it's a 99 per cent done deal," said Vanessa Sciarra, vice-president of the National Foreign Trade Council. "US-China, from the business perspective, you don't know what's in the deal, there's nothing in writing, there will probably be nothing in writing before December."
Impeachment from China's viewpoint, meanwhile, is hardening the Asian giant's position as it tries to exploit Trump's growing political problems, analysts said. In recent weeks, Beijing has stepped up demands for a rollback of all US tariffs as a precondition for talks. It also appears less eager to craft a deal as it tries to extract whatever possible from Washington before the December 15 deadline for further tariffs on nearly US$200 billion in Chinese goods.
Beijing also contradicted Trump that a "phase one" deal was close, roiling markets for a few days before echoing his view. In October, the two sides outlined a three-phase plan with few specifics toward a hoped-for comprehensive agreement.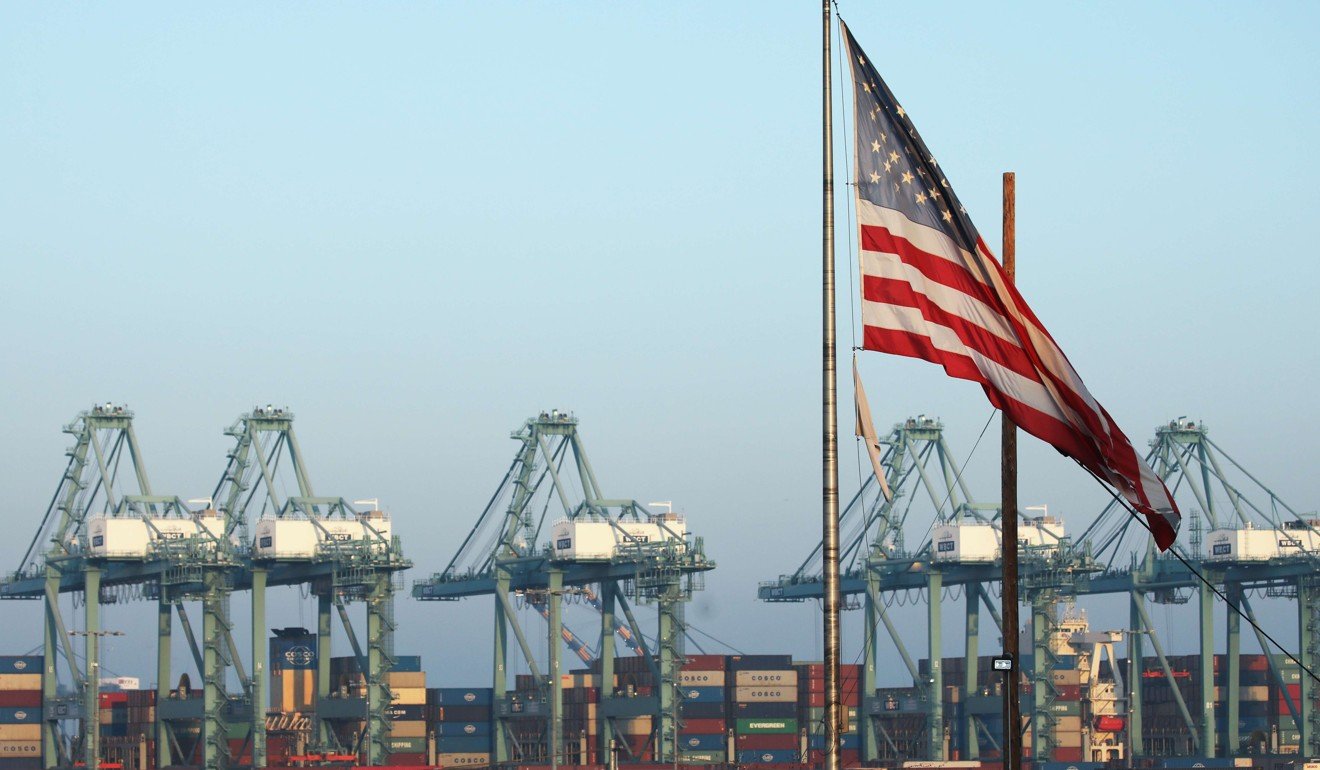 Tariffs have affected the volume of Asian cargo coming into the US, officials say. Photo: Getty Images/AFPShare:
Impeachment – or Trump's reaction to impeachment – is also hardening Beijing's conviction that it is not dealing with a reliable partner, analysts said.
"They've already showed themselves to be quite cautious over the past six months and impeachment will only add to their level of caution," said James Green, a senior research fellow at Georgetown University and a US trade negotiator in Beijing from 2013 to 2018.
"Can they rely on the US to follow through next month, next week, next day, next tweet?" Green added. "They know who they're dealing with."
Over the past three months Trump has tweeted at triple his 2017 rate, according to an exhaustive analysis by The New York Times of his 11,000-plus tweets since taking office.
"He's generally getting stranger if you read his Twitter account," said Scissors. "I'm sure China has 100 psychologists reading his Twitter account, but he's also more erratic. So how do you make a deal with someone who's erratic? He could make a deal with you and toss it within three months."
Among the scenarios Beijing is trying to game now, analysts say, are whether Trump will lose the election, whether he gets impeached, whether an impeachment threat makes him less predictable and whether he might reverse his hardline trade stance if he is re-elected and won't face voters again.
Further raising the stakes, they add, is a belief that if you make Trump angry, he's likely to hold a grudge that could make him harder to deal with after 2021.
The impeachment threat also makes it less likely that Washington will insist on an overhaul of China's economic structure, experts add, including demands to reduce subsidies, open markets and weaken the grip of its state-owned companies.
Few see much hope of a substantive trade deal with the US presidential campaign heating up. But experts say Trump's need to appease farmers and China's weakening economy, crop shortfalls and the culling of diseased pigs could drive an eventual small-scale phase one "deal".
Said Veda: "Hitting 'pause' with a phase one deal could be a win-win for everyone."
For more on this story go to; https://www.scmp.com/news/china/diplomacy/article/3037818/impeachment-threat-against-donald-trump-puts-grand-trade-deal?utm_medium=email&utm_source=mailchimp&utm_campaign=enlz-gme_trade_war&utm_content=20191119&MCUID=8d9bd0120f&MCCampaignID=aed18f168a&MCAccountID=7b1e9e7f8075914aba9cff17f&tc=1