More than 50 former opposition lawmakers and activists were arrested on Wednesday on subversion charges in the biggest crackdown yet under Hong Kong's national security law, with authorities accusing them of a plot to "overthrow" the government.Nearly 1,000 police officers conducted raids across the city, detaining 53 people accused of organising or involvement in the pan-democratic camp's unofficial, primary run-off election last July in which 610,000 voters took part.Officials said the "35-plus" plan by opposition politicians to take control of the 70-member Legislative Council in now-postponed official elections ran afoul of the national security law as it was part of a wider strategy to paralyse the government, provoke Beijing into ending the "one country, two systems" policy under which Hong Kong is governed, and trigger international sanctions against China. https://www.youtube.com/embed/HNF7LAp5N1U?rel=0&mute=1&playsinline=1&frameborder=0&autoplay=0&origin
Hong Kong police arrest 53 opposition lawmakers and activists, warn of more arrests
"The operation of the National Security Department of the police today has only targeted active players who are suspected of organising, planning, committing or participating in subversion," Secretary for Security John Lee Ka-chiu said.
"These persons were arrested for investigation in accordance with the law. The operation does not involve people who played a passive role or only voted in the so-called primary election."
The mass arrests, which included a raid on a law firm and court orders being served to four media outlets demanding journalists surrender documents related to the case, sparked an outcry from the opposition camp and its supporters which included Western governments.
Both the Office for Safeguarding National Security and the liaison office, Beijing's top representative arm in Hong Kong, issued statements backing the crackdown and singling out academic Benny Tai Yiu-ting, one of the key figures arrested who had drafted the "35-plus" strategy.
"We resolutely support the police to strictly enforce the law, differentiate between those suspects who have strategically organised or implemented plans to paralyse the government and other members of the public who have been misled to vote in the so-called primary," a spokesman for the liaison office said.
"[We] believe that the general public can clearly see the evil intentions of Benny Tai Yiu-ting and others, and the harm caused to Hong Kong society."
The sweeping crackdown began early in the morning, with police knocking on doors at 72 premises to round up 45 men and eight women, aged 23 to 79, according to Senior Superintendent Steve Li Kwai-wah from the national security unit.
Among 16 former lawmakers detained were Wu Chi-wai, James To Kun-sun, Lam Cheuk-ting and Andrew Wan Siu-kin from the Democratic Party, along with Alvin Yeung Ngok-kiu, Jeremy Tam Man-ho and Kwok Ka-ki from the Civic Party.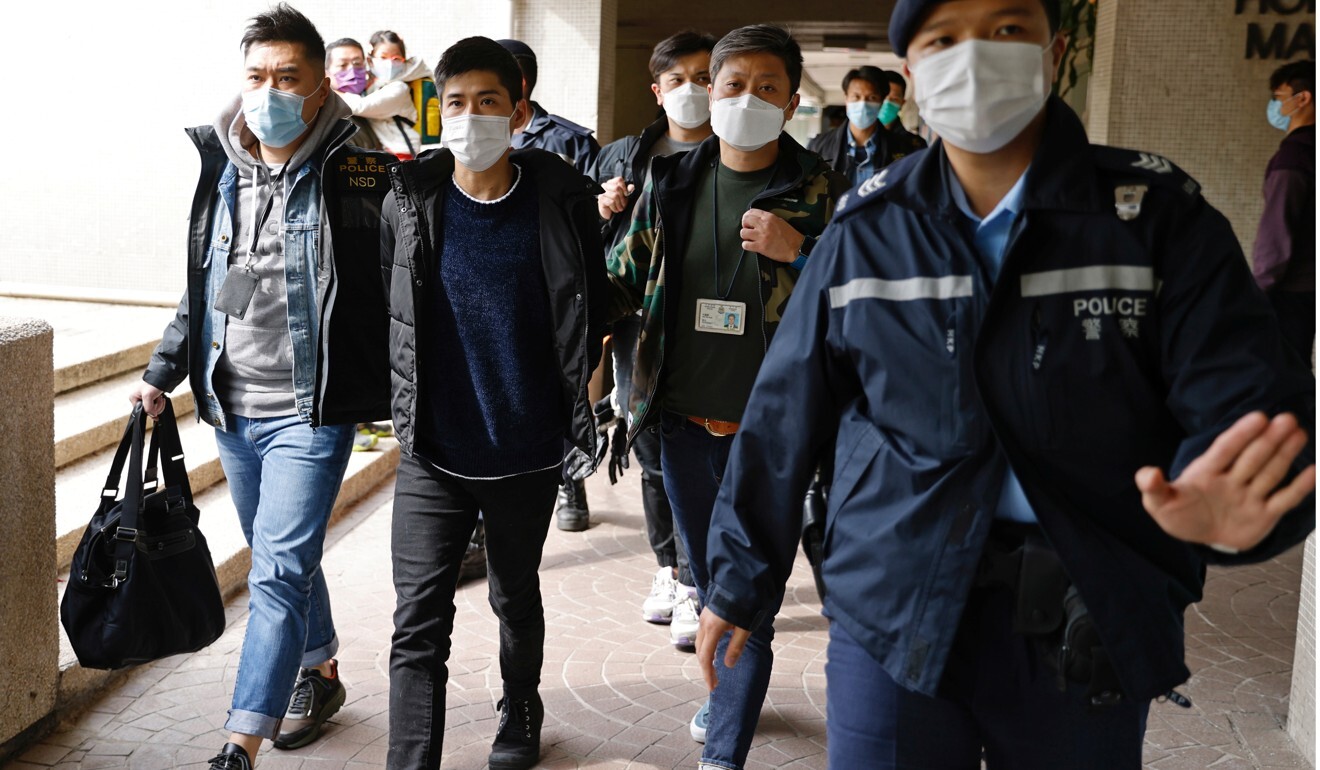 Activist Lester Shum is taken away by police on Wednesday morning. Photo: ReutersPolice also arrested 20 district councillors, including Power for Democracy convenor Andrew Chiu Ka-yin, who coordinated the unofficial poll, former student leader Lester Shum of the Occupy protests, and Jimmy Sham Tsz-kit, who organised several mass protests last year as a convenor of the Civil Human Rights Front.
Also on the list were social worker Jeffrey Andrews, Lee Chi-yung of the Association of Parents of the Severely Mentally Handicapped, and American lawyer John Clancey.
A police source said all of them would be detained overnight except former lawmaker Au Nok-hin, who was granted bail to be quarantined in a local hotel as he had just returned home from Japan.
Youth activist Joshua Wong Chi-fung, now in prison, was also accused of subversion and his home was raided by police in the morning, according to his Facebook page.
A Facebook video live-streamed by one of those arrested, Yuen Long district councillor Ng Kin-wai, showed him being informed by a police officer that his participation in the primary was to "veto all budgets and bills, hence forcing the chief executive to resign".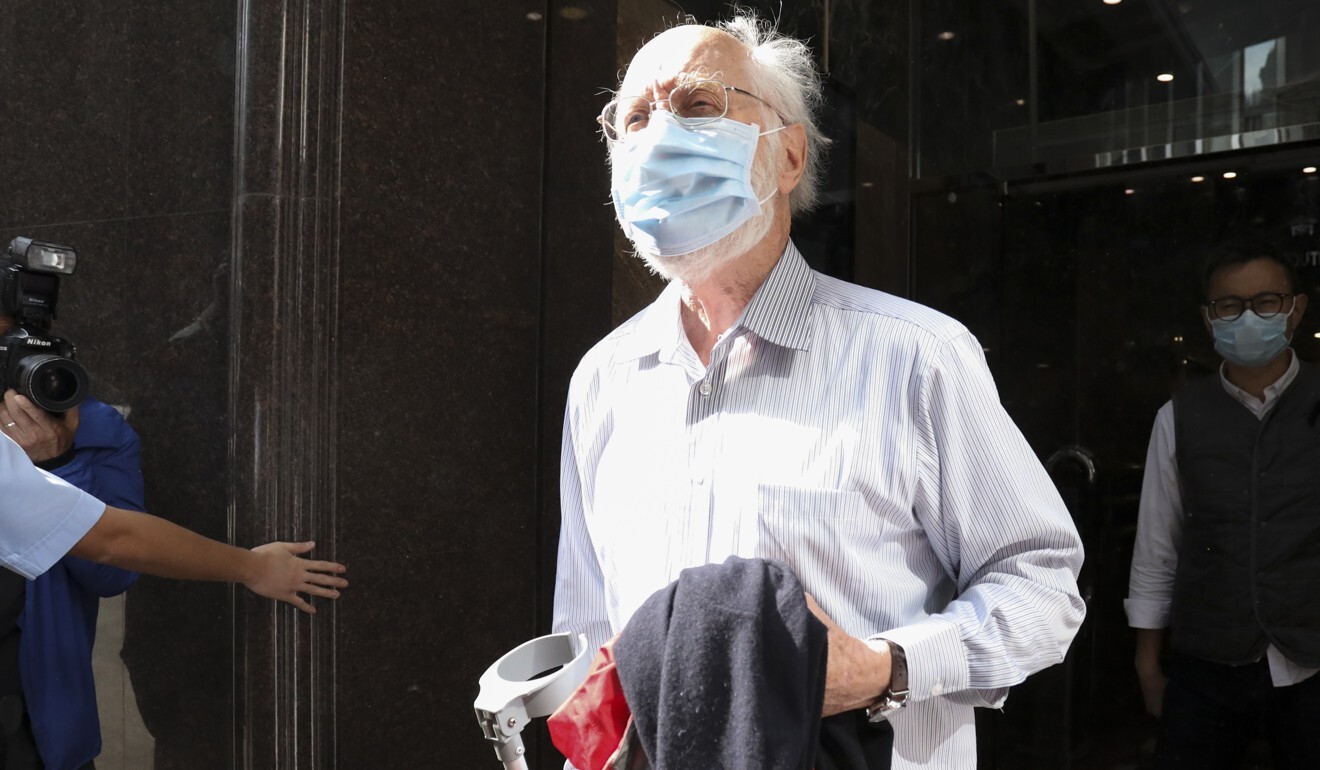 Lawyer John Clancey is believed to be the first American arrested under the national security law. Photo: May Tse
"Your act aimed at realising Benny Tai Yiu-ting's plan was advocated in an article titled '10-step mutual destruction plan', in the Apple Daily and other media, which had the objective of obstructing Hong Kong authorities in the discharging of their duties in accordance with the law," the officer said before taking him away."Mutual destruction", or laam chau in Cantonese, emerged as a term used by radical protesters in the anti-government movement of 2019.
Tai, the law academic and co-founder of the Occupy movement of 2014, used the term as part of his "35-plus" strategy in March last year. If successful in winning 35 or more seats, it would have enabled the camp to form a powerful force in Legco that could block budgets, stall bills and effectively paralyse the government.
More than 30 police officers on Wednesday also searched the offices of Ho Tse Wai & Partners, a law firm hired by numerous opposition figures, where they arrested associate Clancey.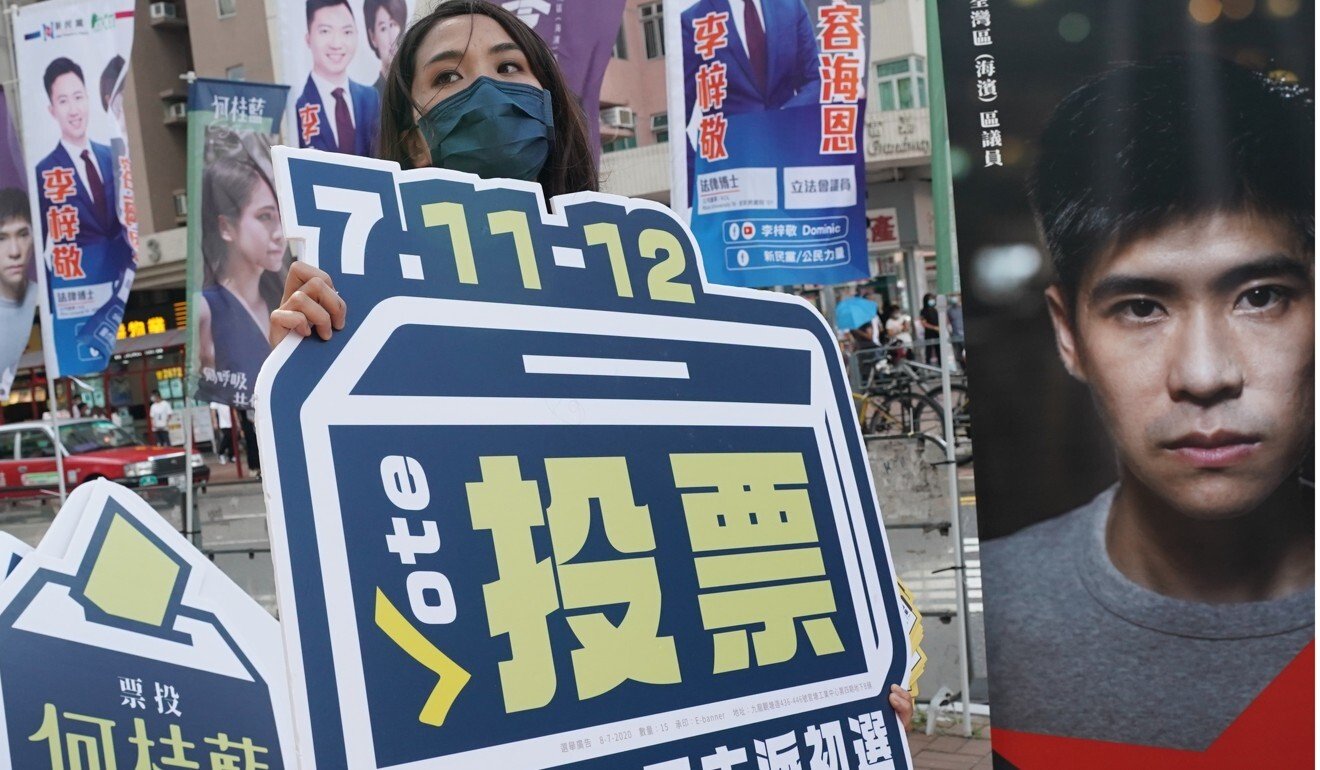 Last July the opposition camp held a primary election in which 610,000 people voted. Photo: Felix Wong
Clancey, a permanent Hong Kong resident according to a secretary at his office, also serves as treasurer for Power for Democracy. A police source said he was the first American arrested under the national security law.
Clancey, Tai and four others were arrested on suspicion of subverting state power by organising the unofficial primary, while the rest were detained for taking part, sources said.
Police served court orders at the offices of Next Media and itsApple Daily tabloid, and online news portals Stand News and In-Media, seeking relevant documents within seven days, the outlets said.
Apple Daily and Stand News had co-organised election forums for the would-be candidates, while In-Media ran advertisements related to the campaign.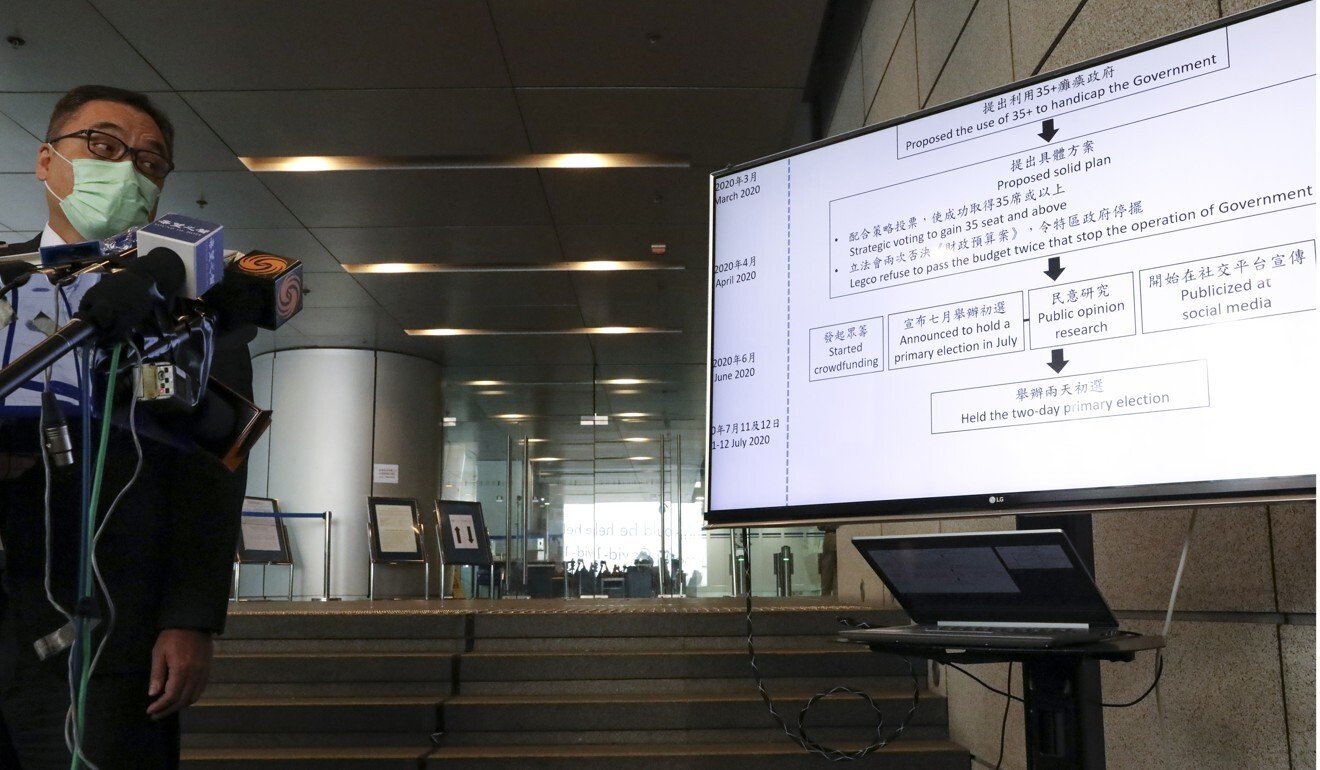 Senior Superintendent Steve Li explains the operation at police headquarters. Photo: K. Y. Cheng
"The '35-plus' plan and the '10-step mutual destruction scheme' involves a vicious plot which seeks to undermine the performance of government duties and functions and paralyse [the government] in an organised, planned, reckless and wilful manner," security minister Lee said.
"They have a '10-step mutual destruction plan' in which they will be mobilising mass-scale riots in the streets together with other actions to in some way paralyse society. Coupled with international sanctions, the plan is to create mutual destruction, so that society as a whole, using their words, 'jump the cliff'."
Senior Superintendent Li said police had also frozen HK$1.6 million (US$206,000) in funds linked to the unofficial election. A police source said it was part of millions raised through crowdfunding, locally and overseas.
Li further accused organisers of the primary of giving each participant money ranging from HK$4,000 to HK$290,000 (US$500 to US$37,000). "Is this a fair and honest election?" he said.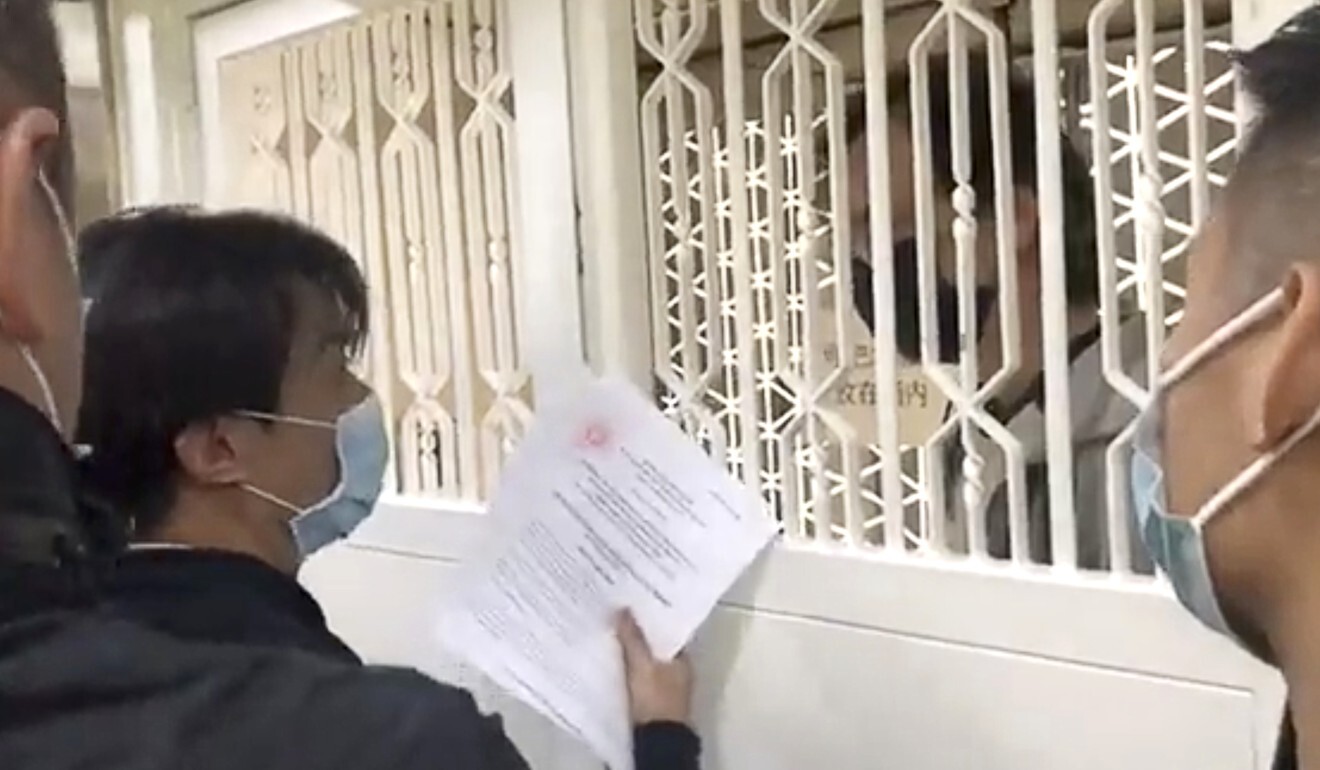 Police serve court orders at the offices of online news portals Stand News. Photo: Stand NewsLast July's unofficial primary contests in five constituencies drew more than 610,000 residents who defied government warnings and a fresh coronavirus outbreak to vote to determine who would run in the Legco elections in September, which were later postponed.
Secretary for Constitutional and Mainland Affairs Erick Tsang Kwok-wai had warned back then that the would-be candidates in the unofficial poll could be in breach of the national security law as well as election laws.The city's leader, Chief Executive Carrie Lam Cheng Yuet-ngor, had also warned that any planned action to paralyse policymaking would be potentially subversive, while the liaison office had said the primary was a "serious provocation".
Among those joining Wednesday's chorus of condemnation was Antony Blinken, US secretary of state nominee for President-elect Joe Biden's incoming administration.
He tweeted that the arrests were "an assault on those bravely advocating for universal rights" and the United States would "stand with the people of Hong Kong and against Beijing's crackdown on democracy".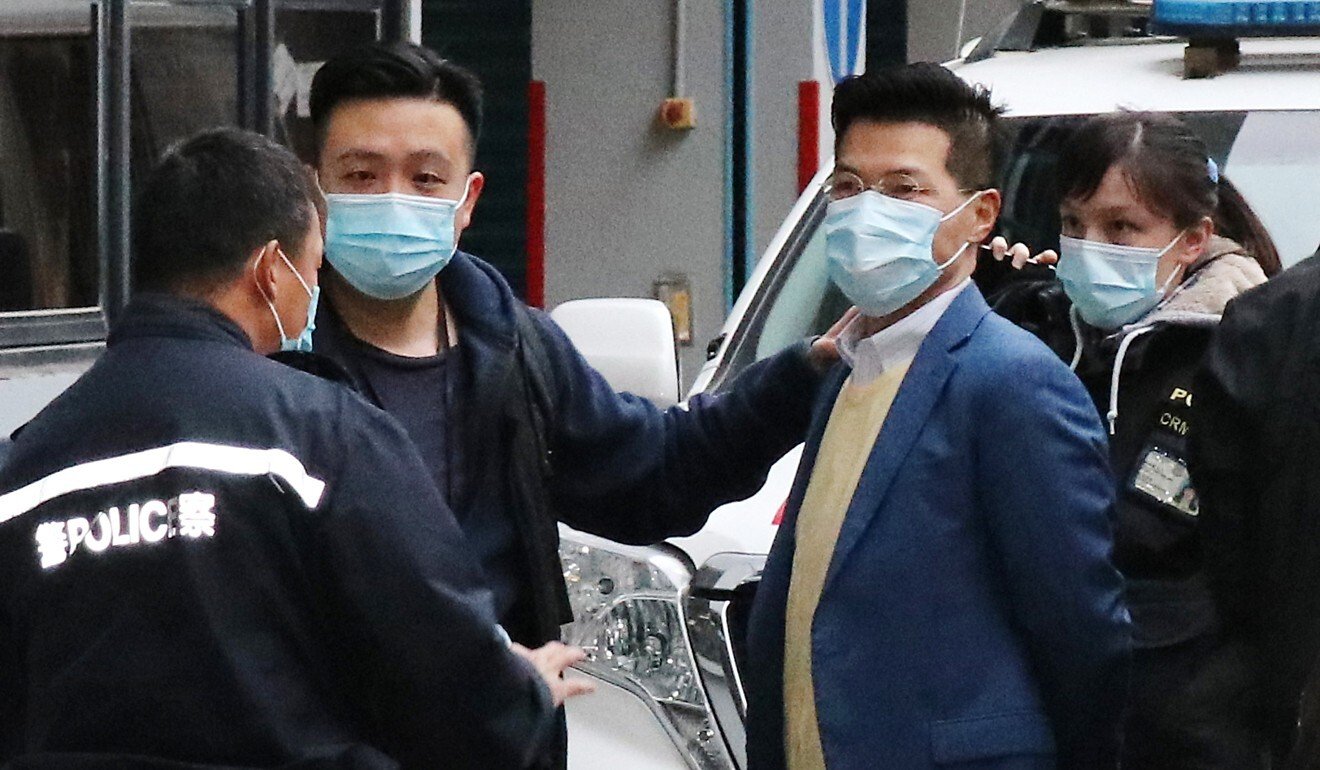 Former lawmaker Gary Fan was among those arrested. Photo: Handout
British Foreign Secretary Dominic Raab said the mass arrests were a grievous attack on Hong Kong's rights and freedoms as protected under the joint declaration, the agreement that paved the way for the city's handover in 1997.
He added: "These arrests demonstrate that the Hong Kong and Chinese authorities deliberately misled the world about the true purpose of the national security law, which is being used to crush dissent and opposing political views."
The European Union's foreign affairs spokesman, Peter Stano, called for the immediate release of those arrested, saying the crackdown had sent a signal that "political pluralism is no longer tolerated in Hong Kong".
Chris Patten, the city's last colonial governor, said the arrests showed it was now clear that it was "illegal to support democracy" and urged the European Parliament to reject the EU's recent trade deal with China.
"It is a massive strategic blunder at a time when President Biden will be seeking to put together an international partnership of liberal democracies to deal with the bullying, loutish behaviour and assault on our international rules by Chinese Communists," he said.
"We should not be seeking to contain China but to constrain the Chinese Communist Party."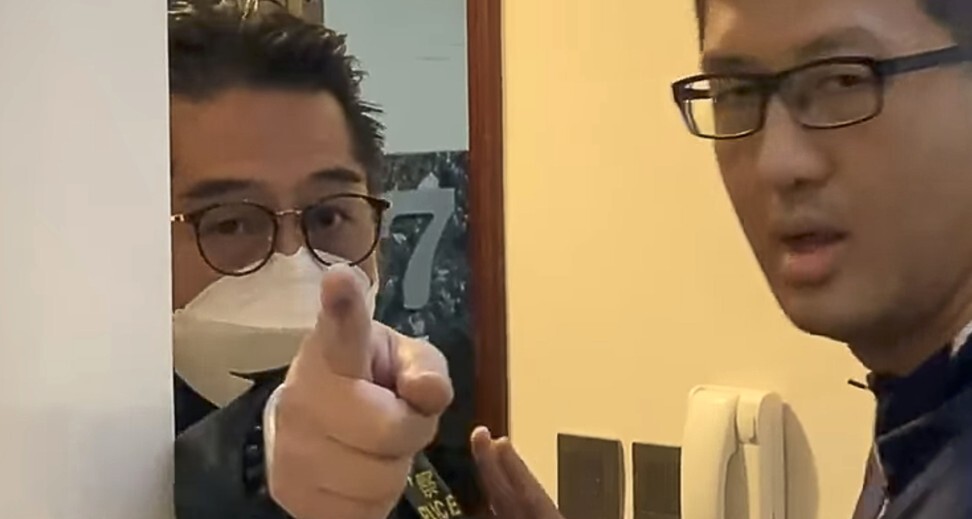 Arrested ex-lawmaker Lam Cheuk-ting (right) live-streamed the police operation. Photo: FacebookRonny Tong Ka-wah, an adviser to the chief executive in her de facto cabinet, the Executive Council, said he regarded vetoing budgets as "normal behaviour" and simply organising a telephone poll should not constitute a breach of the national security law.
"The only possible way it could be deemed subversion is if they vetoed every single budgetary proposal and caused the government to be unable to function due to lack of funds," he said.
Activist Nathan Law Kwun-chung, now living in self-imposed exile in London, said the allegations against those arrested were unsubstantiated and the crackdown was aimed at creating panic among Hong Kong residents who took part in the unofficial poll.
"[The allegations] deny the fact that vetoing the budget is allowed under the Basic Law, and it is impossible to verify whether all candidates in the primary agreed with the '10-step mutual destruction plan'," he said in a Facebook post.
Chung Kim-wah, deputy chief executive officer of the Hong Kong Public Opinion Research Institute, an independent pollster commissioned by the opposition camp to design the voting system, accused police of trying to create "white terror".
"If a country is so fragile that holding a primary can be regarded as subverting state power, the country itself needs to reflect," he said, adding that personal data of all voters had been destroyed days after the primary.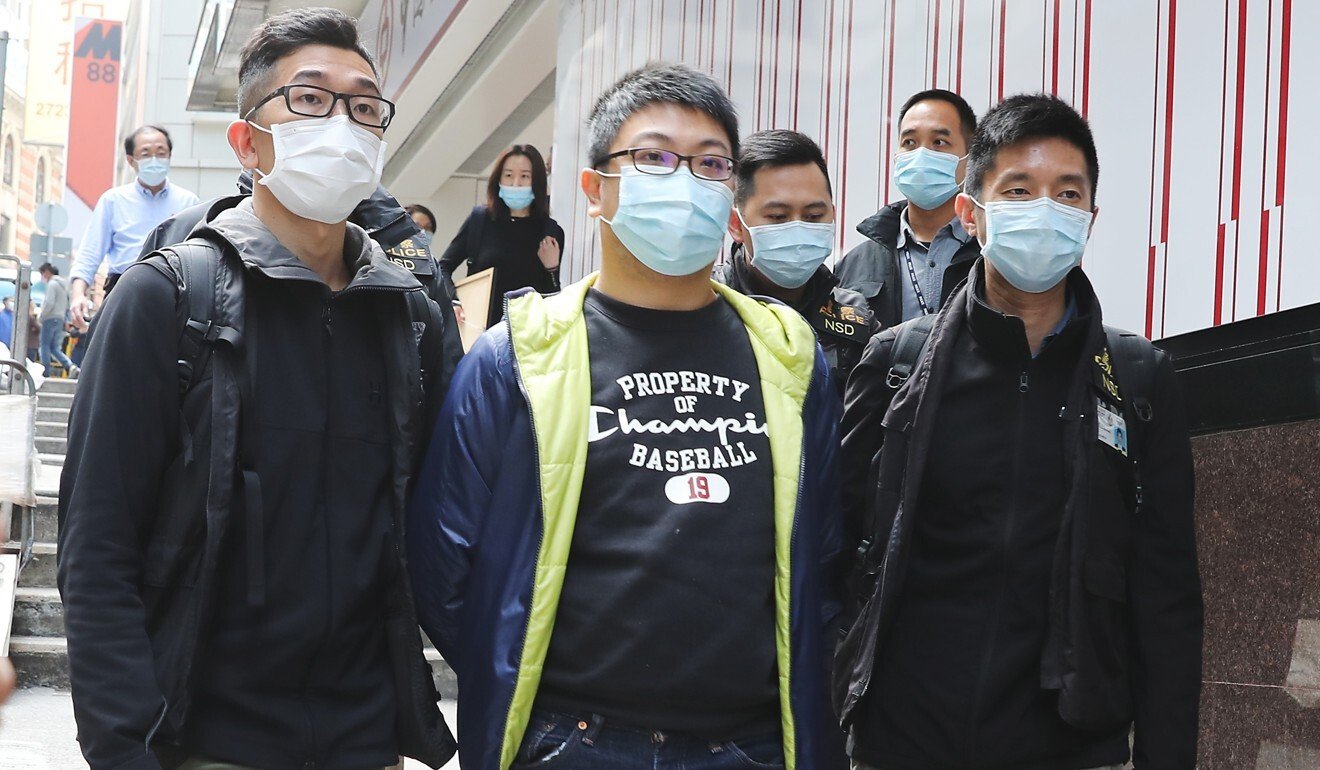 Sai Kung District Council chairman Chung Kam-lun was arrested. Photo: May Tse
Police raided the polling firm the night before the election exercise over what they said was a suspected data leak from a 2013 project.Before Wednesday, a total of 40 people had been arrested by national security police. Four were charged, including media tycoon and Apple Daily founder Jimmy Lai Chee-ying and a 30-year-old protester accused of chanting pro-independence slogans in public.
Under the national security law, a person can be convicted of subversion if he or she organises, plans, commits or participates in acts by force or threat of force or other unlawful means with a view to subverting state power.
A principal offender convicted of subversion faces imprisonment of 10 years to life, while an "active participant" can be sentenced to between three and 10 years behind bars.
Additional reporting by Zoe Low and Clifford Lo
For more on this story go to: SCMP