Canadian Prime Minister Justin Trudeau has announced a new agreement with airlines to suspend travel to the Caribbean and Mexico due to Covid-19.
The country's main airlines, including Air Canada and WestJet, will end service immediately and organise return travel for those currently abroad.
The government will also mandate new testing and three-day quarantine periods upon arrival in Canada.
It comes amid reports of many Canadians travelling internationally this winter.
"New variants of Covid-19 pose a real challenge to Canada," said Mr Trudeau on Friday. "That's why we need to take extra measures."
He announced Air Canada, WestJet, Sunwing and Air Transat have all agreed to suspend their flights to those popular so-called "sun destinations" until 30 April.
All visitors must take a mandatory Covid PCR test when they arrive at the airport – in addition to the pre-boarding test that is already required – and stay at government-approved hotels at their own cost for up to three days as they await the results.
The prime minister said it could cost travellers more than C$2,000 ($1,560; £1,140) for the hotel stay.
Those who test negative can complete the remainder of their two-week quarantine period at home, but "those with positive tests will be immediately required to quarantine in designated government facilities to make sure they're not carrying variants of potential concern", said Mr Trudeau.
He made clear the new moves are intended to discourage all unnecessary and vacation travel, not just to Mexico and the Caribbean.
"With the challenges we currently face with Covid-19, both here at home and abroad, we all agree that now is just not the time to be flying," said Mr Trudeau.
"By putting in place these tough measures now, we can look forward to a better time, when we can all plan those vacations."
What's the latest in the US?
The US, which shares the longest land border in the world with Canada, remains the country worst affected by Covid. Non-essential travel between the two countries remains closed, with the ban recently extended until 21 February.
Over 25.7 million cases have been documented in the US, over double that of second-highest India with its 10.7 million infections or Brazil with nine million.
Canada has seen over 772,000 documented infections and nearly 20,000 deaths since the pandemic began. Over 443,000 people have died in the US from the virus.
Meanwhile, health officials in the state of South Carolina identified the first two US cases of the Covid variant initially found in South Africa.
The two people have no connection to each other and no history of travel to countries where the variant has been detected, indicating there has likely already been local spread of the strain within the country.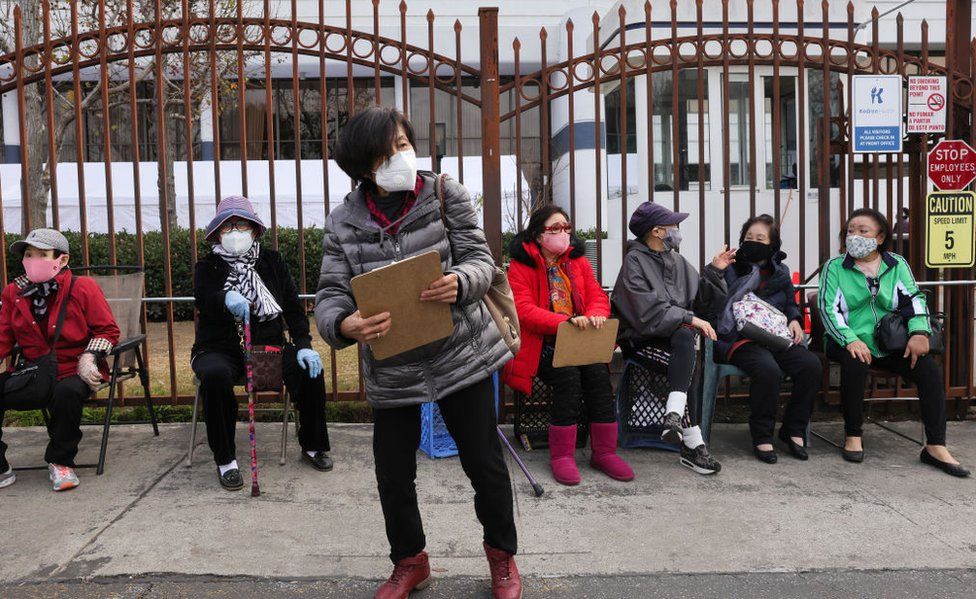 The US has now identified three coronavirus variants from abroad.
Back in December, a member of the US Army in Colorado was the first to test positive for the UK strain of the virus.
On Monday, a Minnesota resident who had recently travelled to Brazil tested positive for that country's variant.
It comes as researchers in California say large outbreaks in the state may be attributable to a home-grown strain that is spreading rapidly.
At a recently restarted coronavirus taskforce briefing at the White House on Wednesday, health officials warned that they expect as many as 90,000 more people will die from the virus in the next four weeks.
For more on this story go to: BBC