(New York, USA) Despite an increasingly polarized environment and strong pressure against inclusivity and diversity, the 63rd session of the United Nations Commission on the Status of Women (CSW), the foremost intergovernmental body dedicated to gender equality, came to a close late on Friday, March 22, with participating states having agreed conclusions which aim to strengthen the rights of all women to social protection systems, access to public services, and sustainable infrastructure.
Similarly to last year, concerted efforts were conducted by certain states and right-wing organizations to include exclusive language, such as references to "the family" between a man and a woman as the basis of society. Such language suggests there is only one form of legitimate family and specifically excludes LBTIQ people, and women who don't want to or can't found families or become parents. These efforts have been defeated. Crucially, the CSW has recognized that:
"…all women and girls might not be able to fully access and benefit from social protection systems, public services and sustainable infrastructure when they face multiple and intersecting forms of discrimination, and marginalisation. It respects and values the diversity of situations and conditions of women and girls and recognizes that some women face particular barriers to their empowerment."(Agreed conclusions paragraph 37)
Jessica Stern, Executive Director of OutRight Action International, commented: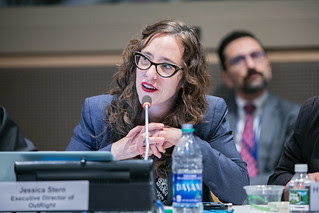 "By working together across women's and LGBTIQ organizations, across boundaries between civil society and state actors, we were able to ensure that efforts to restrict gender equality and exclude certain groups of women did not prevail. The language in the agreed conclusions recognizes the diversity of women, the complexity of the situations and conditions they face, and how those work to hold us back from reaching our full potential. This is especially relevant for LBTIQ women, who face distinct barriers to their empowerment."
The agreed text is a reflection of the growing efforts and dedication of many countries to ensure that the CSW serves to progress the human rights of all women, regardless of a variety of characteristics, including sexual orientation, gender identity, expression or sex characteristics. This year's program was the most diverse to date, with at least 4 events prominently featuring LBTIQ-specific themes (two of them state-sponsored), and including an event about access to public services for trans and gender non-conforming people.
Sahar Moazami, UN Program Coordinator at OutRight Action International, commented:
"This was an absolutely historic event – for the first time at the CSW an all-trans panel focused exclusively on trans and gender non-conforming people's lives. The room was packed, with a strong representation from a number of states. It was encouraging to see such a strong interest in an important topic about a group of people who all too often experience marginalization."
Despite progress in the diversity of the programme, and inclusion of important references to multiple and intersecting forms of discrimination, the agreed conclusions fall short of being fully inclusive of LBTIQ women. There is no specific mention of sexual orientation, gender identity or expression, or sex characteristics neither as factors which contribute to holding women back from empowerment, nor in the commitment going forward.
Jessica Stern, Executive Director of OutRight Action International, commented:
"The CSW has become more inclusive year-on-year. I am confident that if civil society and states committed to gender equality continue to work together, this trend will continue, and progress will be inclusive of all women, including – specifically – LBTIQ people."
#####
Every day around the world, LGBTIQ people's human rights and dignity are abused in ways that shock the conscience. The stories of their struggles and their resilience are astounding, yet remain unknown—or willfully ignored—by those with the power to make change. OutRight Action International, founded in 1990 as the International Gay and Lesbian Human Rights Commission, works alongside LGBTIQ people in the Global South, with offices in six countries, to help identify community-focused solutions to promote policy for lasting change. We vigilantly monitor and document human rights abuses to spur action when they occur. We train partners to expose abuses and advocate for themselves. Headquartered in New York City, OutRight is the only global LGBTIQ-specific organization with a permanent presence at the United Nations in New York that advocates for human rights progress for LGBTIQ people.