By Tony Cheung, Natalie Wong and Jeffie Lam From South China Morning Post
President Xi Jinping says chief executive has stood firm on principle of 'one country, two systems'
Premier Li Keqiang earlier says Lam has Beijing's backing, but warns she must tackle 'deep-rooted conflicts and problems'
China's top leaders on Monday assured Hong Kong's embattled Chief Executive Carrie Lam Cheng Yuet-ngor of their full support as they praised her courage and commitment in the face of relentless anti-government protests, but also reminded her that she had yet to accomplish her most pressing task – ending the violence that has gripped the city for more than half a year.Meeting Lam on the second occasion in two months, this time during her third duty visit to the capital, President Xi Jinpingnoted that Hong Kong's situation this year was the most critical and complicated since it returned to Chinese sovereignty in 1997.
"Facing difficulties and pressure, Chief Executive Lam has stood firm on the 'one country, two systems' principle, governed in accordance with the law, and remained dedicated. You did plenty of work in difficult situations," Xi said in his opening remarks to the city's leader, adding that her government had "rolled out policy initiatives to support businesses, alleviate people's woes, and seriously solve deep-rooted conflicts and problems in society".
"The central government fully acknowledges your courage and commitment in these unusual times," he told her.
Xi also expressed strong support for the city's beleagueredpolice force to firmly enforce the law, and urged other sectors to do their part as well.
"I hope that different sectors in society can be united, work together to push forward Hong Kong's development, and get it back on track," he said.
Xi also reminded her of his remarks at the BRICS summit in Brazil last month, when he made clear Beijing's "unswerving determination" to protect national sovereignty, security and development interests, to implement the guiding principle of one country, two systems, and to oppose any external force interfering in Hong Kong's affairs.
Lam replied by thanking the president for his "care and guidance" over the past six months, as well as his "trust and support" in her handling of the worst crisis since the handover.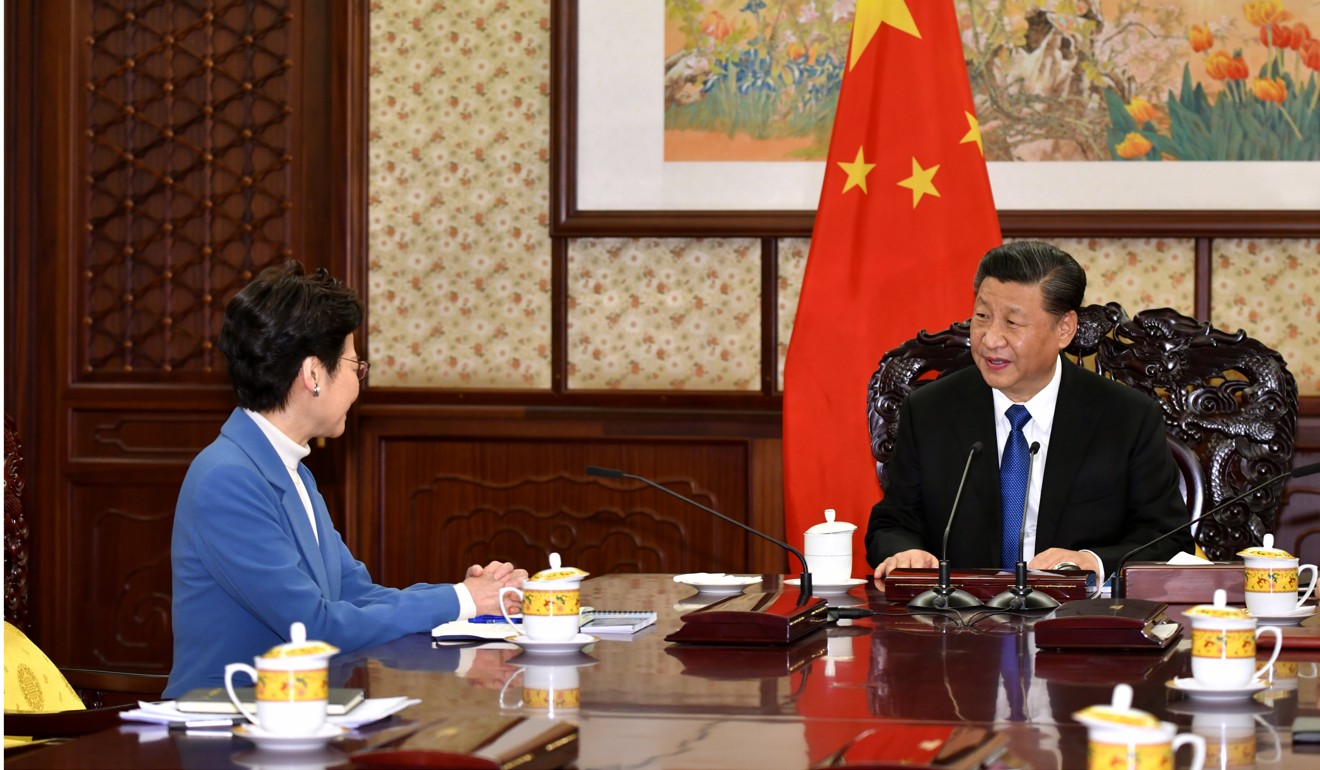 Carrie Lam briefs Xi Jinping in Beijing. Photo: HandoutDuring their previous meeting in Shanghai on November 4, Xi lent his full support to Lam, quashing speculation she would be replaced, even as he signalled that her government must quell the ongoing turmoil.
While he demanded "unswerving efforts to stop and punish violent activities" in accordance with the law, the president also called for more dialogue with different sectors of society.
Earlier on Monday, Premier Li Keqiang complimented Lam for her efforts in dealing with the unrest which had dealt a "serious blow" to Hong Kong's economy.
"You have been leading the government in doing the utmost to safeguard social stability, and rolled out a series of measures to help businesses and stabilise employment. It can be said that you rose to the challenges," he told her.
"The central government fully acknowledges the efforts made by you and the city's government."
We can say that the city is facing unprecedented, serious and complicated situations Premier Li Keqiang
But the premier also reminded Lam that she still had her work cut out for her.
"Hong Kong has yet to come out from the difficulties. The city's government must continue to make efforts in stopping violence and ending chaos in accordance with the law, and restore order," Li said.
"It must also study with urgency the deep-rooted conflicts and problems in Hong Kong's socio-economic development, and safeguard the city's long-term prosperity and stability."
Li also lamented the harm the protest movement had inflicted on society as a whole.
"Obvious recession has emerged in Hong Kong's economy, and many sectors were dealt a serious blow. We can say that the city is facing unprecedented, serious and complicated situations," he said.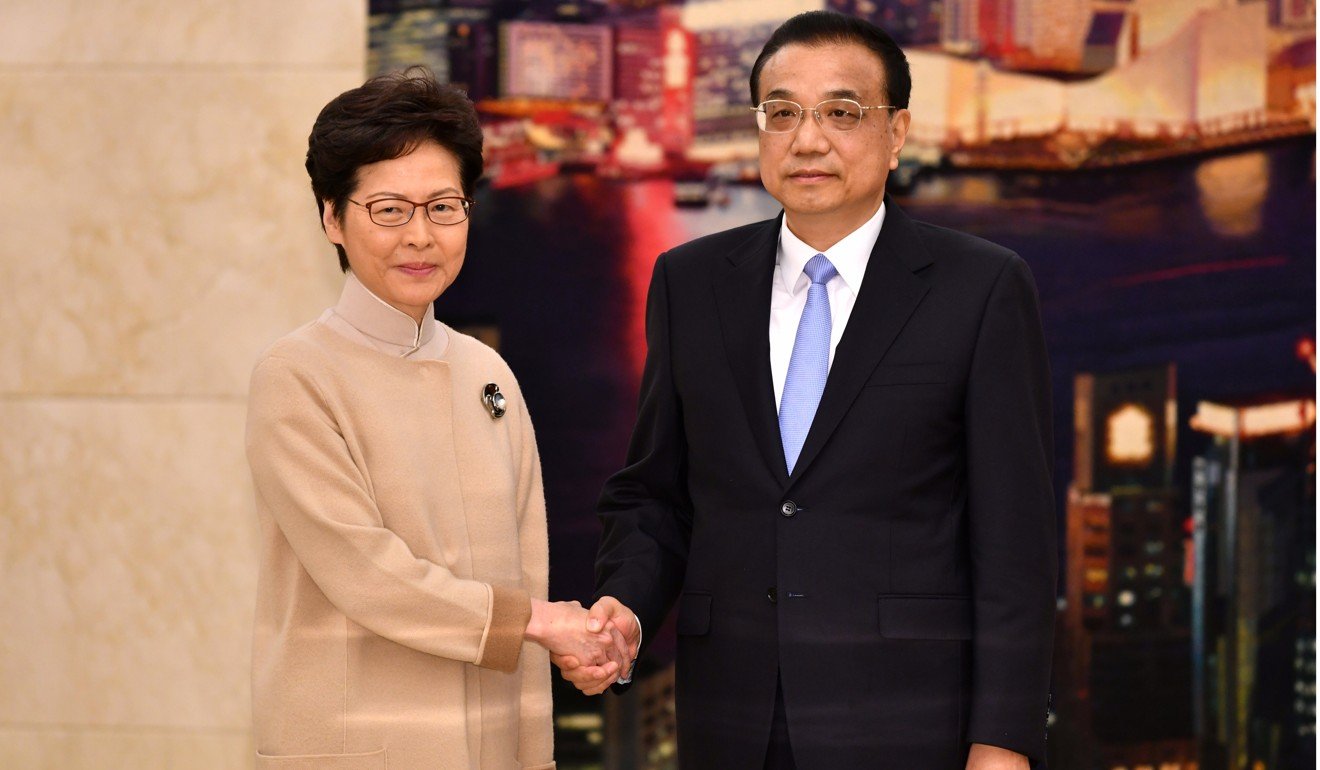 Carrie Lam with Premier Li Keqiang. Photo: Pool
Asked later in a media briefing if the two state leaders' reminders about putting a stop to the chaos and violence reflected her lack of progress in that regard, Lam insisted they had endorsed her administration's efforts to tackle the crisis.
"It's difficult to compare each word the state leaders used in my duty visit. But I feel encouraged that the president understands the pressure I faced," she replied when asked if she felt their support was diminishing.
As for Premier Li's concerns about the impact of the protests, Lam admitted Hong Kong had faced a grim situation on the political, economic and social fronts over the past year.
The city recorded a significant economic downturn over the first six months, she said, but attributed it primarily to external factors, such as the ongoing US-China trade war.
"There will be a more significant downturn in the third quarter because of the internal social unrest," Lam added.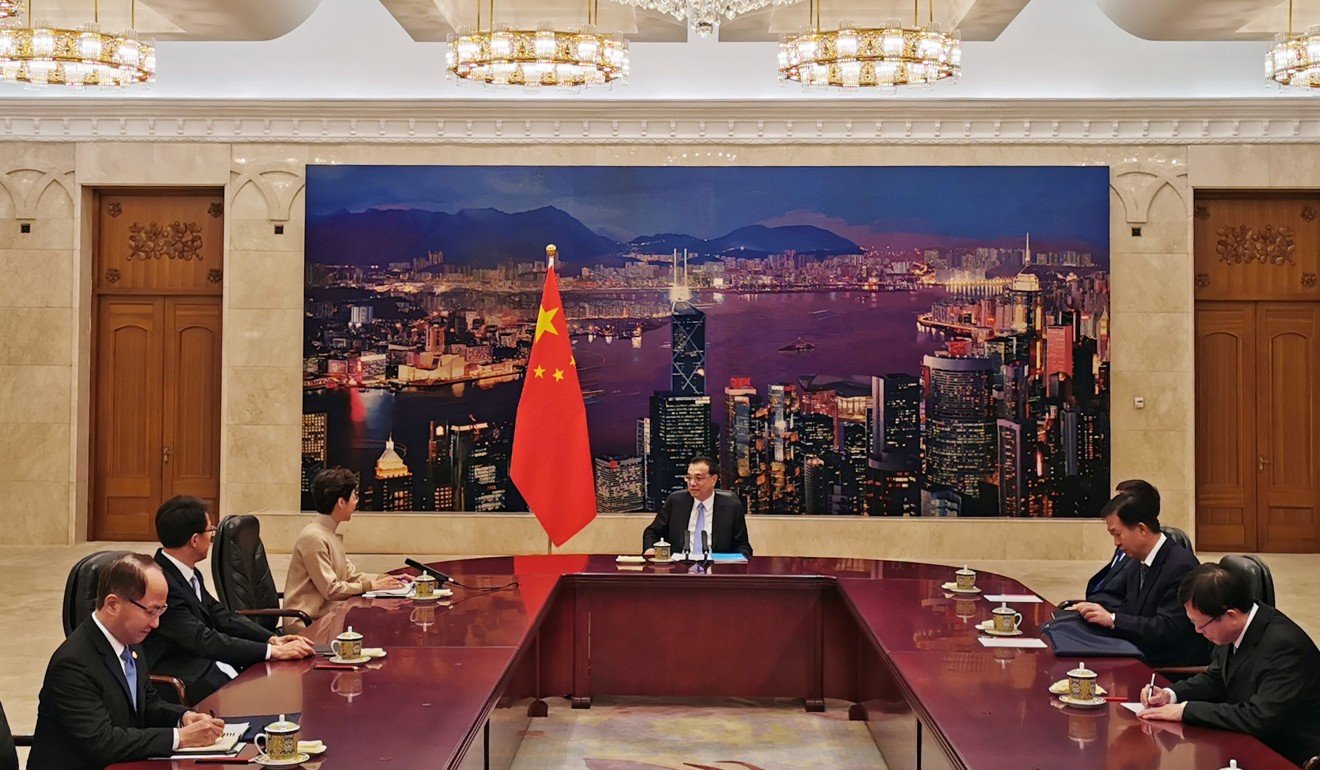 Premier Li Keqiang reminded Carrie Lam that she still had her work cut out for her. Photo: Pool
Political commentator Johnny Lau Yui-siu said the two state leaders' remarks showed the central government was not fully satisfied with Lam's performance in stopping the violence, but still chose to continue to support her.
"Xi Jinping's appreciation of Lam sticking to the bottom line of the 'one country, two systems' indicates that Beijing puts the chief executive's political loyalty as a top priority," Lau said."Beijing has not changed its tough stance on Hong Kong, despite the pro-establishment camp's humiliating defeat in last month's district council elections."
Lau said Beijing was still holding on to its long-standing view that the deep-rooted problems in Hong Kong stemmed from failure to boost the city's economic development and address the wealth gap.
"Beijing still skirts Hong Kong people's calls for political reform as reflected in the anti-government protests since June," he said.
Lau Siu-kai, vice-chairman of the semi-official think tank The Chinese Association of Hong Kong and Macau Studies, said the top leaders' latest remarks signalled the unlikelihood of the government meeting protesters' remaining demands for an independent investigation into the police's handling of the protests, amnesty for those arrested and the implementation of universal suffrage.
"Beijing holds the view that Hong Kong's ongoing crisis is the result of foreign interference, so they reiterated their support for Lam and the police, believing that a hardline approach is best to end the street protests," he said.
Li Xiaobing, an associate professor at Nankai University's law school, said Xi's recognition of Lam's performance had quashed speculation of a city leadership reshuffle.
"Replacing the leader is not the best option in Hong Kong as these problems still have to be fixed following the reshuffle," he said.
But opposition lawmaker and Civic Party leader Alvin Yeung Ngok-kiu said Beijing's stance would not help end the stalemate.
"It feels like the central government is not entirely connected to what's happening on the ground," he said, also warning that the strong endorsement of the city's police force could empower it to crack down harder on the protests.
Tony Cheung was reporting from Beijing
For more on this story go to; https://www.scmp.com/news/hong-kong/politics/article/3042235/hong-kong-leader-carrie-lam-told-chinese-premier-end?utm_medium=email&utm_source=mailchimp&utm_campaign=enlz-gme_hk_protests&utm_content=20191216&MCUID=8d9bd0120f&MCCampaignID=8adcaafca8&MCAccountID=7b1e9e7f8075914aba9cff17f&tc=3