By Esekla From Seeking Alpha
Summary
Market assessment and incumbent comparison.
CenturyLink's moat and competitive sales edge.
Thoughts on duration and scale of the opportunity.
Back when I still worked for others on Wall St., network security was often a big part of my job. Suffice it to say that the almost daily data breach reportswe are seeing these days come as no surprise to me, and that I am of the expert opinion that the situation will get worse before it gets better. I'm also of the mindset that every problem is an opportunity, and so, today, I'd like to lay out the case for how this situation represents a long-term growth driver for CenturyLink (CTL) which has gone largely unrecognized by the investment community.
The So-Called Incumbents
Given the state of affairs, the cyber-security sector has become very popular with investors. Traditionally, these services have started with operating system and application patching, which should be the job of the software vendors, as it is the Open Source world. The effectiveness of other approaches is questionable, to say the least, and those who haven't evolved sufficiently, like Symantec (SYMC) are hurting. To my mind, none of them are good investments.
| | | | | |
| --- | --- | --- | --- | --- |
| Company | Revenue | EPS | P/E | Yield |
| Palo Alto Networks (PANW) | $1.8b | -$2.01 | — | — |
| Check Point (CHKP) | $1.9b | $5.01 | 23 | — |
| Symantec (SYMC) | $5b | $1.84 | 10 | 1.44% |
| FireEye (FEYE) | $751M | -$1.60 | — | — |
| CyberArk (CYBR) | $262M | $0.59 | 105 | — |
As installations migrate to the cloud, the focus is increasingly network security. Palo Alto Networks notes in its most recent earnings call that sales in this area have reached $240M/yr and are growing at an 85% annualized rate. For FireEye, Cloud Subs & Managed Services has accounted for more than half of sales over the past year. The most popular cloud service providers like Amazon (AMZN) only make the situation more difficult.
A Real Defensive Moat
The thing is, the single entity best positioned to do network security is the one that owns the network. As a provider of dedicated access to major cloud providers like AWS (NASDAQ:AMZN), Google (NASDAQ:GOOG) (NASDAQ:GOOGL), Azure (MSFT), International Business Machines (IBM), and Oracle (ORCL), CenturyLink also gets an inside sales track on network security services. CenturyLink has 11 regional scrubbing centers around the globe, with 4.5 Tbps of attack ingestion capacity. No third-party firewall is going to come close to dealing with a DDoS (distributed denial of service) attack as effectively as it can be handled on the network itself. Even some of the world's richest companies, like Facebook (FB), whose business is the network will come to learn that they need partners like this.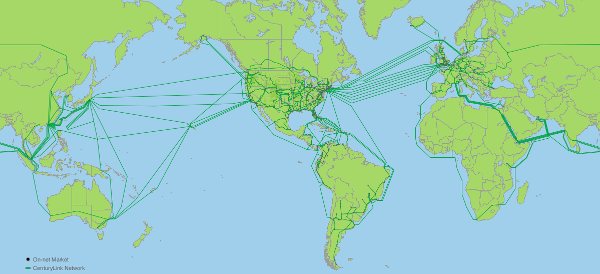 I've covered in past articles how transformational the merger with Level 3 will be financially, but financial results are always generated by real world capabilities. Level 3 brought on board Adaptive Network Security that goes far beyond the traditional anti-virus nonsense to provide a SEIM platform with network logging and reporting, spam mitigation, web content filtering, and 24/7 support the network operations centers, enabling the rapid identification and mitigation of threats which may have affected others. They key here is that if your own systems are compromised, a broader, outside perspective is crucial to identifying and assessing the scope of the problem. Functionality of this sort has far broader applicability than you might think. Take, for example, the recent case of Apple (AAPL) supplier TSM Corp. (TSM) which lost up to aday of production at several of its fabrication plants. I've written a lot about how 5G and IoT will require CenturyLink's fiber for backhaul, but it should also be recognized that the sometimes technologically sketchy progress being made means that security capabilities of this sort will become important not just to computer companies, but every segment of industry.
Comparisons And Conclusions
As a network programmer with a focus on security, it's always been painfully obvious to me that application and operating system security have to start with software engineering. Anti-virus and malware solutions were always band-aids that don't address the cause and their results will continue to be sub-par at best. Businesses who focus on rapid deployment and treat security as an afterthought will continue to throw money at the problem, but they will gradually get better aim; they will focus increasingly on the network level to wall off and monitor inherently insecure software.
Until customers or their governments take a real stand, thereby forcing businesses to default to simpler, more exact, and expensive execution stacks, rather than popular interpreted solutions like python, javascript, and PHP, the problem will only get worse. Even if such reform were to arrive, re-engineering much of the existing computing universe with tools like Rust would takegenerations. So, this opportunity is both long term and imminent. With over $23b in projected annual revenue, 76% of which comes from businesses, the new CenturyLink is a much more secure investment than the incumbents listed above, yet its cash flow is not so large as to be unaffected by gaining high margin market share from businesses listed above. By comparison, AT&T (T) which I've also written about recently, had $161b in annual sales, only 43% of which came from its Business Solutions segment in 2017. I further note that percentage has dropped for 3 years running and will probably do so again if the Time Warner (TWX) acquisition manages to be completed.
Appropriate exposure to growth markets like this makes CTL the second-most undervalued of the over two dozen opportunities that I cover. It's 11.5% yield, which I've previously shown to be completely sustainable post-merger, shows that its price recovery is just beginning, though market dynamics that I've detailed elsewhere will make that progress tricky. If you just want an inflation hedge, dump your money in a no-fee index fund and take your licks when the market crashes. However, if you want to beat the market you're going to have to look beyond DCFs and other abstracted numbers, instead digging into real-world trends like this one in order to find value. I hope this article has been of service for those willing to make that effort.
Disclosure: I am/we are long CTL.
I wrote this article myself, and it expresses my own opinions. I am not receiving compensation for it (other than from Seeking Alpha). I have no business relationship with any company whose stock is mentioned in this article.
For more on this story go to: https://seekingalpha.com/article/4195466-centurylink-growth-engine-nobody-talks?lift_email_rec=false