Revised List of Public Holidays for 2019
Public Holiday for Royal Visit
· Premier has announced 28 March 2019 will be a public holiday.
· The new holiday will commemorate the visit of TRHs Prince Charles and Camilla, Duchess of Cornwall, to the Cayman Islands.
Grand Cayman (GIS) – The Premier, Hon. Alden McLaughlin, MBE, has announced Thursday, 28 March 2019 to be an additional public holiday this year to commemorate the Royal Visit by Their Royal Highnesses The Prince of Wales and Duchess of Cornwall to the Cayman Islands.
The Royal Couple will participate in a number of activities over their two-day visit and the additional holiday will enable members of the public to better participate.
The updated list of Public Holidays for 2019 is as follows:
New Year's Day: Tuesday, 1 January;
National Heroes Day: Monday, 28 January;
Ash Wednesday: Wednesday, 6 March;
For Royal Visit: Thursday, 28 March
Good Friday: Friday, 19 April;
Easter Monday: Monday, 22 April;
Discovery Day: Monday, 20 May;
Queen's Birthday: Monday, 10 June (confirmed);
Constitution Day: Monday, 1 July;
Remembrance Day: Monday, 11 November;
Christmas: Wednesday, 25 December; and
Boxing Day: Thursday, 26 December.
Brazilian airline denied enforcement in Cayman Islands
The Grand Court of the Cayman Islands has refused to enforce a US$55 million ICC award issued a decade ago in favour of a Brazilian airline, finding that two private equity funds that were held liable had not consented to the arbitration.
SOURCE: https://globalarbitrationreview.com/article/1180568/brazilian-airline-denied-enforcement-in-cayman-islands
New Royal Caribbean Video
Royal Caribbean video just launched, "Creating Next-Level Adventures: Royal Caribbean Delivers Firsts and Favorites on Navigator of the Seas." Go behind the scenes for a look at the $115 million modernization of the reimaged Navigator of the Seas, as a team of 4,000 experts build The Blaster, longest aqua coaster at sea; Riptide, the industry's only head-first mat racer; a Caribbean, resort-style poolscape; To Dry For, the first standalone blow dry bar at sea, plus vibrant, new restaurants and bars.
View Video Here: https://www.royalcaribbeanpresscenter.com/video/1082/creating-next-level-adventures-royal-caribbean-delivers-firsts-and-favorites-on-navigator-of-the-seas/
YouTube Link: https://youtu.be/I30NRcStDu8
Cayman Islands NCC – Feb. 27 general meeting
National Conservation Council Meeting – 27 February @ 2pm
The National Conservation Council (NCC) will hold a general meeting on Wednesday, 27 February 2019, starting at 2pm at the George Town Public Library (old library section). The agenda for the meeting is posted on the DoE website. Please see the link: www.doe.ky/natl-conservation-council/general-meetings<http://www.doe.ky/natl-conservation-council/general-meetings>. This meeting is open to observers from the public & press. If anyone wishes to submit comments or questions to the NCC in advance of the meeting they may do so via email to [email protected]<mailto:[email protected]>.

Cayman Islands: Business Men's Breakfast Meeting
The Grand Cayman chapter of the Full Gospel Business Men's Fellowship International is having its monthly breakfast on Saturday February 23rd at 7:30am, at Aroma (formerly Lola's) restaurant in Camana Bay. Our speaker will be Camille Marshall-Morris of the HSA
Cayman Islands' National Gallery: Family Fun Day
10:00am to 1:00pm April 6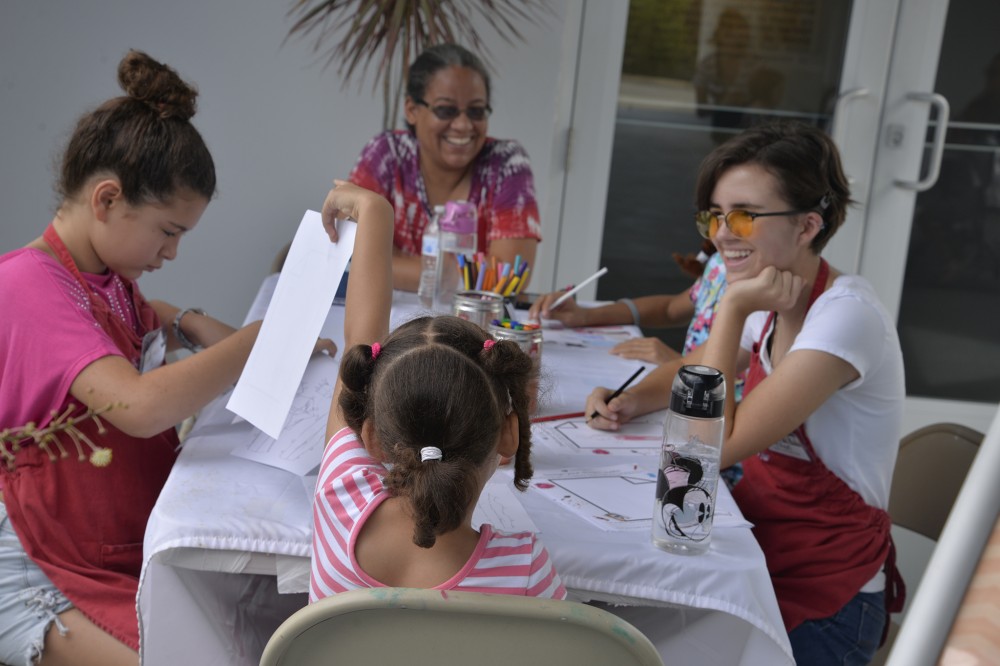 Description
Join the NGCI Education Department for free family fun art activities based on the exhibition Cross Currents. Art activities will be available for children of all ages and self-guided activity booklets can be collected at reception for families to use as they explore. Admission is free and open to all ages.
Celebrate Cayman District Display concludes in West Bay
Celebrate Cayman's Travelling District Display has made its way to West Bay.
The display opens for public viewing at the Church of God Chapel, West Bay (on Town Hall Road) on Wednesday 20 February and continues until Saturday 23 February. Opening times are 6 p.m. – 8 p.m. Wednesday to Friday, and 2 p.m. – 6 p.m. on Saturday.
This is the final stop for the display, which began its journey across the Cayman Islands in September of last year. The display has visited every district in Grand Cayman as well as Cayman Brac and Little Cayman.
The mini display was curated by the Cayman Islands National Museum and features artefacts that share the story of the Coat of Arms. The expanded Coat of Arms exhibition which brings our first national symbol to life in a whole new way is open at the Cayman Islands National Museum through May 2019.
Cayman Islands Seafarers General Meeting
The Cayman Islands Seafarers Association wishes to inform all Members that there will be a General Meeting, on Tuesday 19 February at 7:30 PM. in the Seafarer's Hall, 11 Victory Ave. Prospect.
Buses will be provided from West Bay Town Hall at 6:00 pm".
A Bus route has been added in George Town, leaving the Public library parking area at 7:00, stopping at Cayman Compass building and the Airport Fosters. The bus is marked Bobo $1 Public transport and is blue in colour, there is no charge.
Vampt Motors Toyota Dream Car Art Contest
How will your dream car make the world a better place? Join thousands of children sharing their dreams and discover just how powerful dreaming can be. Participants can win great prizes locally, get the opportunity to visit Japan, and in addition young dreamers are given tours at the Toyota factory and various experiences of Japanese culture.
Entry: January 7th through March 1st, 2019
Age range is 15 years and under.
For more information contact Katie O'Neill
345 814-5021
345 925-7487
[email protected]
You can also visit the general contest website at:
http://www.toyota-global.com/events/dream_car_art_contest/

Local Artists
Art Nest Creative Community Studio – "Nurturing Creativity"

Offers a wide variety of activities for all ages
www.artnestcayman.com
Email: [email protected]
VAS (Visual Arts Society)

Various events and activities
Contact Mary McCallum
(345) 546-9422
www.visualartcayman.com or www.facebook.com/visualartcayman
Email: [email protected] or [email protected]
Opportunities
Open Canvas VAS (Visual Art Society)

Every Wednesday 7:00pm – 11:00pm
At Karoo Restaurant Terrace at Camana Bay
Easels provided – no fee required
For more info contact [email protected] or [email protected]
Camana Bay Artisan Market

Display artwork for sale
Every Wednesday, 12:00pm – 7:00pm
The Paseo, Camana Bay
Contact [email protected]
Cayman Islands Craft Market

Come out and support our local artists
Items on sale include prints and original pieces
Monday to Friday 8:30pm – 3:00pm
Corner of Boilers Road and South Church Street, George Town
(345) 949-0049
COMMUNITY EVENTS (Date Order)
THU & FRI FEB 21 & 22
Cayman Brac and Little Cayman Primary School Sports Days
Cayman Brac and Little Cayman Primary School Sports Days are Thursday (21 Feb) at 4pm and Friday (22 Feb) starting at 9am at the Cayman Brac Sports Complex.
FRI FEB 22
84th Annual Spring Convention at the George Town Chapel Church of God
The 84th Annual Spring Convention at the George Town Chapel Church of God is Building the Church for the 21st Century. The Youth Rally is Friday (22 Feb) with Sunday worship at 1030am. Evening Services will be held Sunday – Wednesday (24 – 27 Feb) at 730pm nightly.
SAT FEB 23
Guiding the Way 5K & 10K Walk/Run
The Guiding the Way 5K & 10K Walk/Run is Saturday (23 Feb) at 630am at the Holiday Inn
The CICA Cricket Super League: CBCC vs Clean Gas
The CICA Cricket Super League: CBCC vs Clean Gas is 12pm on Saturday (23 Feb) at the LSHS Field in Cayman Brac.
SUN FEB 24
Off the Beaten Track 50 KM Ultra Marathon
Off the Beaten Track 50 KM Ultra Marathon is Sunday (24 Feb) at 6am. Log on to caymanactive.com for location information.
THU FEB 28
National Planning Framework Public Consultation Period
The public now has more time to give their input on the National Planning Framework. Members of the public who wish to submit their feedback now have until Thursday, 28 February 2019. The document can be found on www.plancayman.ky, and feedback can be submitted through the website as well. Printed copies of the document can be viewed at the PlanCayman Information Counter, located in the lobby of the Government Administration Building. The National Planning Framework sets out the long-term goals for land use and physical development and is the first part of the Cayman Islands Development Plan review. The document covers a number of areas of interest including land use, the natural environment, transportation, infrastructure, recreation and open spaces.